It wasn't nearly as easy as it was supposed to be, but Maria Sharapova outlasted Alexandra Dulgheru in a thrilling three-set match Wednesday at the 2014 U.S. Open, winning 4-6, 6-3, 6-2. Sharapova fought through early mistakes, a first-set loss and windy conditions to secure a spot in the third round after a grueling match that lasted nearly three hours.
It also pushed her career record to a perfect 3-0 against Dulgheru.
Wednesday was somewhat of a windy day at Flushing Meadows, which led to some concern from the commentators about Sharapova's serving. She utilizes a high ball toss when she serves, and the wind could impact the consistency of those throws.
Live Tennis didn't miss the opportunity to make a pun once the match was underway:
Maria Sharapova vs Alexandra Dulgheru is live now on http://t.co/ba0dV8zDtB - should be a breeze for Sharapova! pic.twitter.com/DThddSaFnw

— Live Tennis (@livetennis) August 27, 2014
Sharapova got to test that theory right away by serving in the first game. It went to deuce, but she was able to hold serve to take a 1-0 lead in the first set.
Sharapova capitalized on that early momentum and picked up the initial break in the very next game. More worrisome for Dulgheru than the early deficit was the fact that her wrist was clearly bothering her from the start of this match.
Matt Rourke/Associated Press
To Dulgheru's credit, she bounced back with a break of her own in the next game and eventually pulled even at 3-3 in the first set.
Dulgheru continued her momentum and went up a break at 4-3 with some impressive returns. Sharapova only missed on two first serves in the first seven games, but 16 unforced errors in the early going proved costly. Howard Bryant of ESPN.com took notice:
Meanwhile, here on Ashe, Sharapova broken by Alexandra Dulgheru, who will serve 4-3, first set...

— Howard Bryant (@hbryant42) August 27, 2014
Dulgheru took care of business in the rest of her service games for the set and cruised to a 6-4 victory. She looked like a completely different player than the one who fell behind 2-0 early, and the wrist problems seemed like a thing of the past.
Ben Rothenberg of The New York Times noted that Dulgheru has some talent and shouldn't be overlooked, while ESPN Tennis set the stage for a dramatic second set:
Alexandra Dulgheru, a talented Romanian who has been beset by injuries in recent years, takes first set 6-4 over No5 Maria Sharapova.#usopen

— Ben Rothenberg (@BenRothenberg) August 27, 2014
Maria Sharapova will have to come from behind to reach the third round. First set to Dulgheru 6-4. Coverage continues on ESPN. #USOpen

— ESPNTennis (@ESPNTennis) August 27, 2014
Sharapova's unforced errors continued in the early second set (she had 22 in the first), and Chris Skelton of Tennis View Magazine started to point out how big of an upset this would truly be if Dulgheru won:
No opponent ranked as low as Dulgheru (No. 95) has defeated Sharapova at a major other than Wimbledon since her debut appearance in 2003.

— Chris Skelton (@ChrisSkelton87) August 27, 2014
Dulgheru has won just six main-draw matches in the last 12 months.

— Chris Skelton (@ChrisSkelton87) August 27, 2014
Though Sharapova was laboring in the second set and double-faulted on multiple occasions, she managed to stay on serve through the first five games to seize a 3-2 lead before picking up a critical break to go up 4-2.
From there, Sharapova served her way to victory in the second set. The 6-3 win forced a decisive third set, and it was almost like business as usual for the Russian star. Remember, she got off to a slow start in her first-round match before winning 10 consecutive games to capture the victory.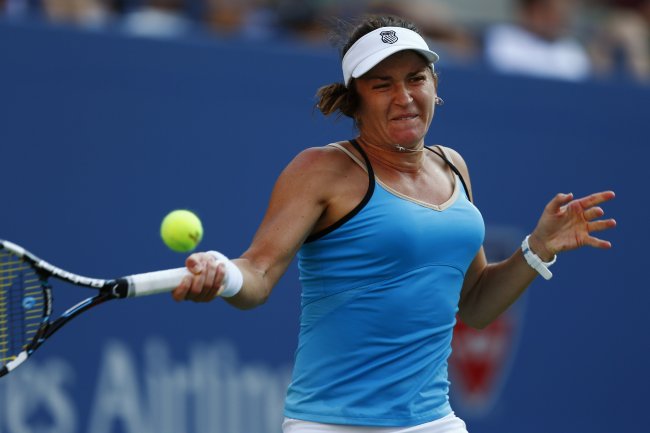 Matt Rourke/Associated Press
The U.S. Open set the scene and captured one of the more impressive points of the second set:
A determined Maria #Sharapova surges back to win the second set 6-3 vs. #Dulgheru. On to a third on #Ashe! #usopen pic.twitter.com/XhQguvGKAx

— US Open Tennis (@usopen) August 27, 2014
Battle on #Ashe! Can #Sharapova power through after dropping the first set to #Dulgheru? #usopen @Heineken_US http://t.co/2MWlPs4HUE

— US Open Tennis (@usopen) August 27, 2014
A Sharapova victory looked inevitable after she started the third set off with a break and a service win to go up 2-0. It was a critical stretch because it helped her carry over the momentum from the second set and establish the tone with the entire match on the line.
The third-set rout was officially on after she recorded another break in the third game to go up 3-0. She won four of five points and was absolutely blasting returns from the baseline throughout the game.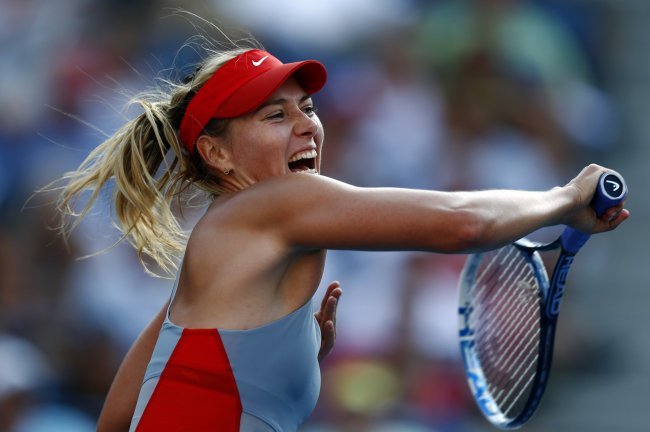 Matt Rourke/Associated Press
It was clear by the time Sharapova went up 4-1 that Dulgheru was physically drained after putting up an extended fight early. The trainer came over to look at her worrisome wrist, and it only delayed the inevitable.
Sharapova served her way to victory in her next two service games and captured the final set, 6-2.
How far will Sharapova advance at the U.S. Open?
Sharapova will clearly be pleased with her comeback victory Wednesday, but she has bigger plans than a couple of early wins. She has three Women's Tennis Association titles in her back pocket this year already and won the French Open, and she is looking to add to those accomplishments.
Winning a championship in the U.S. Open would give her multiple Grand Slams in the same season for the first time in her career.
However, she lost in the fourth round in Wimbledon, the second round in Montreal and the semifinals in Cincinnati. She discussed where her game was at heading into the U.S. Open, via Wayne Coffey of the New York Daily News: "I think if there is a time to bring the game that I want to, it's definitely now, for the next few weeks."
Sharapova did win the 2006 U.S. Open and made the semifinals in 2012. Wednesday's victory marked a small step in what she hopes is another Flushing Meadows title.
Follow me on Twitter: