Updates from Thursday, Aug. 28
Bayern Munich have confirmed Xabi Alonso will have a medical on Thursday ahead of his proposed switch from Real Madrid.
The Bundesliga champions tweeted:
#FCBayern can confirm talks with @XabiAlonso & @realmadriden. Spaniard expected for a medical today. More soon on http://t.co/z5SEWp6rQd

— FC Bayern English (@FCBayernEN) August 28, 2014
At this stage, the two clubs are continuing to thrash out the final deal, but Bayern financial director Jan-Christian Dreesen said they are having "friendly talks" and have reached an agreement "in principle," per Bayern's official website.
Director Matthias Sammer added further details on the transfer:
We believe it is necessary [to sign Alonso] for our team, to meet the requirements of our fans and the club as a whole. It was a purely sporting decision to help us immediately and raise our quality. Alonso's constitution means he is capable of playing at the very highest level for at least another two years. We're optimistic, and our squad will be in very, very good shape.
Alonso's surprise switch to Bayern will up his salary by €4 million per year, per Marca:
Bayern Munich will secure the services of Xabi Alonso. Pep Guardiola's team will pay the Spanish star €10 million per season. Real Madrid will receive between €5 and €10 million for his transfer.

The footballer from the Basque Country is currently paid €6m per year (around $8 million) and Bayern have put close to €10m ($13.2 million) on the table to tempt him away.
Spanish football and B/R UK expert Guillem Balague insists Madrid had not planned to sell Alonso:
XA decission 2 leave Madrid took club by surprise. MUFC approached him few weeks ago and agent and club answered, He's 100% staying.

— Guillem Balague (@GuillemBalague) August 28, 2014
Original Text
The waning days of the transfer market are often referred to both lovingly and accurately as "the silly season," as rumours fly in fast and furious from every angle.
On Wednesday, you can add another rumor to the "Who saw that one coming?" bin, as Bayern Munich are reportedly very interested in bringing Real Madrid's Xabi Alonso to Bavaria, according to Anthony Chapman of the Express:
However, it has now emerged that Bundesliga champions Bayern have contacted Real over a move for ex-Anfield man Alonso, who has just announced his retirement from international football.

Ancelotti will not let both Alonso and [Sami] Khedira leave, and would rather see the German remain in Spain.

Former Barcelona manager Pep Guardiola wants Alonso on a short-term deal after losing Javi Martinez to a long-term injury, and with Madrid putting their faith in the midfield partnership of Toni Kroos and Luka Modric, Alonso could be set for a season at the Allianz Arena.
Guillem Balague of Bleacher Report added:
Via @tjcope: @XabiAlonso has asked Real Madrid to let him go. He wants to sign for Bayern Munich. The ball in Real's court

— Guillem Balague (@GuillemBalague) August 27, 2014
There is certainly logic on both ends here. From Bayern's perspective, well, it's clear that Guardiola really valued Martinez, per James Horncastle of BT Sport:
Buying Benatia + [possibly] Xabi - quite flattering for the injured Javi Martinez. Pep wasn't going to buy until his injury. 2 players in 1

— James Horncastle (@JamesHorncastle) August 27, 2014
Alonso is also an experienced player and won't need to adjust to Guardiola's possession-based system after years of playing a similar style for the Spanish national team. And seeing as he likely would have come off the bench anyway for Real Madrid, he'll be fine with being part of a midfield rotation in Germany.
From Madrid's perspective, if the team is indeed shifting to a two-man pivot in the midfield with a line of four Galacticos in front of them, someone from the five of Modric, Kroos, Khedira, Alonso and Asier Illarramendi was going to spend much of the season on the bench.
If this rumour is true, it would appear Alonso was always going to be the odd man out.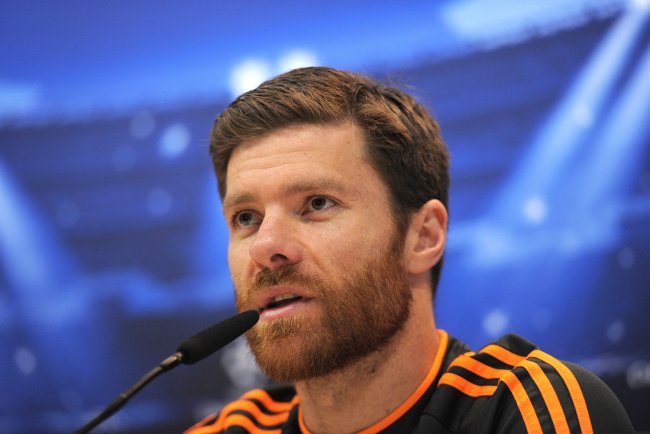 Denis Doyle/Getty Images
But is the Galacticos' approach from Real Madrid this summer really a smart decision? Last year, Real were the European champions because of their outstanding balance. With Cristiano Ronaldo and Gareth Bale bombing down the wings and Karim Benzema tying the attack together, the team was always going to be dangerous going forward.
But it was their midfield that was quietly the key to their success. Angel Di Maria was the box-to-box man who drove the play forward and set up his teammates. Modric was the deep-lying playmaker who dissected opponents with his incisive passing. And Alonso was the steady man anchoring the trio, supporting the back line and always making the smart decision on the ball.
According to Atletico Madrid manager Diego Simeone, via Miguel Delaney of ESPN, the key man was Alonso:
Simeone said before that "Real's balance" is really just "Alonso's balance". Two key players gone. #prt

— Miguel Delaney (@MiguelDelaney) August 27, 2014
It appears the 32-year-old could be bringing that balance to Bayern Munich, however, where he'll fit in perfectly to Martinez's old role in the midfield and potentially earn a European title with a third different club.
Quite the charmed life that would be, indeed. Well, unless all of the talk about his departure is just another byproduct of the silly season.