AC Milan will look to Stamford Bridge in the closing days of the summer transfer window in order to solve their woes in attack and midfield after the club confirmed their interest in Fernando Torres and Marco van Ginkel.
The Chelsea duo are being targeted by the Rossoneri following the sale of Mario Balotelli to Liverpool, and the Milan Channel (h/t Daily Mail's Simon Jones) quoted vice-president Adriano Galliani confirming his interest:
Our goal is to take a great striker. Fernando Torres? He is a great striker. Let's see if he comes or someone else. We are actively working. Van Ginkel? We are confident. We have made our proposal to Chelsea and are now waiting on an answer. We hope we can get him.
Sky Sports reports that Milan firmed up their interest in Torres on Wednesday morning:
AC Milan approach Chelsea over Fernando Torres #SSNHQ

— Sky Sports News HQ (@SkySportsNewsHQ) August 27, 2014
Milan are hoping to add reinforcements to the core of their squad as Riccardo Montolivo continues his recovery from the broken leg he suffered in the build-up to the 2014 World Cup.
Van Ginkel is attempting his own comeback this season after suffering an anterior cruciate ligament injury that ruled him out for the majority of last season.
Speaking to Dutch outlet AD.nl (h/t Metro), the Dutchman's agent Karel Jensen recently warned first-team football is a priority for his client this term: "We are in talks with Chelsea. Of course Marco wants to fight for his chance, but there must be some perspective. We are waiting for a response from Chelsea as to how they see things."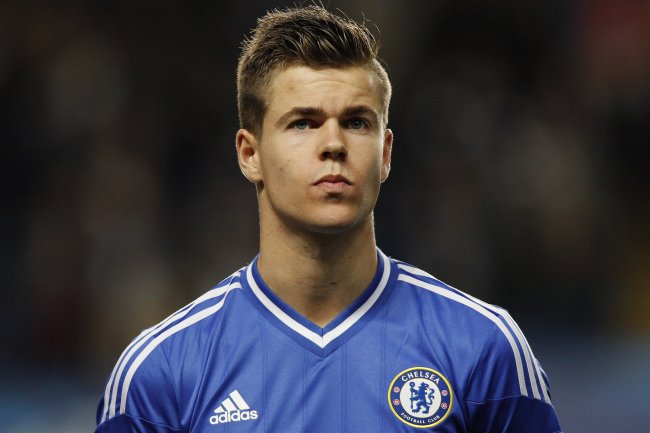 Sang Tan/Associated Press
The idea of loaning Van Ginkel out is one Jones reports the Blues as being open to, and David Amoyal of GianlucaDiMarzio.com says Milan will receive an answer on Wednesday regarding the possibility of a temporary deal.
Cutting a deal for Torres may be difficult, Nik Postinger of We Play attesting that staggering wage demands are once again the obstacle:
The Times say Fernando Torres' crazy £180,000-per-week Chelsea wages are the stumbling block to Milan taking him on loan. Surprise surprise.

— Nik Postinger (@nikpostinger) August 26, 2014
Balotelli's exit leaves Giampaolo Pazzini as Filippo Inzaghi's primary option up front, but an alternative will be required if Milan are to return to their seat among the Serie A elite.
Following a disappointing three-and-a-half years in West London, Torres' reputation as a prolific scorer has faded, but Matteo Bonetti of beIN Sport questions whether Italy's change in style could help rehabilitate the 30-year-old:
Slower pace in Serie A could really suit Fernando Torres. Not saying he'll ever get back to Liverpool form, but w/confidence, who knows.

— Matteo Bonetti (@TheCalcioGuy) August 26, 2014
Generally speaking, high wages aren't handed out as easily in Italy as they are among England's top sides, and Amoyal also reports that Milan would prefer a loan for Torres.
Should Milan continue their Torres pursuit?
It's a dilemma for Chelsea to consider, however, as another season would see Torres creep further toward his contract's expiration date, thus lowering the potential to reclaim as much of their £50 million investment as possible.
Should Galliani's hopes of signing Torres be swatted, the Mirror's Martin Lipton writes that Liverpool's Fabio Borini will be looked to as an alternative, the links between these two clubs still fresh following Balotelli's £16 million switch.

Borini has previously had success with Roma, and if a Merseyside departure is to come about in this last week of the transfer window, a return to his homeland may be considered preferential.
Milan face competition for his services, however, with Fiorentina and Sunderland, whom the player spent the 2013-14 campaign with, both in the running:
Fiorentina interested in taking Fabio Borini but only for around £6M. #LFC want in excess of £8M. #SAFC only interested in a loan deal now.

— Richard Buxton (@RichardBuxton_) August 26, 2014
Inzaghi is under pressure to improve upon the huge disappointments of an eighth-place league finish last season, hoping to use his vast knowledge of the club in reshaping their fortunes moving forward.
In order to do so, however, the manager has squad ranks in need of replenishing, and a busy rush to get business done in the closing days of this summer's market puts the spotlight on the San Siro outfit.