Taylor Townsend may be the future of American tennis, but it was clear that Serena Williams wasn't ready to pass the torch on Tuesday evening.
Williams took the first step toward a potential third consecutive U.S. Open title with a 6-3, 6-1 victory over the 18-year-old Townsend under the bright lights of Flushing Meadows. It was just an unfortunate draw for Townsend, because Williams was on top of her game.
Townsend, who is reportedly friends with Williams, got off to a solid start when she won the first game. Richard Deitsch of Sports Illustrated was rather impressed with her play from the beginning, and he summed up the entire match nicely:
Taylor Townsend has a lot of game. Serena is way too big an ask tonight but a name for the millions of U.S tennis fans heading forward.

— Richard Deitsch (@richarddeitsch) August 27, 2014
Williams used her athleticism and power though to bounce back rather quickly. In fact, she won the next three games to take control of the set, but it was one play in particular that had fans buzzing. Ben Rothenberg of The New York Times described the athletic feat:
Jaw-dropping splits and recovery by Serena Williams. Hard for me to think of a better athlete right now in tennis, men's or women's. #usopen

— Ben Rothenberg (@BenRothenberg) August 27, 2014
The ironic thing is Townsend won the individual point, but Williams was the one catching the eyes of the crowd in the process.
Townsend battled back to cut the lead to 4-3 in the first set though, and earned praise from ByTheMin Tennis:
Impressive how aggressive Taylor Townsend is willing to be, taking balls early and going on the offensive. She's having fun.

— ByTheMin Tennis (@ByTheMinTennis) August 27, 2014
However, Townsend was simply no match for Williams' overpowering serve. The world's No. 1 player took control of the first set in the next two games in rather easy fashion. She won the first set 6-3 and appeared primed to cruise to victory.
The U.S. Open Twitter account captured the moment:
.@serenawilliams takes first set from #TaylorTownsend 6-3. #usopen pic.twitter.com/TgVwxvVxUA

— US Open Tennis (@usopen) August 27, 2014
Unfortunately for Townsend, Williams got to serve to start the second set. All she did was win four of five points to take the first game and continue her overwhelming momentum.
The U.S. Open once again demonstrated just how powerful Williams' game looked early in the second round:
.@serenawilliams opens up the second set with a smash! #usopen @MBUSA http://t.co/vPih8PUFI2

— US Open Tennis (@usopen) August 27, 2014
Williams continued her march to victory by breaking Townsend in the second game and then dominating another service game. The writing was on the wall when it was 3-0 in the second set.
In fact, Williams looked so dominant that ESPN Tennis had to remind fans that she is actually human and not a tennis-playing robot sent to vanquish anything in her path:
Happy #NationalDogDay to @serenawilliams' bundle of joy, Chip! #ESPNTennis #USOpen2014 - http://t.co/4mmuS8F6og

— ESPNTennis (@ESPNTennis) August 27, 2014
To Townsend's credit, she won the next game to cut the lead to 3-1, but her joy was short-lived as it was time for Williams to serve again.
However, the U.S. Open didn't miss the opportunity to demonstrate Townsend's elation at getting on the board in the second set:
#Townsend on the board in the second set, 1-3 #usopen pic.twitter.com/4DOiyMjoJk

— US Open Tennis (@usopen) August 27, 2014
Williams put it on cruise control from there and won the next three games to wrap up the match. Townsend had a chance to win her final service game, but Williams was not about to be broken Tuesday.
Her serve was as good as it's been for most of the season, and Townsend simply didn't have a chance. The U.S. Open showed Williams demonstrating some appreciation for the crowd that stuck around until almost 11 p.m.
Game, set, match! #SerenaWilliams advances to R2, defeating #Townsend 6-3, 6-1. #usopen https://t.co/TkSXyqNAw8

— US Open Tennis (@usopen) August 27, 2014
While Williams will clearly be happy with the consistent performance, this is just the first step in what she hopes is a championship run.
She has an astounding 17 Grand Slam titles under her belt, and another one would pull her even with Chris Evert and Martina Navratilova for the fourth-most of all time. It would also put her four behind Steffi Graf.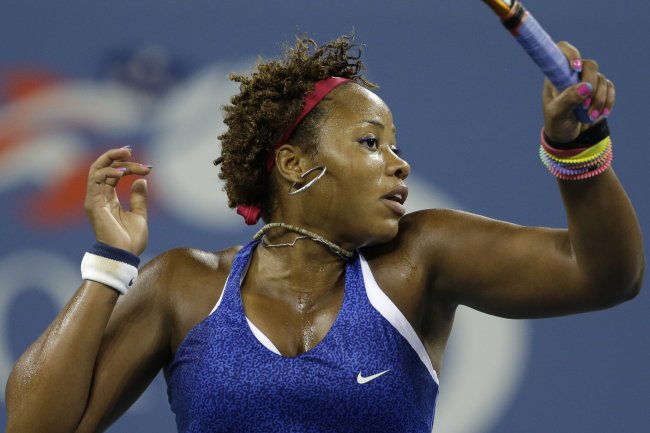 Darron Cummings/Associated Press
However, Williams is yet to advance past the fourth round in a major this season.
She discussed what a title would mean at Flushing Meadows given the 2014 struggles, via CBS News: "It would be really amazing. It's such a tough field this year though so I don't know, but I do know it would be an unbelievable feeling for me."
The good news for Williams is that she has now won 13 of her past 14 matches and has five titles on the year. Momentum is clearly on her side, and her performance Tuesday will do nothing to slow it down.
Good luck to the rest of the field.
Follow me on Twitter: