The United States basketball team cruised to a 101-71 victory over Slovenia in the final tuneup before the start of the 2014 FIBA World Cup.
After building up an 11-point lead at the half, the Americans turned up the intensity after intermission to pull away for a dominant victory in Gran Canaria, Spain.
Anthony Davis led the way with an impressive all-around performance, as described by Nate Duncan of Basketball Insiders:
AD had 18 points, 11 rebounds, 4 steals, 4 blocks, and ZERO fouls in a mere 18 minutes.

— Nate Duncan (@NateDuncanNBA) August 26, 2014
Kyrie Irving and Rudy Gay also had strong showings on the offensive end of the court.
John Schuhmann of NBA.com was one person expecting a tough challenge from the European opponent:
USA-Slovenia game today will be interesting. Good guards (Dragic) can neutralize the aggressive USA defense, which starts w/ ball pressure.

— John Schuhmann (@johnschuhmann) August 26, 2014
As Bleacher Report's Adam Fromal noted, Goran Dragic was doing his part early to lead Slovenia:
Breaking news: Goran Dragic is hard to guard on pick-and-rolls.

— Adam Fromal (@fromal09) August 26, 2014
However, the United States started to pull away thanks to some great play by the frontcourt. Zach Harper of CBS Sports described Davis' work on the defensive end:
Anthony Davis is playing badminton with these shot attempts.

— Zach Harper (@talkhoops) August 26, 2014
Chris Sheridan of Sheridan Hoops notes that Kenneth Faried was also impressive in the early going:
Very unusual to see Team USA bigs dominating a game. Faried and Davis are beasts. Nobody else standing out.

— Chris Sheridan (@sheridanhoops) August 26, 2014
ESPN's Marc Stein sees the Denver Nuggets power forward as one person who is enjoying himself more than anyone:
Kenneth Faried has to be one of the giddiest Team USAers ever. He flat-out loves being on this squad

— Marc Stein (@ESPNSteinLine) August 26, 2014
Although the Americans could not get anything going from beyond the arc, they were still able to build up an 18-point lead before settling for a 46-35 score at halftime.
This strong play continued into the second half with a dominant third quarter by Team USA. The squad outscored its opponent 35-19 in the third to lead 81-54 going into the final quarter.
With a solid final 10 minutes on the court, the United States remained ahead to earn its fourth win in as many games during the exhibition slate.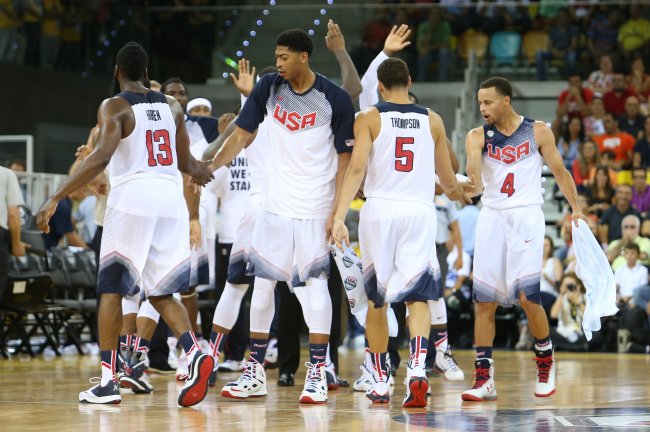 Joe Murphy/Getty Images
Irving got the start at point guard over Derrick Rose, and the team saw more success when he was on the floor, via Brian Mahoney of The Associated Press:
Not a huge believer in plus/minus, but for those who are: Kyrie a team-high +19 at half. Derrick Rose a team-low minus-5.

— Brian Mahoney (@briancmahoney) August 26, 2014
On the other hand, Sam Smith of Bulls.com did not feel the backcourt trio at the start of the game showcased enough passing:
USA's Irving, Harden & Curry not very good starting unit for moving ball. Not getting drive and kick shots in corners for good shooters

— Sam Smith (@SamSmithHoops) August 26, 2014
While his opinion may be a bit biased, the battle for minutes between Rose and Irving will likely continue into the tournament. Either way, you can be certain both will have a major role for this team in Spain.
Head coach Mike Krzyzewski said the primary goal during these opening matchups was to develop chemistry on the floor.
According to Stein, the coach explained before the game: "Our biggest [question mark] is how close we can become. That's where the other countries have the advantage. They've been together for years. We've been together for days. But these guys will do anything to help. They really want to be here. It's a group that wants to work."
While this assorted selection of NBA stars is still far from being a close-knit group, it certainly has taken bigger steps toward being the best squad possible.
Teams like Spain, France, Brazil and Argentina could challenge for medals at the upcoming World Cup, but no one has the amount of talent on the roster that the United States does. As long as Team USA can play to its ability, it should be able to bring home another title.
Follow Rob Goldberg on Twitter for the latest breaking news and analysis.