With the NFL season rapidly approaching, the Buffalo Bills shored up their quarterback depth Monday with the addition of Jordan Palmer. Field Yates of ESPN brought the move to light:
The Bills, looking to upgrade their backup QB situation, will be signing Jordan Palmer, per a league source.

— Field Yates (@FieldYates) August 26, 2014
Palmer has only played in four regular-season contests throughout his career, all for the Cincinnati Bengals. In fact, he is probably best known for being the brother of Carson, though the younger Palmer did see time in all three of the Chicago Bears' preseason games thus far in 2014.
Palmer threw for a combined 225 yards in those contests with one touchdown and one interception. However, he lost the backup job to Jimmy Clausen and was subsequently released.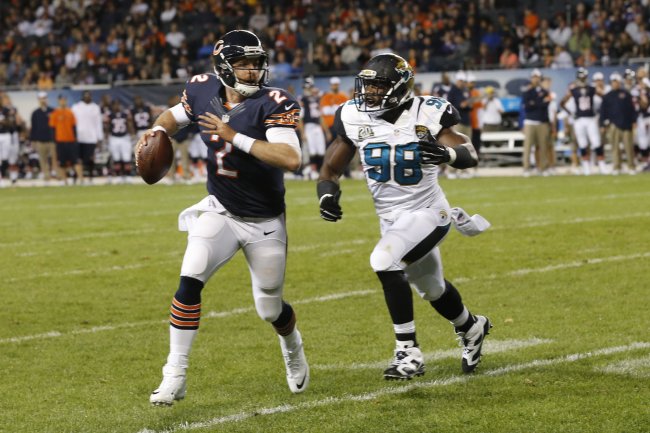 Charles Rex Arbogast/Associated Press
Buffalo was quick to swoop in, and it may have an eye on its Week 1 contest with those very same Bears if USA Today's Joe Marino's update rings true:
Per @FieldYates, #Bills sign QB Jordan Palmer. At the very least, he has info on the #Bears for week 1. Better option than Lewis/Tuel.

— Joe Marino (@TheJoeMarino) August 26, 2014
In retrospect, Palmer's tweet after being let go by the Bears is a bit awkward, considering they are his next regular-season opponent:
I'll be wearing #bears gear and supporting the bears for the rest of my life. Regardless of what happens. This is the best org in the NFL.

— Jordan Palmer (@JwPalms) August 24, 2014
Palmer seemed to be getting a better grasp of the Bears offense before he was released, via Darin Gantt of Pro Football Talk:
"I've been running this system for the past few weeks and OTA's so I'm feeling very comfortable. It's all about going through your progressions, getting the ball out of your hands because there's so many guys who can make plays in this offense."
Sports Illustrated's Peter King was impressed by the signing as well:
Smart signing of Jordan Palmer by the Bills. In camp, when we talked, he sounded like a coach already. Tutored Bortles pre-draft. And so>>>>

— Peter King (@SI_PeterKing) August 26, 2014
The fact that Palmer was becoming more comfortable in Chicago's offense as the preseason continued is good news for the Bills on two fronts. He could very well help in the preparation for the Bears as the season approaches if he understands the offense, but a greater comfort level on the field will likely lead to better results.
At least that's the hope for the Bills.
Palmer will compete with Thad Lewis and Jeff Tuel behind E.J. Manuel on Buffalo's depth chart.