Manchester City comfortably beat Liverpool 3-1 at the Etihad on Monday night, winning the first big battle of top 2014-15 Premier League title contenders of the season.
Stevan Jovetic scored just before and after half-time and Sergio Aguero added a third with his first touch of the night, before Rickie Lambert (via City's Pablo Zabaleta) gave Reds fans a glimmer of hope late.
Jovetic's first goal came after he pounced on an error from Alberto Moreno, playing his first match in the Liverpool shirt. The Spaniard had looked strong up until that point, but he waited far too long to clear a ball, opening the door for the City forward to come in and steal a goal.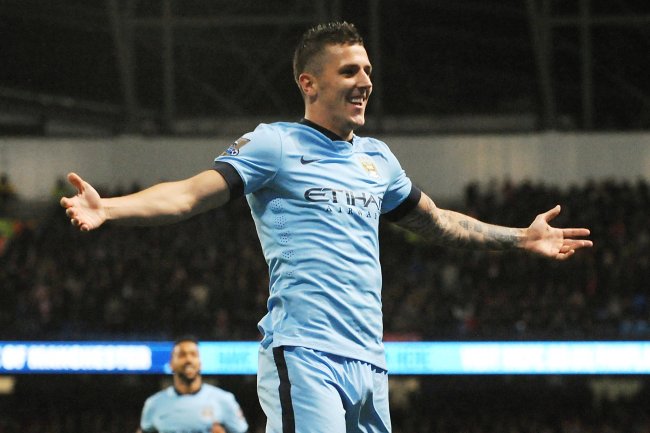 Rui Vieira/Associated Press
He converted a cross early in the second half and Aguero turned out to be a golden substitute when he timed his run beautifully to go one-on-one with Simon Mignolet, finding the net at the near post.
The Citizens lost focus late, allowing Lambert to score (the goal was later awarded as an own goal from Zabaleta) and nearly find a second inside the final 10 minutes. An injury to Glen Johnson left the squad short-handed, however, taking the sting out of their late push.
As shared by the Sunday Times' Duncan Castles, Brendan Rodgers was particularly disappointed with the way his team conceded the third goal:
Rodgers: 'We're disappointed with the third goal. We've got to get tight. The winger can't just get turned and slide the ball in.' #LFC

— Duncan Castles (@DuncanCastles) August 25, 2014
Liverpool superfan Matthew Ordish picked up on his comments about the movement of his attackers, pointing out it "just wasn't Liverpool's night":
Rodgers: "We needed to be quicker in the final third. It's a difficult place to come but we'll get better. It just wasn't our night."

— Matthew Ordish (@AnfieldMatt) August 25, 2014
The Reds looked like the better team early in the match, something Rodgers also thought, per Melissa Reddy:
BR: "We were the best team in the first 40 mins, then we switched off, went 1-0 down. At 2-0, we made things difficult for ourselves" #LFC

— Melissa Reddy (@1stLadyOfFooty) August 25, 2014
The Northern Irishman was understandably drilled with questions regarding his latest signing, Mario Balotelli, as the club's website revealed, and he said he acted on what he perceived as a weakness in his squad, via the Daily Telegraph's Henry Winters:
Rodgers says signing Balotelli is a "calculated risk" but #lfc defeat to #mcfc highlighted "an area where we needed to strengthen"

— Henry Winter (@henrywinter) August 25, 2014
As shared by the Independent's Sam Wallace, he admitted singing the controversial Italian was a risk:
Rodgers on Balotelli: 'Of course it was a risk, I'm not going to say it wasn't. He needs to fit into our culture & that'll help him improve'

— Sam Wallace (@SamWallaceIndy) August 25, 2014
The defence also got some criticism, via The Guardian's Daniel Taylor:
Rodgers not so happy with new-look #LFC defence. "You can spend as much money as you like, it doesn't guarantee you anything."

— Daniel Taylor (@DTguardian) August 25, 2014
He did display a sense of optimism, as reported by The Sport Review, when he told Sky Sports his team already fared better than in the corresponding fixtures during the 2013-14 season:
"We're three points better off than we were last season in the corresponding fixtures [City and Southampton]. There's a hell of a long way to go."
Manuel Pellegrini hailed his team's focus in such a difficult match, via the Premier League's official Twitter account:
Man City boss Manuel Pellegrini: "When you play against a team as good as Liverpool, you need concentration and that's what we had." #MCILIV

— Premier League (@premierleague) August 25, 2014
Edin Dzeko picked up a knock late in the match, but per BT Sport's Natalie Quirk, Pellegrini didn't think it was serious:
Manuel Pellegrini has played down Edin Dzeko injury: "We'll see tomorrow but I think he'll be ok." #MCFC

— Natalie Quirk (@TheQuirkmeister) August 25, 2014
The Guardian's Daniel Taylor shared several snippets of his post-match presser, highlighting how Pellegrini always kept believing in Jovetic and that Eliaquim Mangala lacks the fitness to play, having just completed his transfer from Porto:
Pellegrini snippets: never lost faith in Jovetic, Dzeko injury not bad (i.e. a kick), Mangala still not fit enough to play at weekend #MCFC

— Daniel Taylor (@DTguardian) August 25, 2014
Sportsmole's Liam Apicella had the manager's final comments, elaborating on the concentration his team displayed on how important it is to start with six points out of the first two matches:
We worked the whole game and played a very good team. We worked without the ball for 95 minutes and with the ball we made enough danger to score three goals. When you play against a strong team you have to concentrate and our concentration and intensity was good. It's so important to get six points from our first two games as it was a very difficult start for us.
The hosts now share the lead at the top of the Premier League table with Tottenham, Chelsea and Swansea, and they'll host Stoke City on Saturday. The efficiency of the team's forwards and physical dominance in the centre of the pitch bodes well for the rest of the season, as the squad appears to be ahead of schedule.
Liverpool will travel to London to take on Tottenham on Monday, and Spurs were in deadly form on Sunday, easily dispatching of Queens Park Rangers. Tottenham boast a lot of speed in the wide areas, so Rodgers will have to bring his back four up to speed in a hurry.