The Arizona Cardinals are reportedly parting ways with veteran kicker Jay Feely.
According to ESPN's Adam Schefter, the 38-year-old will be released:
Cardinals are releasing veteran K Jay Feely, per source.

— Adam Schefter (@AdamSchefter) August 25, 2014
Feely thanked the franchise on Twitter for his time in Arizona:
It's been an honor to play for the @AZCardinals Michael Bidwill, thank you for your leadership and friendship. AZ will still be home!

— Jay Feely (@jayfeely) August 25, 2014
This news won't come as a huge surprise.
Feely had been splitting time with rookie Chandler Catanzaro this offseason, with head coach Bruce Arians set to decide between one or the other before the regular season began.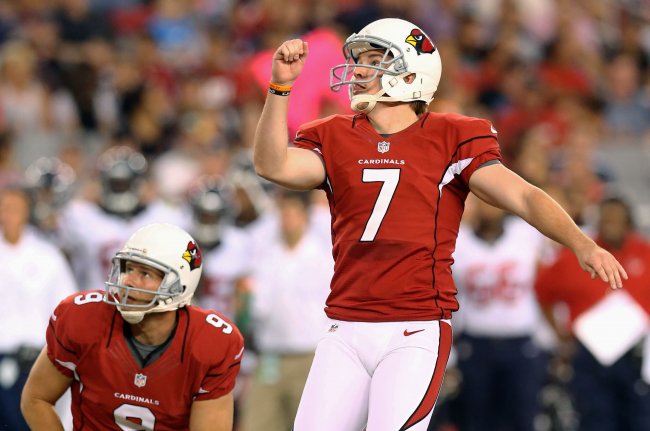 USA TODAY Sports
"I think you always have competition, whether you have somebody here or not," said Feely, per ESPN.com's Josh Weinfuss. "You're always looking around the whole NFL. You're not just competing against [another kicker] in the locker room, and I'm not just competing for this job. It's just the reality of kicking in the NFL."
A few different factors likely played into Arians' decision to opt for the rookie, the biggest of which were arguably the fact that Catanzaro is a younger and cheaper option than Feely. Mike Jurecki of Fox Sports 910 in Phoenix compared their respective cap hits:
Feely 2014 cap number 635K, Catanzaro 420K. MT @Th3RealBS: That and his higher salary, less hang time and inconsistent kicking depth.

— Mike Jurecki (@mikejurecki) August 25, 2014
What may have been the final nail in the 13-year veteran's coffin was his bad miss from 48 yards against the Cincinnati Bengals on Sunday night, per NFL: Around the League:
Jay Feely's job is in serious jeopardy after that bad miss from 48 yards out.

— NFL: AroundTheLeague (@NFL_ATL) August 25, 2014
Feely could find a new home by Week 1. A couple of teams—most notably the Philadelphia Eagles and Denver Broncos—could use a veteran kicker, if even for the short term. The Broncos will be without Matt Prater for four games, per ESPN.com's Jeff Legwold, while Alex Henery has had some issues in Philadelphia.
The Cardinals are putting a lot of pressure on Catanzaro. Arizona can't afford to leave any easy points on the board. Every score will be precious as the team attempts to navigate through a brutal NFC West.