South Korea's Seoul LL captured its third Little League World Series crown after defeating Jackie Robinson West in the championship game on Sunday.
The Asia-Pacific group representative swept the field in its five games, showcasing its tremendous offense once again during an 8-4 win over the Chicago club, which finished as the top U.S. squad.
ESPN captured the world champions in a celebratory pose after their final triumph.
South Korea wins the 2014 Little League World Series Championship! pic.twitter.com/Y8Eii0qXdv

— ESPN (@espn) August 24, 2014
This marks the third straight season, and the fourth time in five years, that an international club took home first place. As noted by ESPN Stats & Info, the U.S. representative often struggles against non-U.S. competitors with the trophy at stake.
South Korea wins #LLWS. American teams are now 15-34 all-time against international teams in LLWS championship games.

— ESPN Stats & Info (@ESPNStatsInfo) August 24, 2014
Dong Wan Sin's home run and a combined two hits allowed from pitchers Jae Yeong Hwang and Hae Chan Cho propelled Seoul to its first Little League World Series title since 1985. As its young players all revel in glory, let's take a look at some other noteworthy highlights from Williamsport, Pennsylvania.
Jackie Robinson West Rises to Championship Stage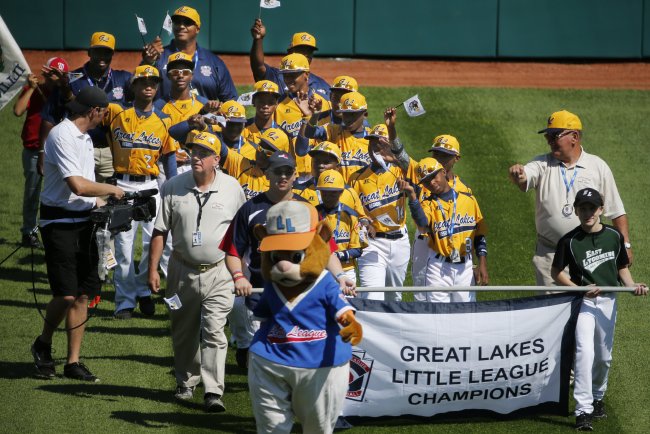 Gene J. Puskar/Associated Press
Throughout the tournament, Jackie Robinson West refused to give up with its back against the wall. The kids showed their resiliency in the championship, when they kept fighting despite facing a daunting 8-1 deficit.
Attempting to become the first all-black team to win it all, West clawed back with three runs during the final inning in a late rally that proved too little, too late.
Although they ultimately came up short on the scoreboard, manager Darold Butler described the immense bond his squad formed along the memorable journey to the Chicago Tribune's Paul Skrbina.
They call each other brothers, I hear that a lot. They were already close before, playing against each other or with each other since they were 7. This is something they will share for the rest of their lives. Those 13 guys will always be able to talk about these moments at the Little League World Series.
Jackie Robinson's daughter, Sharon, would not let the loss lessen the team's incredible run.
"They won our hearts." - Sharon Robinson, on the Jackie Robinson West team: http://t.co/Du3ERJWUU9 #JRW #LLWS pic.twitter.com/Agawdk24bN

— MLB (@MLB) August 25, 2014
Even Barack Obama's Twitter page congratulated the determined squad on their championship appearance.
Shout out to #LLWS U.S. champions, Chicago's own Jackie Robinson West All-Stars. You made your city and country proud.

— Barack Obama (@BarackObama) August 24, 2014
As a society chiefly concerned with the bottom line, it's important to take a step back here and not let the final outcome deter all this remarkable team had accomplished before running into Seoul.
Mo'ne Davis Steals Show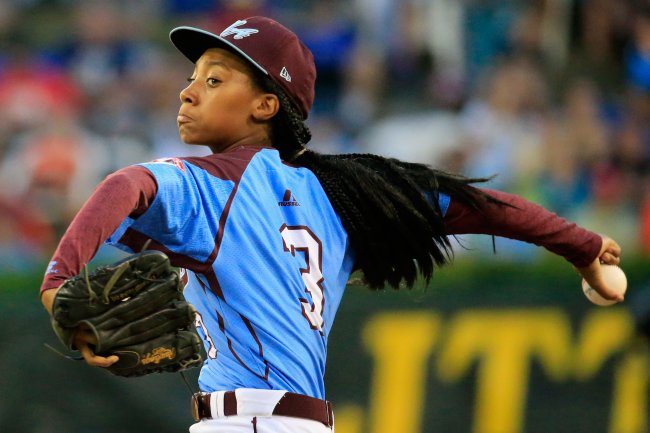 Rob Carr/Getty Images
The runaway star of the tournament, Mo'ne Davis dominated on the mound for the Taney Dragons, becoming a media darling in the process.
Touting a fastball that reached 70 miles per hour on the radar gun, the 13-year-old girl toyed with the boys, leading her Pennsylvania squad deep through the bracket. Although she and her teammates eventually met their match against Illinois, her accomplishments—broken down by ESPN Stats & Info—cannot be ignored.
Mo'ne Davis' amazing LLWS ends with the loss to Illinois. Here's a look at her accomplishments. pic.twitter.com/j9wUzrCAOR

— ESPN Stats & Info (@ESPNStatsInfo) August 22, 2014
Jimmy Fallon, host of The Tonight Show, poked fun at a hackneyed insult that Davis has hopefully put to bed.
Thank you, Mo'ne Davis, for showing the world that throwing like a girl can actually be a good thing...RIGHT DAD?! #thankyounotefriday

— jimmy fallon (@jimmyfallon) August 22, 2014
Along with her gender and talent, her charisma also paved out her path to stardom. The young phenom certainly doesn't lack confidence, comparing part of her arsenal to Major League Baseball's top ace.
In case you needed a quick scouting report on Mo'ne Davis, she's got you covered. pic.twitter.com/yFpJJoqOk3

— SportsCenter (@SportsCenter) August 20, 2014
A resounding viewership for her last outing certainly highlights a national investment in Davis' success. Her final start drew record ratings for a Little League World Series matchup on ESPN.