The 2014 Barclays led to a huge shake-up at the top of the FedEx Cup standings. Hunter Mahan, who has five top-10 finishes this year, won his first tournament of the season and emerged as the top player in the FedEx Cup.
PGA Tour provides a look at the result and movement for Mahan:
Your winner at @TheBarclaysGolf: @HunterMahan, who moves to No. 1 in the #FedExCup standings. pic.twitter.com/PdnCpJcmY2

— PGA TOUR (@PGATOUR) August 24, 2014
After winning two straight majors and three tournaments in a row, Rory McIlroy slid down to second. The Northern Irishman is now 466 points behind after tying for 22nd in the Barclays.
McIlroy had a disappointing start to the tournament but still played well through the weekend with several rounds under par. The four-time Grand Slam winner spoke about his play at the Barclays, per Steve DiMeglio of USA Today:
It was going to come to an end sooner or later, but the end of the day, great thing about golf is always there's next week. Looking forward to going to Boston, a course where I've had success on before and I've played well there, and I feel like my game is in good shape. So there's no reason why I can't go there next week and challenge for the title there.
With clear confidence after his strong play late in the season, McIlroy remains a solid contender for the FedEx Cup. But as Mahan and others make a push, he will need to round back into form to retake the lead.
Here's a look at the updated standings and top contenders for the FedEx Cup.
2014 FedEx Cup Standings

| | | |
| --- | --- | --- |
| Place | Golfer | Points/Behind |
| 1 | Hunter Mahan | 3,276 |
| 2 | Rory McIlroy | -466 |
| 3 | Jimmy Walker | -783 |
| 4 | Matt Kuchar | -855 |
| 5 | Bubba Watson | -915 |
| 6 | Jim Furyk | -1,000 |
| 7 | Jason Day | -1,164 |
| 8 | Patrick Reed | -1,247 |
| 9 | Jordan Spieth | -1,356 |
| 10 | Cameron Tringale | -1,411 |
PGATour.com
Hunter Mahan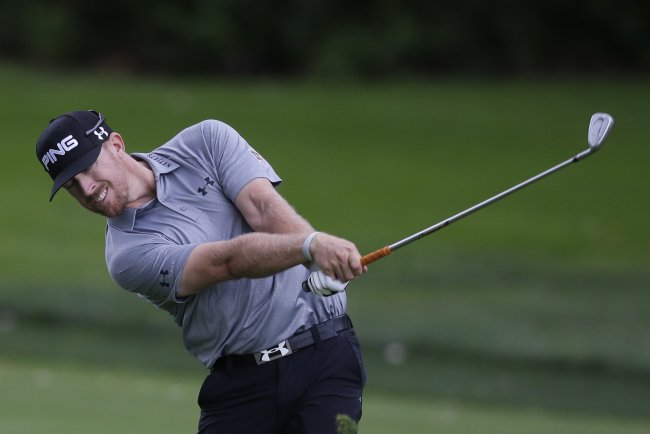 Mel Evans/Associated Press
On the heels of a huge win at the Barclays, Mahan finds himself atop the standings. Heading into the tournament, Mahan was 62nd on the board and without a win.
That all changed on Sunday.
Unlike the player just behind him in the standings, Mahan has struggled to close out tournaments this season. He has several top 10s but showed the ability to rise up the leaderboard on Sunday.
Mahan spoke about finally breaking through on the season, per Golf Digest:
Mahan: "It may feel like forever, but you've just got to keep working and that's what I kept doing this year." http://t.co/81bXL3eQJL

— Golf Digest (@GolfDigestMag) August 25, 2014
Now that Mahan has his first win of the year, the American will be one to watch down the stretch. But with myriad strong contenders behind him like McIlroy, Matt Kuchar and Bubba Watson, he will need more solid play to close out the season.
In order to win the FedEx Cup, Mahan has to continue to remain atop the leaderboard in tournaments. If he can keep up with the top players in the world, look for Mahan to stay in the running.
Rory McIlroy
If any player knows about winning, it's McIlroy. But even with multiple majors and nine top-10 finishes, he finds himself behind in the FedEx Cup standings.
The victory by Mahan broke up a streak of outstanding play from McIlroy, as SportsCenter notes:
Hunter Mahan wins Barclays Open at -14. This is 1st PGA TOUR event Rory McIlroy entered & didn't win since June 15th. pic.twitter.com/73eo5mEedI

— SportsCenter (@SportsCenter) August 24, 2014
Thanks to three wins on the year, McIlroy simply needs to contend to remain near the top of the FedEx Cup standings. The brilliant ball-striker recovered from a tough start to close in on the leaders.
Even without a top-20 result, McIlroy remains one of the top players in the running. Though he wasn't able to continue the streak, McIlroy shared his thoughts moving forward on Twitter:
Not the week I wanted @TheBarclaysGolf but some positives to take into Boston. Thanks NJ for all your support this week! #greatfans

— Rory Mcilroy (@McIlroyRory) August 24, 2014
For even average golf fans, it's clear that McIlroy is the best player in the world right now. So even after a down weekend and a poor result, expect to see McIlroy back atop the standings in the near future if he can match his solid play during the last several weeks.
Matt Kuchar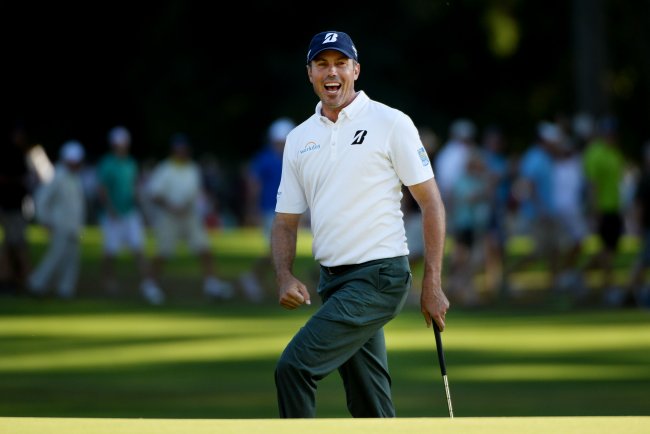 Ross Kinnaird/Getty Images
Which player will win the FedEx Cup?
With less events entered than Mahan and Jimmy Walker, Matt Kuchar has still placed himself in the top four.
Thanks to his lone win and 10 top-10 finishes, Kuchar is within 855 points of the leader. And after two top fives in the last three events, it's clear that Kuchar is playing some of his best golf in recent weeks.
The American has more top 10s than anyone else on tour but has shown flashes of brilliance in nearly every aspect of his game. Though McIlroy and Mahan will be difficult to overtake, Kuchar's consistency could translate to hoisting the trophy at the end of the year.
Desptie missing the cut twice this year, Kuchar has remained one of the best players on the season. If he can keep up his great play, expect Kuchar to contend for a title by year's end.
Follow @RCorySmith on Twitter.