Jackie Robinson West didn't take the world championship at the Little League World Series, but they are still winners in the big picture. The impact of their play in Williamsport, Pennsylvania, is bigger than baseball.
On Sunday, the team's magical run came to an end, but the players didn't go down without a fight. The kids from the South Side of Chicago were toppled by an awesome South Korean squad that went undefeated in the LLWS.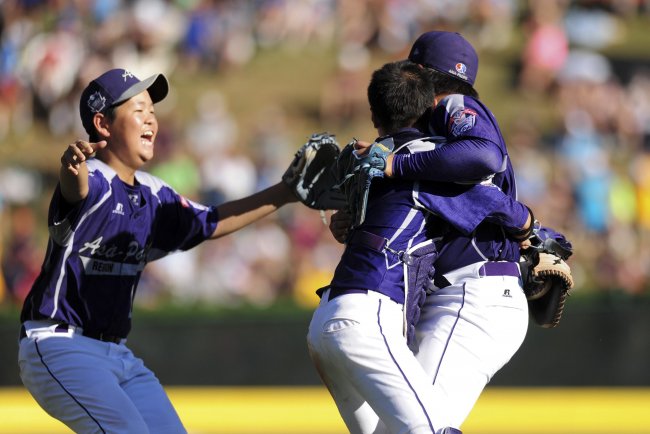 USA TODAY Sports
Trailing 8-1 heading into the final inning, JRW rallied to score three runs in the sixth inning to make the end of the game a little interesting. Ultimately, JRW fell by a score of 8-4.
As each of the three runs scored in the sixth, an unreal comeback started to seem more and more possible. I thought to myself: "Why not?"
After all, these kids had already accomplished the improbable simply by getting to Williamsport to represent themselves, their families, neighborhoods and city.
Congrats Jackie Robinson West on the US Little League championship! Bringing another title home to Chicago. Keep it goin. #JRW #ChicagoProud

— Patrick Kane (@88PKane) August 23, 2014
#JRW, we're so proud of your heart, determination, spirit & sportsmanship. Congratulations on a great season. #ChicagoPride #LLWS

— Chicago White Sox (@whitesox) August 24, 2014
Throughout JRW's epic run, their ethnicity had been a major focus. While race is a subject that makes many uncomfortable to discuss, there's no way not to see the significance of it in this story.
This is the first time the all-black JRW squad advanced to the LLWS in 31 years. And it's the first time an all-African-American team has ever won the United States title in Williamsport.
After having lost to Las Vegas, JRW head coach Darold Butler beamed with confidence, and his team didn't let him down.
Per Paul Skrbina of the Chicago Tribune, Butler said:
We don't lose to teams and not repay them. We want revenge. We're gonna stick to the script. Don't be surprised if we win that game tomorrow. I won't be. I'm going off how the players are talking and behaving. They really believe they can win the whole thing. We are looking forward to playing an international team Sunday.
What a year! I nominate #JackieRobinsonWest Coach Darold Butler for @ESPYS Coach of the Year Award #LLWS2014 ⚾ pic.twitter.com/Sj1ZuzuZhi

— Pierce Professor P ® (@TheProfessorP) August 24, 2014
JRW's accomplishments also come at a time when a lack of representation by African-American major leaguers is a cause for concern among those who care to see diversity in the game.
Per Jairo Ramos of NPR.org, who references Mark Armour and Dan Levitt of the Society for American Baseball Research and Tyler Kepner of The New York Times:
The share of black MLB players reached a high of 18.7 percent in 1981, according to the Society for American Baseball Research. In 2014, 8.3 percent of players on opening day rosters were black. Before the most recent decade's decline, the last time baseball had such a small share of black players was 1958.
Essentially, baseball is dying in the African-American community. The reasons and theories are plentiful and debatable.
However, without question, the cure for what ails the connection between the game, and any group of people who have become estranged from it, is relatable examples and access.
What JRW was able to do over the last 12 days could have helped to provide both.
The attention and success of JRW could motivate those in positions of influence locally to assist in funding more programs designed to provide access at an early age.
Essentially, baseball is just another positive activity to occupy the young people of impoverished and crime-stricken areas.
Moreover, the sport is played during the summer time when crime rates are generally at their highest in most cities—specifically Chicago.
David Bernstein and Noah Isackson of Chicago Magazine write:
The second half of the year, of course, includes the dog days of summer, the high-crime period that really sends sweat down the backs of police leaders. And July exploded. Over the long Independence Day weekend alone, 13 people were killed and more than 70 were shot in Chicago. The ensuing days weren't much better.
As a man who grew up less than 15 minutes from JRW's home park, I know firsthand the area these kids come from and how improbable their presence at the LLWS was. Winning the U.S. title was just more icing on a much-needed cake for the city's South Side.
JRW made baseball cool to a community that had lost sight of its beauty.
The long-term effects of this run may not be truly felt for seven to 10 years. Perhaps that's when one or two of the young men pursue a career in the sport.
Pierce Jones, Trey Hondras, Marquis Jackson and a few others are clearly great natural athletes who are honing their skills on the diamond.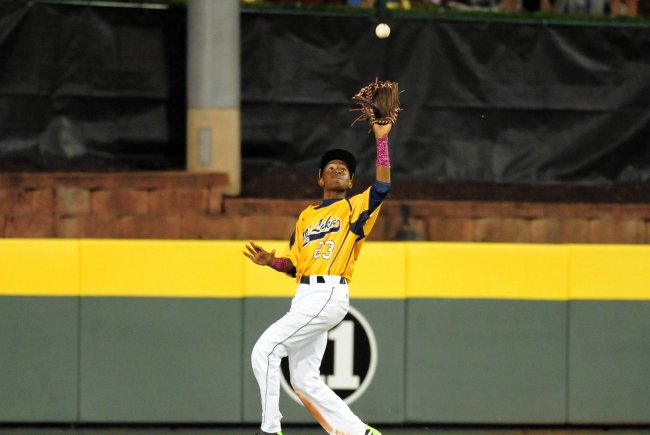 USA TODAY Sports
It's possible they could play another sport, become doctors, lawyers or something else. Those who love the game of baseball should be hoping they keep swinging the bat.
The game is at its best when it's a true representation of the people. If there's a large percentage of the population all but absent from the ranks of its players, coaches, general managers and owners, there is fragmentation.
JRW's success has planted a seed in the minds of the African-Americans in the Chicago community, and also in the minds of black kids from other areas who were ignoring baseball or looking for positive reinforcement to continue to play the game.
In addition, other minority groups that may be underrepresented in the majors can draw inspiration from JRW's run.
By simply getting to the LLWS, JRW said to anyone who didn't know, or who may have forgotten: We can all play this game together.
Hugs all around. Love it! What a great way to end it. The cultural exchange these guys have experienced is priceless. #JRW

— Laurence Holmes (@LaurenceWHolmes) August 24, 2014
That is a beautiful thing.
Follow Brian Mazique, aka FranchisePlay, the Sports and Video Game Journalist on Twitter.