In his first season with Tottenham, Nacer Chadli scored one league goal. He's already doubled that total in his second.
The Tottenham midfielder netted two goals in the first half in Sunday's match against Queens Park Rangers, helping spur his side to a 3-0 lead going into the break. Chadli scored his first goal in the 12th minute, receiving a pass from Emmanuel Adebayor and booting the ball into the left side of the net. The second came on a corner header 25 minutes later, with the assist coming from Erik Lamela.
Tottenham's official Twitter feed had a graphic showing the intricate passing that led to Chadli's goal:
Just a few passes in the build-up to our third goal which was finished off with a powerful Nacer header. #COYS pic.twitter.com/sm6HUHFXfF

— Tottenham Hotspur (@SpursOfficial) August 24, 2014
Having needed an extra-time goal to eclipse West Ham in their opener, Tottenham are in much finer form this week. They held an overmatched QPR squad without a shot on goal for the entire first half, keeping possession for nearly three-quarters of the match.
Eric Dier, who scored the match winner last weekend, scored Spurs' third goal in the 30th minute. Emmanuel Adebayor added another score in the 65th minute to further pad Tottenham's lead. Adebayor's goal allowed Tottenham to feel comfortable substituting Harry Kane in for Chadli, ending his day in the 69th minute.
While Dier is a 20-year-old who is expected to be a cornerstone talent at White Hart Lane, Chadli's sudden scoring explosion comes as a surprise. Spurs blogger Chris Miller noted it was his best performance with the club thus far:
Chadli's best Spurs performance by a country mile.

— Chris Miller (@WindyCOYS) August 24, 2014
The Belgian lacked scoring punch last season after coming over from FC Twente via transfer. He received limited playing time on the wing and was not especially effective when on the field, netting five goals in 34 overall appearances. His role was much different than in it was in the Netherlands amid turmoil with Tottenham, but Chadli seems to be fitting in better under Mauricio Pochettino.
Dominic Fifield of The Guardian complimented Pochettino on his ability to get struggling players back to form:
Early days yet, but Pochettino appears to have revived those who struggled last year: Lamela and Chadli outstanding so far here, Capoue tidy

— Dominic Fifield (@domfifield) August 24, 2014
Pochettino took over this summer for Tim Sherwood. The Argentine made the intelligent move to put Chadli in the starting lineup against QPR after seeing his unit struggle with Aaron Lennon in the midfield spot last week.
Sports journalist Ben Pearce pointed out that few thought Chadli would receive the starting nod:
#thfc Don't think many people were expecting Chadli to start but he's made early impact. Good movement, since he's playing on the other wing

— Ben Pearce (@BenPearceSpurs) August 24, 2014
Chadli's performance given his Premier League struggles is a bit of surprise, but his goal-scoring ability was no secret to Tottenham. The 25-year-old scored 18 times during his final season with Twente, which helped create a strong market for his services. Spurs paid a £7 million fee and expected Chadli to make an instant impact as an attacking midfielder or on the wing.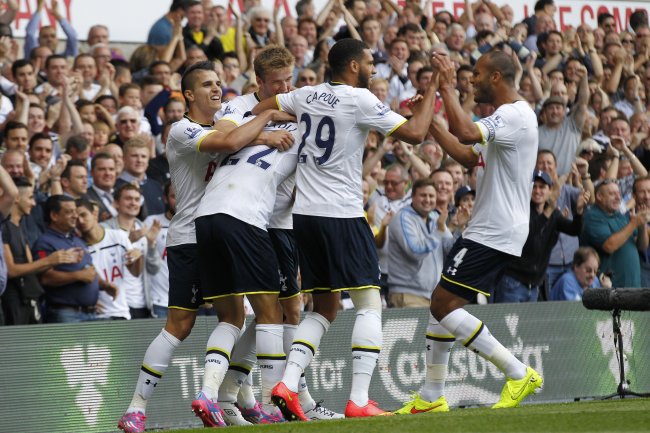 Sang Tan/Associated Press
When that didn't happen, speculation about his future mounted. In January, he turned down a potential loan to Swansea. Earlier this month, Alex Crook of The Daily Star reported Spurs were willing to use Chadli to lure Southampton star Morgan Schneiderlin to White Hart Lane.
Spurs fans are likely happy that transfer has not gone through. As e-Spurs pointed out, Chadli's intelligence is what sets him apart from the players with whom he's competing for playing time:
What Chadli adds to the attacking 3 that Lennon, Townsend dont seem to is very intelligent movement..gets himself in right places

— e-Spurs (@e_spurs) August 24, 2014
Squawka noted he's not doing so poorly in the passing department, either:
Nacer Chadli has had a belter so far. Two goals to his name and completed all 24 of his passes. pic.twitter.com/HPXWVFH1E3

— Squawka Football (@Squawka) August 24, 2014
Whether this performance is a sign of things to come or a blip on the radar remains to be seen. Chadli's inability to impress last season gives us a much larger sample with which to work. Both of his goals Sunday were as a result of being at the right place at the right time. That's a skill in its own right, but you could forgive Tottenham supporters for being skeptical of his sudden ascent to stardom.
At the very least, though, Chadli has earned himself a starting job against AEL in Europa League or against Liverpool next Sunday—if not both. With the way Spurs' attack looked fangless against West Ham, they'll need all the offensive help they can get. Chadli proved he might just be the answer Pochettino was looking for.

Follow Tyler Conway (@tylerconway22) on Twitter