Top 5 Gimmick Matches in Wrestling
I'd like to say that I have recently registered here and this is my first piece for Bleacher Report. This slideshow is entirely my opinion and any comments or criticisms will be appreciated.
In professional wrestling, a gimmick match is a variation on a standard match that features some special rule or stipulation.
These kinds of matches serve many purposes, often to be a big "blow-off" for a feud, or to add an extra layer of intrigue to a match. Regardless, some of these matches turn out to be quite notable, including the matches featured in this slideshow.
So let us begin with my Top 5 Gimmick Matches in Wrestling. Along with each selected match, I will list what I think are the three best examples of that match, with an honorable mention included for good measure.
I will also include explanations of each match for those who don't know what the match is about. Again, please keep in mind that this is entirely my opinion.
First, we start with a match that certainly has an "X" factor....
#5 - Ultimate X Match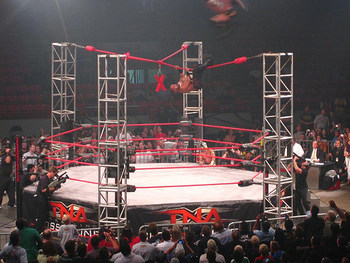 When TNA Wrestling introduced the Ultimate X match in 2003, they created something that was truly new and fresh, which in this day and age is something that is hard to do in pro wrestling.
Taking high-risk to an innovative new level, the high-wire action of Ultimate X and the athletes involved allowed the X-Division to become TNA's signature attraction.
The Ultimate X match is identifiable by its main structure: four steel girders with two crisscrossing cables attached to them. The two cables cross each other in the center of the ring, and it is at the point of crossing where the prize is located.
To get the prize (either a large red "X" or a championship belt), wrestlers must climb onto the cables and make their way to the center. They then must grab the reward and come down with it in their possession. The Ultimate X is essentially an evolution of the ladder match. In fact, its original slogan was; "No Limits, No Ladders."
Since 2003, 16 Ultimate X matches have been held.
My Top 3:
1) A.J. Styles & Christopher Daniels vs. L.A.X. (Homicide & Hernandez) - TNA No Surrender 2006
2) A.J. Styles vs. Chris Sabin vs. Petey Williams - TNA Final Resolution 2005
3) Volador Jr. vs. Daivari vs. Kaz vs. Naruki Doi - 2008 World X-Cup Final - TNA Victory Road 2008
Honorable Mention:
Petey Williams vs. Chris Sabin vs. Matt Bentley - TNA Bound for Glory 2005
Next, we look at a match featuring words that no one wants to say....
#4 - I Quit Match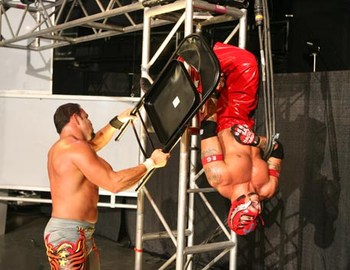 Saved often for the most personal and vindictive feuds, the "I Quit" match comes in at number four.
A violent, and often bloody affair, the "I Quit" match is self-explanatory: You win by forcing your opponent to say "I Quit." The first "I Quit" match is generally said to be a cage match between Magnum T.A. and Tully Blanchard at NWA Starrcade '85.
During the match, Magnum stabbed at Blanchard with a piece of wood, and Blanchard screamed "YES!" into a microphone, signifying that he had given up.
EDIT: Upon further research, it seems according to Online World of Wrestling that the "I Quit" match actually dates as far back as 1970.
Since that time, many other "I Quit" matches have been held, including the infamous match at the 1999 Royal Rumble between Mankind and the Rock.
Everyone knows what happened: Mankind got hammered with eleven straight chair shots to the head, and then the Rock played a recording of Mankind saying "I Quit" to win the WWF Championship.
Another example is John Cena against John "Bradshaw" Layfield at Judgment Day 2005 for the WWE Championship, which is still probably the best match of either man's career.
Since the Magnum T.A. and Tully Blanchard match, nearly every major wrestling promotion has held at least one "I Quit" match.
My Top 3:
1) Mankind vs. The Rock - WWF Royal Rumble 1999
2) Magnum T.A. vs. Tully Blanchard - NWA Starrcade '85: The Gathering
3) John Cena vs. John "Bradshaw" Layfield - WWE Judgment Day 2005
Honorable Mention:
Tommy Dreamer vs. C.W. Anderson - ECW Guilty As Charged 2001
*NOTE: I was going to mention the WrestleMania 13 Submission match between Bret Hart and Steve Austin, but decided not to because that was technically not an "I Quit" match.
Next, we enter a chamber of horrors....
#3 - Elimination Chamber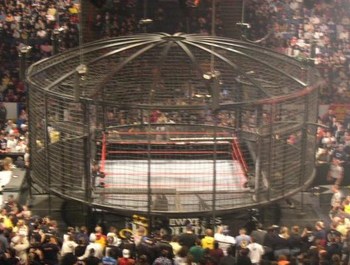 Eric Bischoff takes credit for a lot of things, but he definitely can take credit for this. When the Elimination Chamber was introduced in 2002, the WWE took steel brutality to a new level.
Combining elements from the Royal Rumble, War Games, and Survivor Series matches, the Elimination Chamber features six wrestlers fighting inside a massive steel structure. The Chamber is 36 feet in diameter, and is constructed with 10 tons of structural grade steel and surrounded by two miles of chain.
Two wrestlers start the match, with the other four contained in individual "pods." After a pre-determined amount of time, another wrestler enters the match. The wrestler who remains active after all six have entered is the winner.
Elimination is by pin fall or submission.
Since the first Elimination Chamber at Survivor Series in 2002, nine of these matches have been held, with winners that include the likes of Shawn Michaels, Triple H, and Edge.
My Top 3:
1) Shawn Michaels vs. Rob Van Dam vs. Booker T vs. Kane vs. Chris Jericho vs. Triple H - Survivor Series 2002
2) Edge vs. John Cena vs. Mike Knox vs. Chris Jericho vs. Kane vs. Rey Mysterio - WWE No Way Out 2009
3) Triple H vs. Edge vs. Chris Benoit vs. Chris Jericho vs. Batista vs. Randy Orton - WWE New Years Revolution 2005
Honorable Mention:
Triple H vs. John "Bradshaw" Layfield vs. Umaga vs. Chris Jericho vs. Jeff Hardy vs. Shawn Michaels - WWE No Way Out 2008
Next, we reach for the sky....
#2 - Ladder Match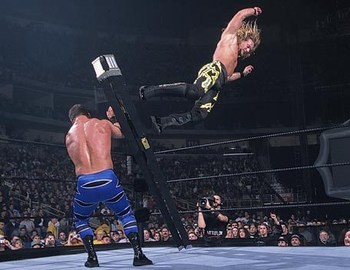 *NOTE: For the purposes of this slideshow, the ladder match and its variants will be referred to as one and the same.
Ah yes, the tried and true ladder match. There's really no need for a long-winded explanation here. In a ladder match, there are two or more wrestlers trying to climb a ladder and retrieve an object hanging above the ring.
While there is some dispute about the true origins of the ladder match, it is generally said to have started at Stampede Wrestling in Calgary, Alberta, Canada.
The first ladder match was between Dan Kroffat and Tor Kamata, held in 1972, where the prize was a bag of money.
The ladder match in its current form made its debut in the then-WWF in 1992. Filmed as a home video exclusive, the match featured Bret Hart and Shawn Michaels for Hart's Intercontinental Championship.
But the ladder match wouldn't reach prominence until WrestleMania X, when Shawn Michaels met Razor Ramon for the undisputed Intercontinental Championship.
The match stole the show, and Michaels' performance earned him the moniker "Innovator of the Ladder Match."
Since then, countless ladder matches have been held, with variations including the TLC (Tables, Ladders, and Chairs) match and TNA's King of the Mountain match. Many wrestlers have made names for themselves in these matches, including Jeff Hardy and Edge.
A ladder match always provides excitement and OMG moments, whether between two fierce rivals or with four tag-teams fighting for the gold.
My Top 3:
1) TLC II - Hardy Boyz (Matt & Jeff) vs. Dudley Boyz (Bubba Ray & D-Von) vs. Edge & Christian - WrestleMania X-7
2) The New Brood (Matt & Jeff) vs. Edge & Christian - WWF No Mercy 1999
3) Shawn Michaels vs. Razor Ramon - WrestleMania X
Honorable Mention:
Triple H vs. The Rock - SummerSlam 1998
Now, it's finally time for my number one gimmick match in wrestling. It's certainly one "Hell" of a match....
#1 - Hell in a Cell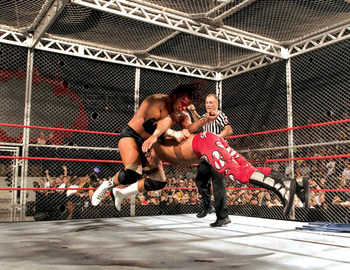 It's the ultimate way of "settling the score," and the most barbaric match in professional wrestling. When two wrestlers just can't set things straight, and all options are exhausted, the only solution is to go to "Hell."
The Hell in a Cell match is not for the weak of heart, and it is my number one gimmick match.
If naming your match after a Biblical place of eternal suffering doesn't push it over the top, then enclosing the ring in a claustrophobic, steel box should do the job.
Sixteen Hell in a Cell matches have been held since 1997, and no fewer than 19 brave souls have stained the Cell with their blood in the match's 12 year history, including future Hall of Famers Shawn Michaels, Triple H, the Undertaker ,and Mick Foley.
Speaking of Foley, his experiences inside Hell in a Cell provided fans with some of the most iconic visuals in wrestling history.
The sight of the Undertaker throwing Foley (as Mankind) off the top of the Cell through an announcer table is probably the most enduring image in WWE history, and it's still talked about to this day.
To shorten things, anyone who steps inside the Hell in a Cell is not the person they were beforehand, whether they're a wrestler or a referee (Tim White, anyone?).
The combination of hardcore violence and steel sadism makes the "Hell in a Cell" my personal number one gimmick match.
My Top 3:
1) The Undertaker vs. Edge - SummerSlam 2008
2) The Undertaker vs. Shawn Michaels - WWF Bad Blood 1997
3) Triple H vs. Cactus Jack - WWF No Way Out 2000
Honorable Mention:
The Undertaker vs. Mankind - WWF King of the Ring 1998
Closing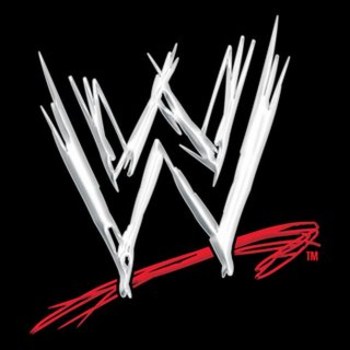 In closing, I hope you enjoyed this slideshow.
Like I said in the beginning. This is my first piece for Bleacher Report, and any comments/criticisms are appreciated, and this is my personal opinion.
Keep Reading