The New Orleans Saints are the most complete team in the NFL, and the NFC South should take notice.
With all due respect to the many other elite teams in the league—Seattle Seahawks, Denver Broncos, New England Patriots, et al.—the Saints have reached a new level in balance for this upcoming season. Sure, we define this group with the offensive passing success of head coach Sean Payton and quarterback Drew Brees, but it may be time to rethink that single-minded stance.
Luckily for the Saints, this coincides with a shuffling of the deck within the division.
The Tampa Bay Buccaneers brought in head coach Lovie Smith to lead a team that had been rudderless under Greg Schiano. Success should come soon as the team is certainly headed in the right direction, but immediate playoff aspirations might be a little much to ask for as Josh McCown takes on the starting role under center and the offensive line is such a big question mark.
In Carolina, the Panthers are reeling from the loss of both wide receiver Steve Smith (now in Baltimore) and stud offensive tackle Jordan Gross (now enjoying retirement). Panthers general manager Dave Gettleman has a vision for this team, and he's not going to take shortcuts just to get back to the playoffs this year if it mortgages long-term success. So, a small step back for the Panthers may not be a bad thing.
The Atlanta Falcons were supposed to bounce back this year, but a injury to left tackle Sam Baker puts "not quite ready for prime time" rookie Jake Matthews on quarterback Matt Ryan's blind side, and that should be a recipe for disaster. On both sides of the ball, the Falcons just don't look as fearsome as a couple of years ago.
Meanwhile, we have the Saints making all the right moves and ready to dominate the South once more on both sides of the ball.
The Offense Is as Complete as It Was in 2009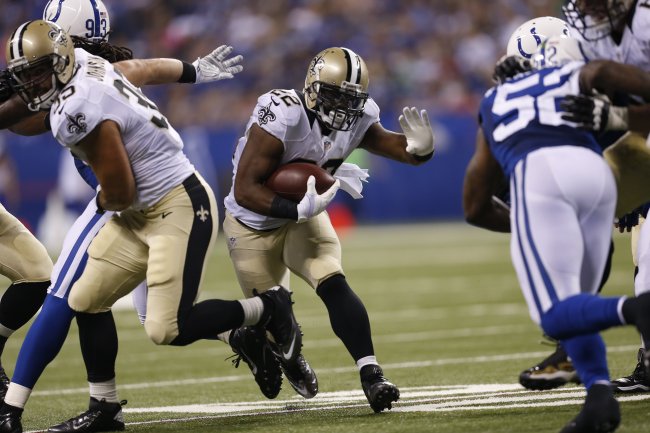 Sam Riche/Associated Press
Let's not overstate the whole balance argument.
In putting the running game and defense on a pedestal—as I am about to do—I don't want to completely look past Brees, Payton and the tremendous job this team has done transitioning through a number of aging players with important roles on this passing attack.
Former running back Darren Sproles (now with Philadelphia) is about as unique and irreplaceable a role player as one can be in this league, but the Saints have worked on bringing in multiple players or pushing players into new roles to help make up for impact lost with Sprole's departure.
Running back Pierre Thomas has been almost entirely a third-down back this offseason and has been excelling both in pass protection and on screen passes. Backup running back Travis Cadet makes a good understudy for Thomas in that regard. In the slot—where Sproles won a lot of his matchups—the Saints hope rookie receiver Brandin Cooks (my Offensive Rookie of the Year pick) abuses opponents in a similar fashion.
Cooks also replaces former receiver Lance Moore (now with the Pittsburgh Steelers) to a certain extent, but the Saints also believe that a more consistent Kenny Stills, the second-year receiver out of Oklahoma, can elevate his game to Moore-like levels.
The constant, of course, is Brees, who was the second-best QB in the league last season, according to Pro Football Focus (subscription required). At times, the Saints were overlooked throughout the 2013 season en route to a 11-5 record, but beating Chip Kelly's Philadelphia Eagles in the playoffs was nothing to sniff at and neither was losing on the road to the eventual Super Bowl champion Seattle Seahawks.
Who is the best QB in the NFC South?
Calling it an up-and-down season for the Saints may be going a bit too far, but it was clear week in and week out that Brees was elevating the play of the team around him. With a little more help this season (which he should be getting with the current group of skill-position players) Brees should be right in the midst of the league MVP discussion.
A big question mark, however, is the offensive line.
Tackle Terron Armstead was a promising small-school, third-round prospect last season, but he's still a step behind in pass protection. Center Tim Lelito hasn't been a liability, but he's not the player that Brian De La Puente had been in front of Brees for a number of years.
Overall, the line is better equipped for run-blocking—or at least for a balanced attack—than pass protecting for a QB who frequently throws over 40 times a game, but that is more than fine for an offense that suddenly looks like it can efficiently run the ball again.
Running back Mark Ingram is the big piece to the puzzle that we haven't mentioned. As I wrote a few weeks ago, Ingram looks like a changed man in his contract year as he's regained much of the balance and burst that made him such an impact player at Alabama.
In Week 3 of the preseason, Ingram rushed for 46 yards on eight carries and gave the Indianapolis Colts defense fits in the process. He also looks to have improved his blitz pickup from last season, which should make the Saints that much more comfortable leaving him on the field as an every-down back.
The Saints have have had a great offense for years, but this season might surprise even their most ardent supporters.
As Good as the Offense Is, the Defense Might Actually Be Better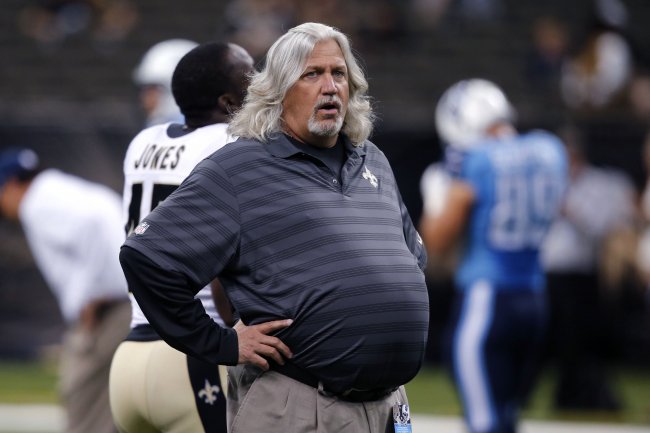 Bill Haber/Associated Press
Seahawks, 49ers, Panthers...Saints?
There is a vast chasm between respecting the Saints as a defense—which I think most of the league and its fans have started to do since Rob Ryan took over as coordinator—and putting the Saints in the company of some of the most fearsome defenses in the league.
Over the past couple of offseasons, the Saints have continued to add impact players to the defensive front seven—nose tackle Brodrick Bunkley, ends Akiem Hicks and Cam Jordan and linebackers David Hawthorne and Junior Galette.
Cam Jordan is a monster. He's bull rushing a guy who is much bigger than he is.

— stan verrett (@stanverrett) August 24, 2014
This kind of talent in the trenches allows Ryan to come at opposing passers from a variety of angles. He—like his brother Rex and father Buddy—loves to blitz and can engineer pressure even without elite talent, but the presence of great players means the pass rush reaches its intended target a whole lot more often.
The biggest signing off the offseason was the Saints picking up safety Jairus Byrd from the Buffalo Bills. Byrd is a fantastic coverage safety with a nose for the ball. I wrote about his signing at the time and pointed out that Byrd gives Ryan the same kind of freedom to be as inventive on the back end of the defense as he is with the front seven.
Terrifying reminder for NFL offenses -- Saints defense hasn't even had Jairus Byrd healthy yet.

— Corey Griffin (@CoreyGriffinNBC) August 20, 2014
With Byrd alongside safety Kenny Vaccaro, it allows the defense to move seamlessly between a 3-4 base defense and the 3-3-5 set for which Ryan has an affinity. It allows Byrd to roll into a single-high safety look and Vaccaro to be used as a pass-rusher. It takes pressure off of the cornerbacks and defensive front alike as it clouds what the quarterback is seeing before the snap.
The cornerbacks, too, are a big improvement over last season. Keenan Lewis is another year marinated in Ryan's scheme and has future Hall of Famer Champ Bailey across the field from him. In sub-packages, Patrick Robinson should shine in a less-featured role and Stanley Jean-Baptiste has the promise to be something special down the road.
The headline and the final word on this defense, though, should be on the guy running it. Ryan can do so much with less—and has done so for much of his career—but the idea of him having such a talented group of men at his disposal should scare the daylights out of any quarterback with the Saints on his schedule in 2014.
That defense, alongside an improved running game and a reenergized passing attack should put the Saints back on top of the NFC South (if not the entire NFL) this season.
Michael Schottey is an NFL National Lead Writer for Bleacher Report and a member of the Pro Football Writers of America. Find more of his stuff on his archive page and follow him on Twitter.