Healthy Tony Romo Only Thing That Will Save Cowboys in 2014
August 24, 2014

Getty Images
When the starters were done halfway through Saturday night's key third preseason game for the Dallas Cowboys, the score was 6-3 in favor of Dallas. That alone would indicate that the Cowboys' oft-maligned defense performed well against the Miami Dolphins' first-teamers. 
At the same time, the Cowboys had just two field goals on offense, with quarterback Tony Romo completing just 10 of 18 passes for 87 yards. On paper, that would seem to indicate that Romo and the offense struggled. 
Both are myths. That's the problem with raw stats derived from tiny sample sizes.
The reality is that, in the Cowboys' unofficial dress rehearsal exactly a fortnight before the regular-season opener, we received confirmation that their defense is yet again going to be a mess in 2014, and that Romo will again be forced to save the day. 
Without DeMarcus Ware, Jason Hatcher (both gone), Anthony Spencer, Henry Melton, DeMarcus Lawrence, DeVonte Holloman and Sean Lee (all injured), a Dallas D that ranked dead last in the NFL this past season while surrendering the third-highest team yardage total in NFL history was continually embarrassed during the first half. 
Unsurprisingly, the front seven was the problem. And in that respect, it did show up on paper. Miami's running backs ran all over the Cowboys' defensive front, with Knowshon Moreno and Lamar Miller combining for 98 yards on 17 carries. It was simply far too easy for them to get to the second and third levels. 
NFL Game Pass
NFL Game Pass
The reality is that the D was bailed out by drops like these...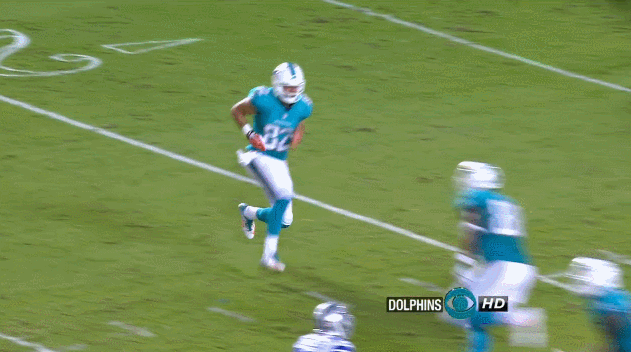 NFL Game Pass
And passes like these...
NFL Game Pass
And turnovers like these... 
NFL Game Pass
Miami also had two particularly costly penalties on offense during the first half. All in all, it was about that offense failing to take advantage, which isn't a good sign. A Cowboys defense that ranked 29th in the league on third down was once again stumped when it came to getting the opposition off the field. 
NFL Game Pass
Meanwhile, Romo's numbers were hurt by two drops. He didn't really throw it deep—which is somewhat concerning, considering that he's yet to prove he can do so efficiently after his offseason back surgery—but he and Pro Bowl receiver Dez Bryant showed off that 4G connection on four separate occasions. 
NFL Game Pass
NFL Game Pass
It was also promising to see Romo make a couple nice throws on third downs, because that's another area in which the Cowboys struggled last season (ranking 26th). 
NFL Game Pass
Yes, they still only converted two of eight third downs with Romo out there, but Romo's pass protectors weren't exactly his best friends in all of those scenarios. 
NFL Game Pass
NFL Game Pass
Penalties killed what looked like a masterpiece of a two-minute drill to finish the first half.
"It felt good to get through a half," Romo said at halftime, per ESPN.com's Todd Archer. "We want to put more points on the board, but we hurt ourselves with penalties. The game is always going to be hard if you keep putting yourself behind."
Had the Cowboys gotten in there, they'd have been on pace for a 26-point four-quarter performance despite those drops and only 3.5 yards per carry from running backs DeMarco Murray and Lance Dunbar. 
It's now plainly obvious that in order to survive or even excel in 2014, the Cowboys will need to win plenty of shootouts. And these days, you can't do that without a top-tier quarterback.
Romo confirmed on Saturday that he still possesses that ability, but this'll be a Texas-sized task.