Almost no one expected Rafael dos Anjos to upset Benson Henderson—let alone finish him—but the 29-year-old Brazilian accomplished both feats on Saturday night at UFC Fight Night 49 in Tulsa, Oklahoma.
After more than holding his own in the early exchanges of the first round, Dos Anjos landed a hard leaping knee and followed that up with a left hook.
Henderson's legs left from under him, and referee John McCarthy jumped in to stop the bout at two minutes, 29 seconds in the very first round. At least one member of the UFC roster was shocked at the outcome.
WoooooooooooooooooooooooooooW I wasn't expecting that 🙈 @ufc

— Manny Gamburyan (@MannyGamburyan) August 24, 2014
The crowd booed, and Henderson showed his displeasure for what many regarded as a quick stoppage.
Benson Henderson: "I thought I was clear-headed. It is what it is. You have ups and downs, you've got to take the good with the bad."

— Shaheen Al-Shatti (@shaunalshatti) August 24, 2014
Yikes!!! Slightly early stoppage I think.. But Gotta protect the fighters. Dos Anjos.. Respect 👏

— Marcedes Lewis (@MarcedesLewis89) August 24, 2014
Here's a look at the results from every fight on the card.
UFC Fight Night 49 Results

| | | |
| --- | --- | --- |
| Matchup | Winner | Method |
| Wilson Reis vs. Joby Sanchez | Reis | Unanimous Decision |
| Ben Saunders vs. Chris Heatherly | Saunders | First-Round Submission (Omoplata) |
| Aaron Phillips vs. Matt Hobar | Hobar | Unanimous Decision |
| Beneil Dariush vs. Tony Martin | Dariush | Second-Round Submission (Head-and-Arm Choke) |
| Neil Magny vs. Alex Garcia | Magny | Unanimous Decision |
| Chas Skelly vs. Tom Niinimaki | Skelly | First-Round Submission (Rear-Naked Choke) |
| James Vick vs. Valmir Lazaro | Vick | Unanimous Decision |
| Max Holloway vs. Clay Collard | Holloway | Third-Round TKO |
| Francis Carmont vs. Thales Leites | Leites | Second-Round TKO |
| Mike Pyle vs. Jordan Mein | Mein | First-Round TKO |
| Benson Henderson vs. Rafael dos Anjos | Dos Anjos | First-Round TKO |
UFC.com
UFC Fight Pass Preliminary
Wilson Reis Defeats Joby Sanchez by Unanimous Decision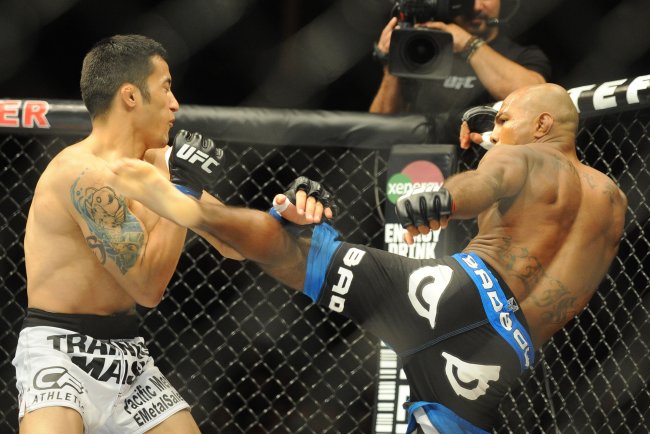 USA TODAY Sports
Despite suffering a knockdown in the second round, Wilson Reis' dominant grappling and more effective striking led to an easy win over Joby Sanchez.
Per UFC.com, Reis completed eight of 10 takedowns and landed more than twice as many strikes as Sanchez in the bout.
UFC Fox Sports 2 Preliminaries
Ben Saunders Defeats Chris Heatherly by First-Round Submission (Omoplata)
Jon Kopaloff/Getty Images
After a four-year absence from the UFC, Ben Saunders returned victorious. His win came via omoplata, which is one of the rarest submission holds in MMA. Twitter reacted once Saunders sunk in the hold.
Great submission win from Ben Saunders. Don't remember seeing an omoplata in the #UFC before that. #UFCFightNight #MMA

— Rob Tatum (@RobTatumMMA) August 24, 2014
Omoplata!!!!! @bensaundersMMA @ufc #UFCFightNight

— Coach (@CMPunk) August 24, 2014
How rare is it for a guy to get a win via omoplata? Michael Carroll of FightMetric tells us:
Ben Saunders and Shane del Rosario are the only omoplata submitters in UFC/SF/WEC/PRIDE combined history.

— Michael Carroll (@MJCflipdascript) August 24, 2014
Matt Hobar Defeats Aaron "The Model" Phillips by Unanimous Decision
"The game plan going in was to keep backing him up against the fence & pressure him into the takedowns"@CrowbarHobar pic.twitter.com/k0rfKV2V4A

— UFC (@ufc) August 24, 2014
In an absolute snoozefest, Matt Hobar sent Aaron Phillips to 0-2 in the UFC. After losing a decision to Sam Sicilia in his debut, Phillips needed a strong performance, but he didn't get it.
#UFCFightNight 49 Results: Matt Hobar def. Aaron Phillips by unanimous decision (29-28, 29-28, 29-28)

— MMAWeekly.com (@MMAWeeklycom) August 24, 2014
Hobar consistently took Phillips down throughout the fight. In the first round, Hobar seemed to catch his opponent off guard by standing and striking early. In the last two rounds, he leaned on his ability to get Phillips to the ground almost at will.
So far, the Model is taking all the wrong head shots.
Beneil Dariush Defeats Tony Martin by Second-Round Submission (Head-and-Arm Choke)
USA TODAY Sports
Per the Fox Sports broadcast, Tony Martin said he was better than Beneil Dariush in every facet of the game. Well...that didn't turn out to be the case.
Dariush allowed Martin to tire himself out after an active first round. In the second frame, Dariush noticed Martin's punches and footwork had slowed significantly. The 25-year-old wasted no time going for the takedown and transitioning to the triangle.
WOW!! Way to finish @beneildariush_ !!

— UFC (@ufc) August 24, 2014
It was beautiful technique.
Martin's biggest weakness is his slow hands. During striking sequences, Dariush was the quicker man. As the pace quickened, the advantage was more evident. There may be no solution for that issue.
Dariush is a jiu-jitsu artist primarily, but you can see that he's been working to diversify his striking game.
As his game continues to evolve, he could someday climb into the Top 10 at lightweight down the line.
Neil Magny Defeats Alex Garcia by Unanimous Decision
"I'm 4-0 this year in the Octagon so I'm ready to take on all comers. I want to stay active" @NeilMagny #UFCTulsa pic.twitter.com/BifyAuYuxH

— UFC (@ufc) August 24, 2014
In another less-than-spectacular bout, Neil Magny won a unanimous decision over Alex Garcia. It was a tough fight to score, but Garcia did land the two biggest moves of the fight.
Neil Magny def. Alex Garcia via unanimous decision (29-28, 30-27, 30-27) at #UFCFightNight 49 -- http://t.co/wi6kpsu9nQ

— Shaheen Al-Shatti (@shaunalshatti) August 24, 2014
Neil Magny is only the 12th fighter in modern-UFC history to win 4 fights in a calendar year.

— MMADecisions.com (@MMADecisions) August 24, 2014
Two huge power takedowns put Magny on his back, but Garcia couldn't do anything with the top position. Still, Garcia could have an argument with the decision. That's especially the case with the judge who gave Magny all three rounds.
Magny's length makes him a tough out, but he just doesn't bring much entertainment in his bouts. That will make it hard for him to move up the ladder as quickly as more dynamic performers.
Garcia's best traits are his athleticism and explosiveness, but he lacks the technique to move into the class of elite fighters at welterweight.
Rarely throwing combinations and depending on wild overhand rights won't get him much success against the best fighters.
Fox Sports 1 Main Card
Chas Skelly Defeats Tom Niinimaki by Submission (Rear-Naked Choke)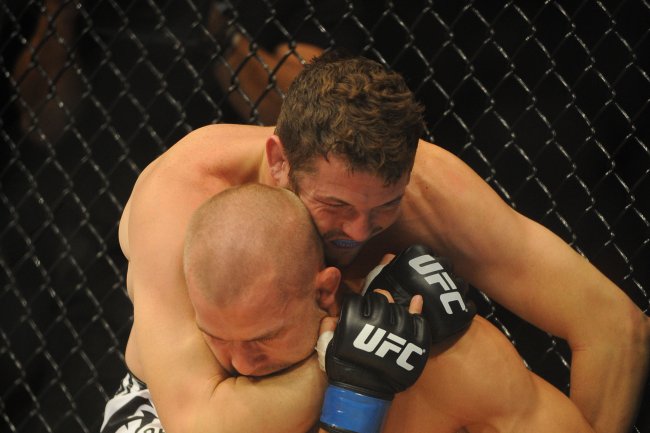 USA TODAY Sports
After coming out aggressive in the opening moments of the first round, Chas Skelly fought his way out of a guillotine attempt from Tom Niinimaki.
Skelly transitioned to mount and then rolled to Niinimaki's back to cinch in a rear-naked choke. It didn't look as if the choke was under Niinimaki's chin, but the pressure was tight enough to cause the tapout.
It was an impressive performance from Skelly after he dropped a decision to Mirsad Bektic in his UFC debut. If he continues to look to push the action in future bouts, Skelly could be an exciting competitor in the UFC.
Niinimaki continues to be susceptible to the submission. Four of his seven losses have come via tapout, including the last two.
James Vick Defeats Valmir Lazaro by Unanimous Decision
USA TODAY Sports
It was a hard-fought battle, but it wasn't very aesthetically pleasing. Lazaro was billed as a masterful striker from the same camp that help to hone Jose Aldo's skills, but his technique looked more like a guy from one of those street-fight videos.
James Vick derrota a Walmir Lazaro por decision unanime (29-28, 30-27, 29-28) #UFC #MMA #UFCFightNight @ResumenMMA pic.twitter.com/t5eAbxoVQM

— ATSteveDuncan® (@ATSteveDuncan) August 24, 2014
This fight is on Button-Mashing mode #UFCFightNight

— FightMusic #Producer (@MikeyRukus) August 24, 2014
This is the type of fight that makes people at home think they can fight in the UFC.

— RJ Clifford (@RJcliffordMMA) August 24, 2014
Lazaro's punches were wild, wide and inaccurate.
Vick landed right hands at will and wobbled Lazaro on several occasions. To the latter's credit, he was tough and took the punishment well, but it's hard to imagine Lazaro beating anyone of note.
Vick looked rusty after battling injuries and a short outing in his last fight, but he could still be a tough opponent at lightweight.
Max Holloway Defeats Clay Collard by Third-Round TKO
Max Holloway derrota a Clay Collard por TKO (puños) 3:47 del Round 3. #UFC #MMA #UFCFightNight @ResumenMMA pic.twitter.com/JajdGO8VX4

— ATSteveDuncan® (@ATSteveDuncan) August 24, 2014
Despite being outstruck, Clay Collard was entertaining in defeat. He never stopped coming forward but didn't have an answer for the technical striking proficiency of Holloway.
In a performance that could be best described as an exhibition of controlled aggression, Holloway put together a professional dismantling of a tough and game opponent.
In the third round, Holloway gained top position and forced referee Dan Miragliotta to call an end to the fight as he pounded away at an exhausted and defenseless Collard. Though Collard took the bout on short notice, he still made a good account of himself.
"He's a fighter! He took this fight on 10 days notice!" - @BlessedMMA has nothing but #respect for his #UFCTulsa opponent @CCCcollard

— UFC (@ufc) August 24, 2014
He deserves a chance to show what he can do with a full training camp. As for Holloway, he continues to improve with every bout. Nevertheless, he's still about three wins away from being considered a serious title contender in the featherweight division.
Thales Leites Defeats Francis Carmont by Second-Round TKO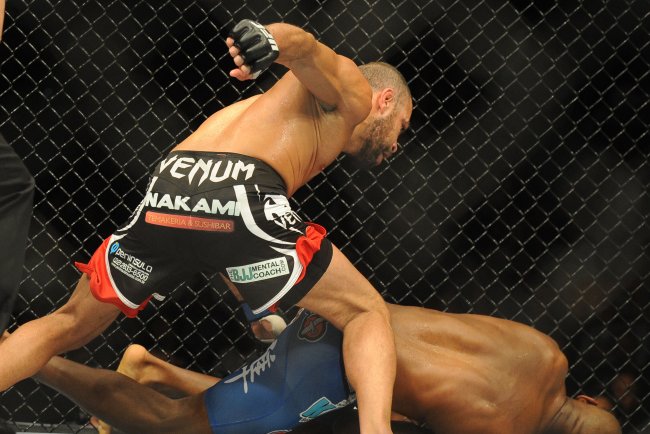 USA TODAY Sports
After a slow-paced first round, Thales Leites surprised Francis Carmont with pressure in the second round. He landed a hard overhand right and a sharp uppercut that put Carmont down.
Leites went in to finish his work, but Carmont was already out, and the bout was stopped.
Thales Leites gets the KO in round 2. He is PSYCHED! Doing so well since returning to the #UFC. #UFCFightNight

— Karyn Bryant (@KarynBryant) August 24, 2014
The win was Leites' fourth straight, and he's looking like a contender at 185 pounds. Carmont continues to underachieve. Physically, he looks like an absolute beast but almost never fights as well as expected.
Francis Carmont deserves a spot on the Ken Shamrock "Good in the Gym" All Stars.

— Jonathan Snowden (@mmaencyclopedia) August 24, 2014
Remember how bad that Anderson Silva-Thales Leites title fight was? Feels like two decades ago. He's won four straight in the UFC.

— Josh Gross (@yay_yee) August 24, 2014
He's like the middleweight version of Cheick Kongo. Carmont has now lost three straight fights. How many more can he withstand before he's sitting on the cut line?
Jordan Mein Defeats Mike Pyle by First-Round TKO
USA TODAY Sports
This one didn't take long at all. Jordan Mein landed a vicious left hook that put Mike Pyle down. A few shots in ground-and-pound, and Miragliotta had to save another victim from more damage.
My goooooodness.

— Marcelino Evil (@KCBanditMMA) August 24, 2014
WOW!!

— UFC (@ufc) August 24, 2014
Mein is for real...he got Matt Brown too early in his career...

— Brian Rogers (@BRogthePredator) August 24, 2014
Mein clearly proved he is one of the future stars in the UFC with this performance.
The speed and accuracy of his striking are scary. Pyle is an excellent wrestler, but he had no luck getting Mein to the mat. At 38 years old, Pyle has to wonder how much more time he has as a serious contender in the welterweight division.
Rafael dos Anjos Defeats Benson Henderson by First-Round TKO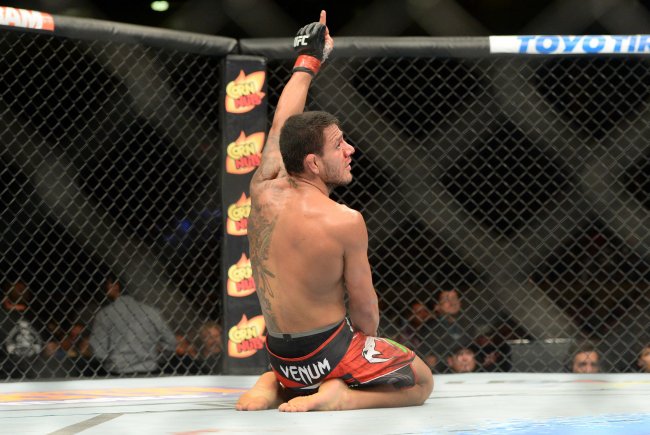 USA TODAY Sports
Give Dos Anjos credit, but that stoppage by McCarthy did look a little premature. Dos Anjos may have finished definitively, but a couple of more seconds would have left everyone with a better taste in their mouth.
WOW congrats to @RdosAnjosMMA he hit @BensonHenderson hard @fearthefighter @lunarpages @ufc http://t.co/qQnK3vucCH

— Roy Nelson (@roynelsonmma) August 24, 2014
That said, Henderson has benefited from a few close decisions. On this night, he didn't get the break. Henderson has made his name by being available whenever the UFC calls. After such a quick fight, he may get a chance to bounce back quickly.
Dos Anjos has to be considered no lower than second in the lightweight division after this performance.
Follow Brian Mazique aka FranchisePlay the Sports and Video Game Journalist on Twitter.