Arsenal's 2014 summer transfer window has already been a rousing success, and according to the latest reports, Arsene Wenger isn't finished adding to his squad.
The Gunners are still eyeing several high-profile targets, and at least one big name is expected to move to the Emirates before the end of the window.
Let's have a look at the latest buzz surrounding some of the hottest names on the market.
Marco Reus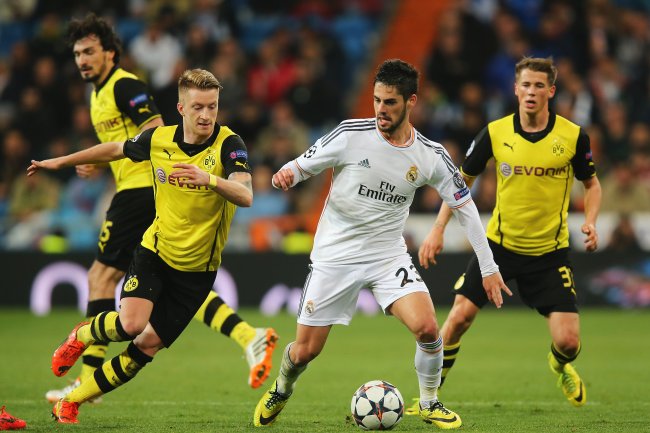 Clive Rose/Getty Images
Spanish newspaper Vozpopuli (h/t to Metro) claims the Gunners met with star forward Marco Reus over the course of the summer, with Arsenal eventually holding off on completing the transfer to see how the German international recovered from the injury that ended his 2013-14 season prematurely.
Social media immediately went berserk when they heard the news, as the Borussia Dortmund man is now healthy and back to his old self in the Bundesliga.
It's important to note that while the report came out recently, talks were held before Reus returned to the pitch. There's no indication the two parties have talked since, so fans should hold off on popping the champagne.
Dortmund and Reus have vocally denied any transfer speculation throughout the summer, although CEO Hans-Joachim Watzke sounded less optimistic in a recent interview with Der Westen, as reported by Metro.
"We will have to wait and see whether we can keep hold of Marco," he said. "All I can say is that I know him really well and it's not about money with him."
Reus is one of the world's most gifted attackers, and competition for his signature would be fierce should Borussia decide to sell the player at some point in the future.
The Gunners would be aided by the fact Die Schwarzgelben would rather move him than risk losing him to Bayern Munich, although Barcelona is rumoured to be the club most likely to land the coveted forward.
Kostas Manolas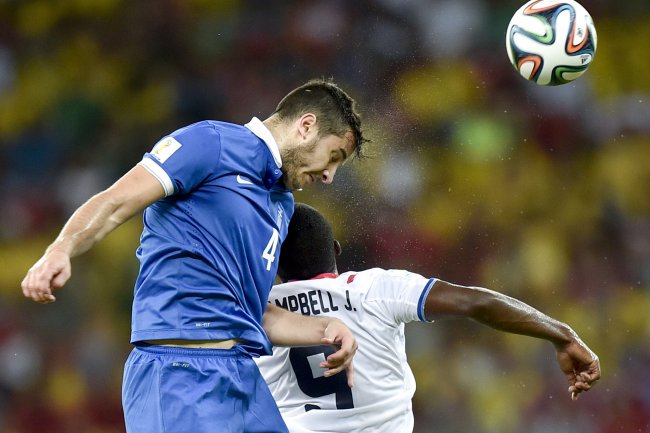 Martin Meissner/Associated Press
Goal's Wayne Veysey can reveal the Gunners are closing in on a deal for the Greek youngster, with current club Olympiakos reportedly looking for an £8 million transfer fee.
The centre-back's advisors have already discussed contract details with Arsenal, who are firm favourites to land the 23-year-old during the 2014 summer window.
Kostas Manolas greatly impressed during the 2013-14 season and would add an extra body to the Gunners' defensive unit, which lacks depth behind the starting pairing of Per Mertesacker and Laurent Koscielny. With Manolas and Calum Chambers backing up that duo, Arsenal's group of defenders would look formidable.
Rumours that Manolas was already in London to take a medical turned out to be false, per the Sunday Times' Duncan Castles:
Kostas Manolas still in Greece. Trained with Olympiacos today. #AFC #GRE

— Duncan Castles (@DuncanCastles) August 19, 2014
Pundit Sergi Dominguez is a big fan of the Greek:
Manolas would be a very good signing for Arsenal. Admire him greatly - exciting prospect. Strong, offers optimal flexibility & he's.. Greek.

— Sergi Domínguez (@FutbolSergi) August 18, 2014
Manolas comes from the Greek school of centre-backs, meaning he has all of the physical traits required to excel against powerful attackers. While not the most nimble player, he has exceptional vision given his age, and he still has plenty of time to develop as a player.
He wouldn't have to start immediately for the Gunners but would provide excellent cover, and he has the potential to develop into a quality starter in the next couple of years.
Sami Khedira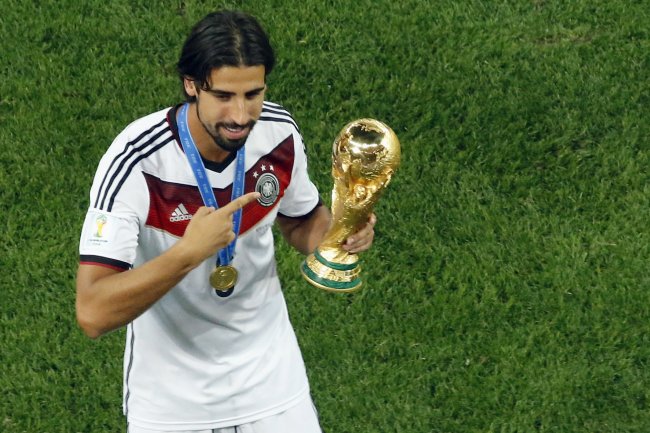 Fabrizio Bensch/Associated Press
The one rumour that simply won't go away, Real Madrid's Carlo Ancelotti told the media he has given Sami Khedira permission to find a new club before the 2014 summer transfer window is over, per ESPN FC's Dermot Corrigan:
Ancelotti: "Khedira has been given permission to leave, so I am not interested in where he goes."

— Dermot Corrigan (@dermotmcorrigan) August 22, 2014
Metro claim the World Cup hero carries a £12 million price tag, fair value for a high-end holding midfielder with one year left on his current deal.
The Gunners have been linked with the 27-year-old throughout the window and looked like they could lose the mercurial Khedira to rivals Chelsea, but the Blues currently have no more slots available for another foreign player.
Khedira would add insurance, experience and top-class quality to Arsenal's central areas, turning arguably the team's only weakness into a major strength. He does carry high wages, however, complicating negotiations between both parties.
Similar to the situation with Reus, other clubs seem to have a better shot at landing Khedira, with the most likely destination being Bayern Munich. The Bavarians have a need at the position following the injury to Javi Martinez and would be less reluctant to give in to the player's wage demands.