Miami Dolphins 2009 Preview
July 13, 2009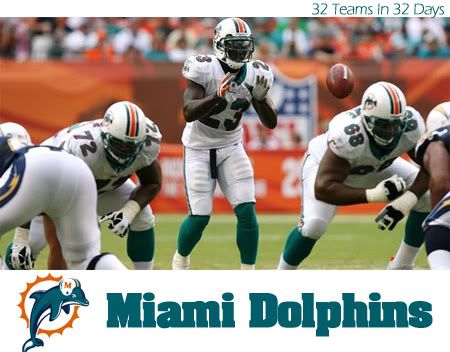 2008 Summary:
In 2007, the
Dolphins
were widely considered the laughing stock of professional football. Had it not been for Greg Camarillo's efforts in an overtime game against
Baltimore
,
Miami
would have beaten
Detroit
to the punch and finished the season imperfect at 0-16.
So with all of one win under the belt of the Dolphins, it shouldn't come as much of a shock to anyone that no one expected anything from this Miami squad in 2008.
But a series of events changed that. Bill Parcells decided against going to
Atlanta
to be the vice president of football operations at the eleventh hour and instead joined the Dolphins front office—and in doing so, began to rewrite the culture of the franchise.
Immediately coach Cam Cameron was dispersed, and Parcells hired longtime assistant Greg Sparano to take over as the new Miami front man.
And just before the Dolphins were to embark on the 2008 season,
Brett Favre
changed the complexity of the AFC East when he unretired and was traded to the
Jets
, leaving New York to release Chad Pennington where Parcells and Sparano awaited with open arms.
Suddenly, the team that couldn't catch a break in 2007 was beginning to see their luck turn.
This would increase ten fold after Week One, when Patriots MVP
Tom Brady
would go down with a season ending knee injury, leaving the AFC East up for grabs.
With a veteran quarterback with a huge chip on his shoulder and a cast of reliable veterans on both sides of the ball, the pieces were in place for the biggest regular season turnaround in
NFL
history.
As fate would have it, the Jets and Dolphins would matchup against each other in Weeks One and 17. Brett Favre and Chad Pennington both played under center to start the season, with each of them being relatively unfamiliar with their new teams offenses.
The first matchup would go to Favre's Jets, and following a thorough beat down at the hands of the
Arizona Cardinals
, the Dolphins would fall to 0-2 on the season and produce an even less remarkable 20th loss in their last 21 regular season games dating back to the 2006 season.
It was then that coach Greg Sparano needed a spark.
The NFL was about to be introduced to an offensive formation known simply as the "Wildcat." The formation itself seemed simple enough to figure out, and was for all intents and purposes just a modern day variation of the single-wing offense.
But that simple wrinkle would be incredibly hard to defend, and when it was unleashed against the hated Patriots, the league took notice. Miami would travel to Gillette Stadium and unleash a 38-13 beat down of the Patriots, bringing New England's 21-game regular season winning streak to a screeching halt.
The week after, the Wildcat would do it's work again, this time pushing the Dolphins to a seven point victory over
San Diego
.
After a heart-wrenching loss to the
Houston Texans
, a game Miami lost with just three seconds to play, the Dolphins would have a game with the Baltimore Ravens, a matchup that would prove to be somewhat prophetic to Miami's future. The Ravens would shut down the Dolphins "Wildcat" attack, only surrendering 71 yards rushing to Miami with Ronnie Brown only getting two yards per carry on his 13 attempts.
Miami would return to a very easy schedule, and rattle off victories in nine of their last ten games against teams with records of .500 or worse—with their lone loss being to the only team to be able to finish above .500 in 2008, and as fate would have it they would close the season in the Meadowlands with a victory over the New York Jets, giving Chad Pennington a trip to the playoffs and a division title all while sending the Jets packing for the season.
However, the Dolphins luck would change in the playoffs. They drew, perhaps, the worst possible matchup they could have hoped for in the first round. The Baltimore Ravens returned to South Beach, and just like they had done the first time, the Ravens shut down Miami's offense and made quick work of the Dolphins.
But the 10-win turnaround and shocking AFC East title was predicted by few, if any. And while the Dolphins saw their postseason end relatively quickly, the fact they even got that far was a victory in itself.
2009 Free Agency Additions
S Gibril Wilson (
Oakland
)
C Jake Grove (Oakland)
DE Jason Taylor (
Washington
)
CB Eric Green (Arizona)
G Joe Berger (
Dallas
)
2009 Trade Acquistions
2009 Offseason Departures

C Samson Satele (Traded to Oakland)
CB Andre Goodman (
Denver
)
S Renaldo Hill (Denver)
C Al Johnson (New England)
QB John Beck (Baltimore)
FB Boomer Grigsby (Houston)
2009 NFL Draft
1-25. Vontae Davis, CB, Illinois
2-44. Pat White, WR/QB, West Virginia
2-61. Sean Smith, CB/S, Utah
3-87. Patrick Turner, WR, USC
4-108. Brian Hartline, WR, Ohio State
5-161. John Nalbone, TE, Monmouth
5-165. Chris Clemons, FS, Clemson
6-181. Andrew Gardner, OT, Georgia Tech
7-214. J.D. Folson, ILB, Weber State


2009 Outlook
After shocking the world with their 11-5 record in 2009, Tony Sparano will look to continue the Dolphins success and will once again have Chad Pennington under center to direct his offense.
However, Chad Henne is being groomed to start for the Dolphins in the not so distant future, so if Pennington were to stumble out of the gate or miss a game or two due to injury—Henne may very well be the starting quarterback in Miami for much of the season.

All eyes will be on Miami's ability to run its patented 'Wildcat' offense, and they added a perfect fit for that offense in the draft with former West Virginia standout Pat White. White will figure to be the sort of "jack-of-all trades" player for the 'Fins, but could do the most damage out of the "Wildcat."

The "Wildcat" offense is also headlined by Miami running backs Ronnie Brown and Ricky Williams, along with fullback Patrick Cobbs. When the Dolphins are not in the tricky formation, Brown will typically be the teams go-to player on offense.

The Dolphins wide receiving corps will once again feature a cast of relatively unknown players headlined by starters Ted Ginn and Greg Camarillo. Miami will also utilize the services of Davone Bess and rookies Patrick Turner and Brian Hartline.
After being a massive bust in free agency, Ernest Wilford will try to transition over to tight end, and may need to quickly catch on to that position to even make the Fins roster in 2009.

The Dolphins offensive line will return intact for the most part, with bookend tackles Jake Long and Vernon Carey highlighting the unit. Jake Grove comes to Miami from Oakland to be the teams new center, and guards Justin Smiley and Ike Ndukwe round out the starting five.

On defense, Miami's strength will once again be at linebacker as 2008 AFC sack leader Joey Porter will be joined by former long time Dolphin Jason Taylor at outside linebacker. While the inside will be manned by Channing Crowder and Akin Ayodele.

The Dolphins defensive line will be anchored by nose tackle Jason Ferguson with ends Phillip Merling and Kendall Langford playing alongside him.

After struggling for much of the season defending the pass, Bill Parcells elected to address the Dolphins secondary heavily in the offseason by signing safety Gibril Wilson and corner Eric Green, and also selecting corner Vontae Davis and safety Sean Smith in the draft. Green and Davis will be joined by incumbent starter Will Allen and Jason Allen, while Wilson will be joined at safety by Yeremiah Bell.

The Dolphins place-kicking duties will be handled again by Dan Carpenter. While Ted Ginn and Davone Bess figure to split the return duties.
2009 Schedule

2009 Prediction
The Miami Dolphins were one of the best stories of the 2008 season, as their quick one-year turnaround showed that the NFL continues to have league wide parity on a seasonal basis.

The quick and sudden turnaround for the defending AFC East champions may be short lived however, as not only will their 2009 schedule get significantly tougher from a year ago, but the hated New England Patriots will see the return of Tom Brady along with a slew of other roster moves that should make them the team to beat yet again.

However, this is not a team short on talent, as Bill Parcells has quietly assembled a roster filled with young playmakers at just about every position. It wouldn't be a surprise to anyone if the Dolphins were to contend in the AFC, but they need a lot of things to break their way yet again—particularly at wide receiver, where the team looks to be without a reliable go to target for Chad Pennington.

The Dolphins will make plenty of highlight reels with their fun "Wildcat" offense, they will however not make the postseason due to a stronger schedule and generally strong AFC.


Predicted Finish
8-8, Second AFC East
-----------------------------------------------------------------------------
Hassellbeck - VSN Writer
www.virtualsportsnetwork.com