Wide receiver Marqise Lee made the wrong type of history Friday in the Jacksonville Jaguars' preseason game with the Detroit Lions.
Ryan O'Halloran of The Florida Times-Union provided an update:
Our first "abusive language" penalty awarded to Marqise Lee.

— Ryan O'Halloran (@ryanohalloran) August 23, 2014
Chris Burke of Sports Illustrated added more context to the play and subsequent penalty:
Marqise Lee just drew a 15-yarder for "using abusive language"

— Chris Burke (@ChrisBurke_SI) August 23, 2014
This comes on the heels of Johnny Manziel's $12,000 fine for the obscene gesture he made toward the Washington Redskins' sideline during the Cleveland Browns' preseason game Aug. 18. Burke gathered some more information regarding a possible penalty for Lee that certainly compares to the Manziel fine:
First offense for "Excessive Profanity" is $11,025 according to the NFL's list of fines. So, I guess Marqise Lee could get hit with that.

— Chris Burke (@ChrisBurke_SI) August 23, 2014
Michael DiRocco of ESPN NFL Nation noted that Lee wasn't making many friends on the field immediately before the penalty occurred:
Marqise Lee and Rashean Mathis with a post-play scuffle.

— Michael DiRocco (@ESPNdirocco) August 23, 2014
Lee is a rookie and will likely learn from this going forward thanks to the 15-yard penalty and potential monetary impact. As Andrew Kahn of CBS Denver explained, the NFL this year is emphasizing cracking down on abusive language directed at opponents or the officials.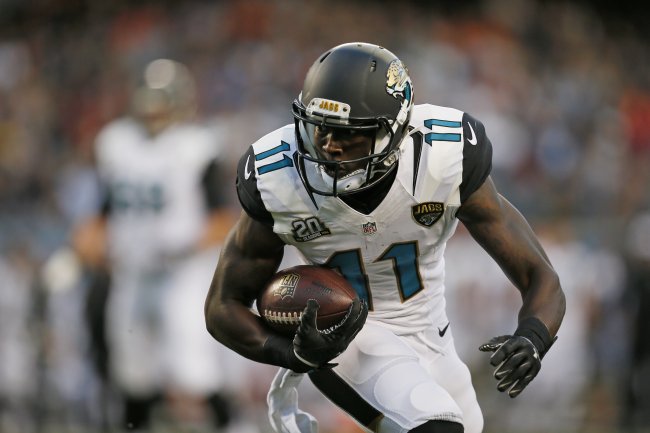 Andrew Nelles/Associated Press
It will draw a 15-yard penalty every time, which may not seem like much but can make a significant difference in field position on any given drive. A majority of NFL games come down to one or two possessions, so sacrificing a scoring opportunity or putting the opponent in better position could ultimately cost a team a game down the road.
Kahn also hints at the fact that this seems like a very subjective penalty. One man's (or official's) opinion of what constitutes "abusive" language could be very different from another's, which could lead to frustration from coaches and players if the call is made inconsistently.
For now, though, Lee will certainly have a better grasp of what will draw a flag when it comes to language.