Team USA saved its best for late, turning a five-point halftime lead into a second-half blowout, as the Americans cruised late for a 112-86 win over Puerto Rico in their final exhibition before heading to Spain.
Steph Curry led the way with a game-high 20 points, and his USA side overcame an early Puerto Rico gut punch before putting the locks on in the second half. Team USA will play its final exhibition Aug. 26 against Slovenia in Spain.
Once again, Team USA's depth was on display, as seven players finished in double figures and the team pulled away from Puerto Rico with a dominating 60-39 second half scoreline.
The health of Derrick Rose remained a hot topic after he sat out of Wednesday's exhibition, but the Chicago Bulls guard returned to the floor Friday. He didn't start and played sparingly, but was a menace defensively and dished a couple of pretty assists to open shooters.
Rose sat out late in the game, but Sam Smith of Bulls.com sees that as more proof that he's cleared for Spain:
Rose out w/USA ahead 20. Clear staff sees Rose healthy, vital. Coach K smart to rest Rose and provide media chance 4 hysteria in slow time

— Sam Smith (@SamSmithHoops) August 23, 2014
Bulls head coach Tom Thibodeau, a Team USA assistant, was impressed with Rose's play per the team's official Twitter:
Thibodeau on Rose: "I think he's found the rhythm of the game. He's doing a great job of making plays. He's letting the game come to him."

— Chicago Bulls (@chicagobulls) August 23, 2014
The other big story surrounding Team USA is the looming final roster cuts for head coach Mike Krzyzewski, which ESPN's Marc Stein reported will take place Saturday. Among USA players who didn't get into Friday's game were Damian Lillard, Demar DeRozan, Andre Drummond, Gordon Hayward and Kyle Korver.
Both Drummond and DeRozan made waves with strong performances Wednesday, but the New York Post's Tim Bontemps thinks the four cuts are already decided:
If there was any doubt, there are still four DNPs tonight. Have to think DeRozan, Lillard, Hayward and Drummond will be the cuts.

— Tim Bontemps (@TimBontemps) August 23, 2014
It became obvious early on that Friday wouldn't prove to be as much of a cakewalk as Wednesday for Team USA, when it demolished the Dominican Republic by more than 40 points. Instead, things started somewhat concerning for Coach K and crew as the two teams traded leads early on.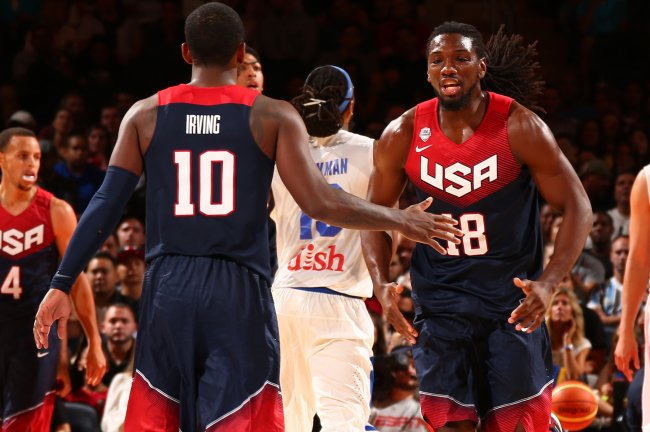 Nathaniel S. Butler/Getty Images
A pair of NBA names wreaked havoc early on in the backcourt, as J.J. Barea and Carlos Arroyo took their turns gashing the American defense with swift passing and sharp shooting.
Barea finished with 16 points, and Arroyo 15. But it was the former Dallas Maverick who caught the eye of The Washington Post's Michael Lee:
JJ Barea is treating Team USA the way he did MIA in the 2011 Finals. Hooping with no fear.

— Michael Lee (@MrMichaelLee) August 22, 2014
While Barea is having no problem getting work in the Association, things haven't been as easy for Arroyo. He hasn't played in the NBA since 2011, but the 35-year-old proved he's still worthy of playing at the top level, as The Salt Lake Tribune's Tony Jones observed:
It's evident that Carlos Arroyo can still play at an NBA level

— Tony Jones (@Tjonessltrib) August 22, 2014
Basketball Insiders' Nate Duncan was critical of Team USA's personnel in defending the dangerous guards:
Curry blown by that time by Barea. Kyrie, Curry, Harden is a pretty miserable defensive backcourt/wings.

— Nate Duncan (@NateDuncanNBA) August 23, 2014
Puerto Rico's dynamic duo were the story early, but the Americans' leg up in athleticism and skill eventually shone through. Irving and Klay Thompson provided a boost late in the opening half, and Puerto Rico had trouble containing Anthony Davis' size in the post.
Thompson's buzzer-beating three before the half gave Team USA a five-point lead heading into the break, spurring this tweet from Bontemps:
Nice play by Klay Thompson to knock down a 3-pointer at the buzzer to send USA into locker room up 52-47 over Puerto Rico.

— Tim Bontemps (@TimBontemps) August 22, 2014
Just a few possessions separated the teams at half, but the Americans quickly extended the gap during the third quarter. Puerto Rico was outscored 35-20 in quarter No. 3, and faced a 20-point deficit heading into the fourth that only ballooned to more before the final buzzer.
Switching to a zone defense against a team with so many sharpshooters might have led to Puerto Rico's demise, as Hardwood Paroxysm observed:
Y'all playing zone with THIS Team USA? This ain't '12.

— Hardwood Paroxysm (@HPbasketball) August 23, 2014
There's no doubt that Coach K has plenty to work on before his squad heads to Europe. Barea and Arroyo are a handful, but they won't be the toughest backcourt the U.S. faces at the FIBA World Cup. Defensive improvement has been a priority for this team, and early on it looked like much progress hasn't yet been made.
However, Coach K's side responded like you'd expect. Team USA settled down, got into a dominating defensive system in the second half and allowed for their sheer athleticism advantage to propel them to another win.
Friday was the last chance Team USA players had to impress the coaching staff before the final roster is set. As per Stein, the 12-man roster will be agreed to Friday after the game, and players cut will be notified Saturday.
Given the contrast between the two halves of Team USA basketball on Friday, Coach K has some tough decisions looming—both in how to improve his team before Spain and which notable players to cut.