New Manchester United boss Louis van Gaal came into the Old Trafford hot seat as the man to lead the Red Devils into a new revolution, but all of a sudden, he has a lot to answer for.
United's opening Premier League defeat to Swansea City gave fans an unwelcome sense of deja vu, and it appears that supporters are also becoming impatient with the lack of big-name signings making their way to Manchester.
With a tough trip to the Stadium of Light to face Sunderland coming up on Sunday, Van Gaal sat down with the press and thrashed out the latest drama surrounding the club—starting with the future of Danny Welbeck.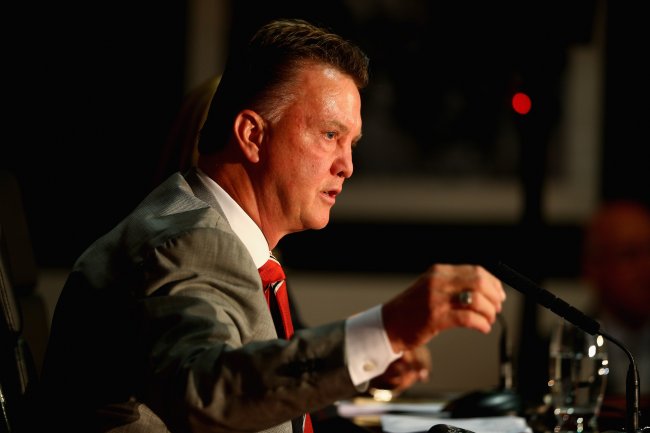 Clive Mason/Getty Images
The England international has reportedly been informed that he's surplus to requirements at Old Trafford and been given the green light to leave, causing even the game's brightest to scratch their heads, per Jamie Jackson of The Guardian.
However, the Dutch manager was quick to play down the reports of Welbeck heading for the exit door, saying that it's all speculation, as Squawka Football revealed:
"I know what I said to Danny Welbeck and he knows exactly what I said. I think the media is guessing." - Louis van Gaal

— Squawka Football (@Squawka) August 22, 2014
Such news will bring encouragement to United fans, as the striker can undoubtedly offer something to the club's cause this season—something that Rob Dawson of the Manchester Evening News agrees with:
Don't see sense in #MUFC letting Welbeck leave. Creates new problem where there wasn't one before. Got enough to sort before Sep 1 as it is.

— Rob Dawson (@RobDawsonMEN) August 22, 2014
As manager of Manchester United, you're never going to get every decision right, but the rebuilding mission on Van Gaal's hands means that a controversial decision or two is absolutely essential on the road to restore the club's reputation.
Should the Dutchman want Welbeck to leave, then it makes predicting the star's future rather simple—Welbeck will leave. It's the fickle nature of football that will see the hammer come down on Van Gaal no matter what, but it's something he's prepared for, per Manchester United's official Twitter feed:
Louis van Gaal on the fickle nature of football. "Two weeks ago I was the king of Manchester. Now I am the devil." #mufc

— Manchester United (@ManUtd) August 22, 2014
More from the boss: "I was not hired to be fired, but to build up a team and that is a process that needs time." #mufc

— Manchester United (@ManUtd) August 22, 2014
Should the English striker leave the club, you'd expect a big name to be coming in, and fans' choice is undoubtedly Real Madrid's Angel di Maria.
The Argentinian winger has been linked to a move with Old Trafford all summer, as per Ian Ladyman of the Daily Mail, but Van Gaal insisted that bringing players in is far from easy, as Daniel Taylor of The Guardian reported:
Van Gaal today. 'The fans can think like that (wanting signings) but it's not easy trying to buy and sell in the football market'

— Daniel Taylor (@DTguardian) August 22, 2014
While United haven't exactly been the busiest of clubs in the transfer window, landing defender Marcos Rojo from Sporting Lisbon on Wednesday, per BBC Sport, gives the impression that more big-name stars will be on the way.
As for Rojo himself, Van Gaal revealed in his press conference that he's been an admirer of the defender for some time and believes his versatility will bring nothing but positives to the club, per Manchester United:
Van Gaal reveals he was "enchanted" by @MarcosRojo5 after watching video analysis of him for Holland's World Cup clash with Argentina. #mufc

— Manchester United (@ManUtd) August 22, 2014
Van Gaal on Rojo: "I think Marcos fits in the profile as a left central defender. Also a left wing-back." #mufc

— Manchester United (@ManUtd) August 22, 2014
However, he won't be bringing any of those positives to the Stadium of Light on Sunday, as the Argentina star still needs a work permit—as Van Gaal told MUTV, via Manchester United:
Marcos Rojo is not eligible to play this Sunday vs Sunderland. Van Gaal tells #MUTV he still needs a work permit.

— Manchester United (@ManUtd) August 22, 2014
Van Gaal revealed that Rojo joins a long list of high-profile absentees for the trip to the North East, including fellow new recruit Ander Herrera, but Robin van Persie is back to fitness and will be playing a part:
Van Gaal tells #MUTV four midfielders are injured for Sunderland: Ander Herrera, Marouane Fellaini, Michael Carrick, Jesse Lingard.

— Manchester United (@ManUtd) August 22, 2014
However, there's also good news for #mufc fans: Robin van Persie is back fit and available for selection.

— Manchester United (@ManUtd) August 22, 2014
While Marouane Fellaini, Michael Carrick and Jesse Lingard are hardly concrete starters for United, Herrera's absence will be a big blow for the Red Devils, who now need to reshuffle once again.
Van Gaal could well adopt a diamond formation in midfield for Sunday's match, with Darren Fletcher playing behind Juan Mata in the centre, but both stars need a dramatic improvement on their opening-day performance if United are going to come away with three points.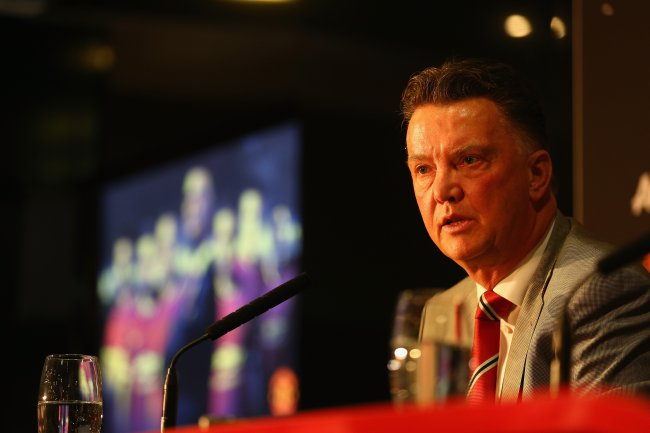 Clive Mason/Getty Images
Should United fail to find a way past Sunderland, the whispers of "crisis" will once again begin to get louder, and calls for transfer-window activity will reach fever pitch.
It's clear that Van Gaal is the man to lead United into a new era, but he needs to act quickly to improve his squad or the Premier League is simply going to pass them by once again. For the club's sake, let's hope Ed Woodward and Van Gaal find the right men for the job.