New York Yankees' Midseason Report Card (Part One)
The Yankees entered the All-Star break at 51-37, a five-game improvement over a season ago. They trail the Boston Red Sox by three games in the American League East and lead the AL Wild Card standings by 2.5 games over the Texas Rangers.
Playing in the inaugural season at new Yankee Stadium, the Bronx Bombers have lived up to their nickname with 132 homers, tied with the Rangers for best in baseball. Their 495 runs scored represents a Major League high.
The season has not been without its bumps, however.
The Yankees have improbably gone 0-8 against the arch-rival Boston Red Sox, and a sweep by the Los Angeles Angels of Anaheim heading into the break underscored the continued struggles against the AL's best teams.
But overall it was a successful first half for the Yankees, who are position to return to the postseason after being shutout for the first time since 1993 a season ago.
Click here to check out Part Two of the Midseason Report Card.
Catcher - Jorge Posada, C+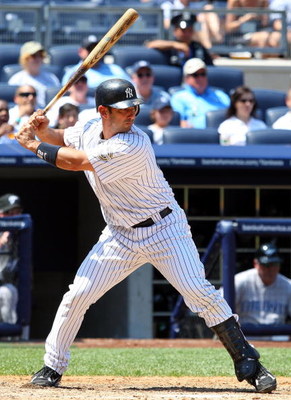 The Yankees had to know they were playing against the odds when they re-signed Posada to a four-year, $52 million deal prior to the 2008 season.
How many catchers have remained healthy and productive into their late-30s, after all? And while Posada, 37, can still hit–he's batting .285 with 11 homers and 40 RBI–he has become an injury liability, missing most of last season and 31 games so far in '09.
His defensive skills, meanwhile, continue to erode amid loud whispers that he struggles to communicate with members of the pitching staff. Would be a great candidate at designated hitter if the roster wasn't already teeming with them.
Catcher - Francisco Cervelli, B+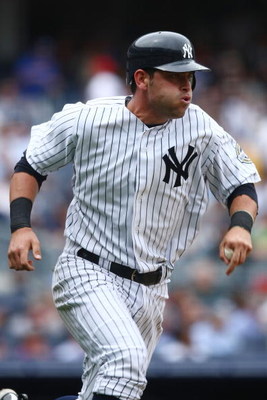 Cervelli was among the Yankees' most pleasant surprises in the first half. When Jorge Posada and Jose Molina went down with injuries, the Yanks were forced to turn to the unproven Cervelli, who hadn't been hitting a lick in the minors. Expectations couldn't have been much lower.
But Cervelli quickly earned respect, playing with passion on the field and hitting just enough to keep teams honest. Cervelli rightly returned to the farm upon Molina's return, but not before showing the Yankees they may have a player on their hands.
Catcher - Jose Molina, Incomplete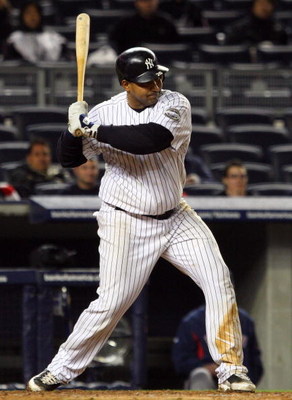 Due to the quadriceps injury that cost him more than two months, we haven't seen enough of Molina this season to make a fair assessment. That said, we know what to expect of the veteran by now.
He'll call a good game, he won't hit, and he'll have a cannon behind the plate. It's more or less what you expect from your backup catcher.
First Base - Mark Teixeira, A-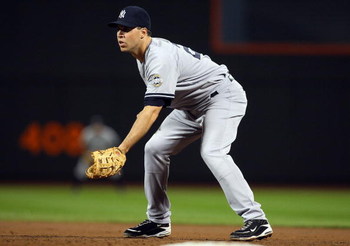 Teixeira was Brian Cashman's priciest free-agent splash in the offseason, and the slugger has proven to be a solid investment to date. Tex has been a feared presence in the Yankees' lineup, his 21 homers ranking second in the American League.
Meanwhile, the defensive upgrade from Jason Giambi has been like going from a Ford Pinto to a Ferrari; Teixeira has been without peer at his position this season and should be in line for his third Gold Glove.
You'd like to see a bit more consistency at the plate, but overall it's hard to argue against the 29-year-old being one of Cashman's best free-agent lures.
Second base - Robinson Cano, B-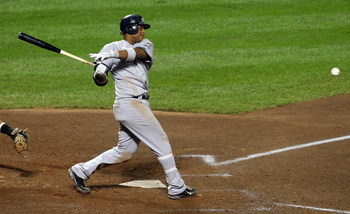 What do the Yankees have in Cano? Now in his fourth full year as the starting second baseman, Cano certainly has improved upon his lost 2008 season.
But he has yet to make the leap to the next level as a player, and his performance with runners in scoring position (.211 in 109 at-bats) has been downright pitiful.
If Cano can become a more productive player in the clutch, he would rank among baseball's best second basemen. That's a big "if" though.
Shortstop - Derek Jeter, A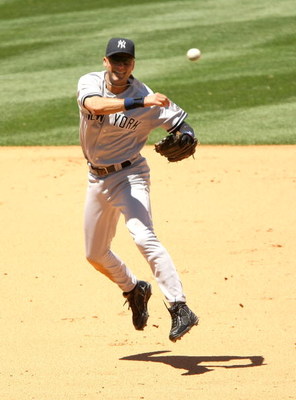 Many expected this to be the season that Jeter would begin to fade toward retirement. He has responded by having yet another Jeterian season, batting .321 with 10 homers, 37 RBI, 56 runs and 17 steals.
Sliding up from the No. 2 spot to leadoff has helped rejuvenate the offense while cutting down on his propensity to ground into double plays. He has even improved defensively, long a sticking point for the haters.
It's ironic that the most renowned franchise in baseball history has never had a 3,000 hit player–Jeter is the perfect person to change that.
Third base - Alex Rodriguez, B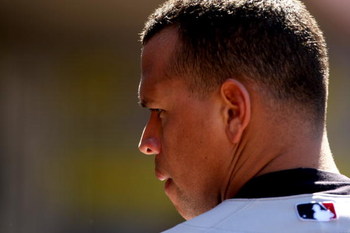 We all know how the 2009 season started for Rodriguez, the double whammy of the steroid admission and hip surgery dominating headlines in Tampa and beyond.
Since A-Rod returned to the lineup on May 8, he has provided a contribution while keeping his nose clean, no small feat for this star-crossed player.
Though he doesn't appear to move well at times (his range at third is limited and he's missing that burst on the basepaths) he has gone through phases where he appears his old self at the plate. His totals of 17 homers and 50 RBI in just 58 games speak to that.
Third base - Cody Ransom, D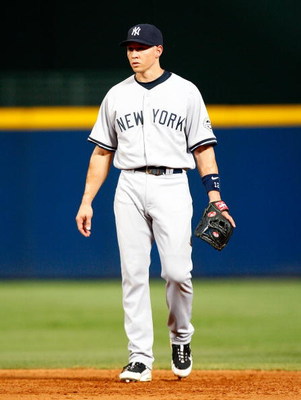 Listen, Ransom seems like a nice enough guy, and Joe Girardi certainly seems to have an affinity for him. He also can jump high, as YouTube has taught us.
But he can't really hit, and he can't really field, and at a certain point you have to wonder if the Yankees could do better for themselves here. Alex Rodriguez is going to need the occasional day off, and I'm not sold that Ransom can fill in without being a perpetual liability.
I know they want Ramiro Pena (B+) to play every day down at Triple-A, but he's already a better player than the limited Ransom at this point. Don't you want the best players playing on your parent club?
Outfield - Melky Cabrera, B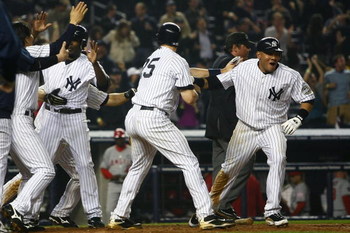 Admit it: You left Melky for dead. I know I did. This wasn't without reason; the guy was terrible last year. To his credit, he didn't let last season's benching and subsequent demotion get the best of him and he has become an important role player in the Bronx this season.
His penchant for late heroics has once again earned him a warm place in the hearts of Yankees fans and he has combined with Brett Gardner to form a far more productive center field than expected.
After a hot April (.327) and May (.321), he slumped in June (.225). The Yanks will need Cabrera to revert to earlier form to help stabilize a suspect outfield.
Outfield - Johnny Damon, B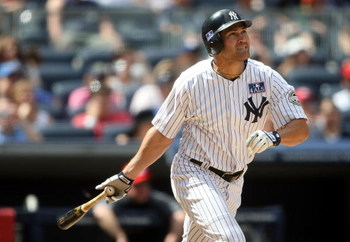 A charter member of the "I Should Be A DH" club, Damon has continued his rapid regression as a left fielder this season–now simply catching the ball has become somewhat of an adventure.
All is not lost, however. Damon is as dangerous as ever with the stick, using the Yankee Stadium wind tunnel to his advantage in blasting 16 homers (a personal best prior to the All-Star break). He is more a slugger and less a speedster these days, but he fits in this lineup well and has taken to the No. 2 spot.
Aches and pains seem to limit him more than most players, but the 35-year-old should continue to produce in the second half.
Outfield - Brett Gardner, B+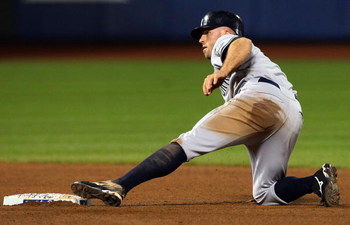 You get the feeling that Gardner is one of those guys who likes to be doubted. Not many people believed he could carry the weight of center field heading into the season, but the 25-year-old has exceeded expectations.
Using his blazing speed, Gardner has been a constant nuisance on the basepaths, stealing 18 bags in 22 attempts. His play in center has been solid, and he has hit enough (.282 BA, .352 OBP) to earn the opponent's respect and even the occasional call at leadoff.
He is one big month away from being a Rookie of the Year favorite. Who would have imagined that?
Outfield - Eric Hinske, Incomplete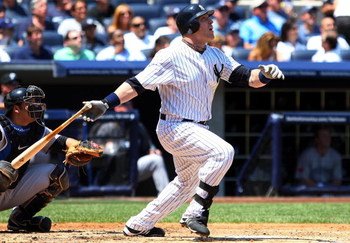 It's obviously too early to get a fair read on Hinske, but in one week of play he's already proven to be a more valuable asset than the useless Angel Berroa.
We know he has pop, and if he can get in a nice groove he will undoubtedly take at-bats away from Nick Swisher.
That said, there's a reason he's played on nearly every team in the AL East. Understanding his limits will help to maximize his value.
Outfield - Nick Swisher, C+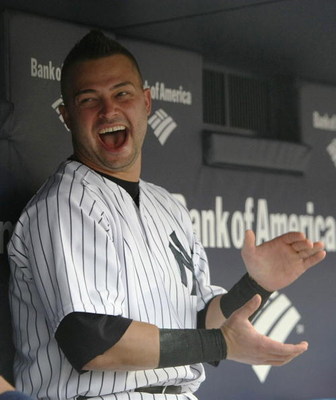 Swisher has brought a breath of fresh air into the stale Yankees clubhouse; his jovial personality certainly is a nice change of pace. But, like new teammate Eric Hinske, it's important to understand Swisher's limitations.
He's a player with pop (14 homers, 47 RBI) and good on-base ability (.360 OBP), but he strikes out too much and his average is too low for an everyday player. He's also a savage butcher in right field.
The Yankees could do themselves a favor by poking around for another outfielder as the trade deadline approaches. Swisher is a solid role player, but asking him to play everyday is a bit much.
Designated hitter - Hideki Matsui, B
You know what's funny? If you asked me three weeks ago what I thought about Matsui, I would've told you he was shot. And, to a certain extent, I'd be right. He can't run anymore, and Matsui as an outfielder is little more than a memory now.
But, here we are at the All-Star break and Matsui has 14 homers and 40 RBI in just 234 at-bats. He can still hit, which makes him a valuable asset as we begin what is likely his final months as a Yankee.
Let me be the first to say that it's been a pleasure having you, Mr. Godzilla.
-------------------
Click here to check out Part Two of the Midseason Report Card.
-------------------
Keep Reading

New York Yankees: Like this team?