Liverpool have reportedly made a big purchase before the end of the transfer window by adding Mario Balotelli, who will likely fill in for the departed Luis Suarez.
According to Ben Smith of BBC Sport, AC Milan agreed to sell the player for just £16 million. Considering Liverpool sold Suarez to Barcelona for £75 million, the English squad has to be happy with their value.
Balotelli has scored 26 goals in 43 appearances over the last two seasons in Serie A after totaling 13 in just 23 appearances (14 starts) for Manchester City in 2011-12. He has a tendency to be inconsistent on the pitch, but there are few better when he is at his best.
Leander Schaerlaeckens of Fox Sports notes why the low price makes this a smart move for Liverpool:
Think of it this way: if Balotelli produces and behaves for Liverpool, great. If he doesn't, he still only cost half as much as Andy Carroll

— LeanderLastNameNoFit (@LeanderOnFOX) August 21, 2014
Of course, at this point the club is only thinking about the positives. After losing the leading scorer in the English Premier League last season, it needs someone capable of picking up the slack and providing instant offense to a team in need.
Fortunately, Balotelli appears to be just the man to do it.
ESPN's Paul Carr notes the two goalscorers fill similar roles on the pitch:
Balotelli replaces Suárez? A look at their touches last league season: pic.twitter.com/6pXhS2qM9n

— Paul Carr (@PCarrESPN) August 21, 2014
Still, Suarez was much more efficient while playing:
7&6 - Only 3 players scored more from outside the box (7) than Balotelli (6) in the top-5 Euro leagues last term. Key pic.twitter.com/oznV8J6NFf

— OptaPaolo (@OptaPaolo) August 21, 2014
The big difference, though, was that Balotelli was forced to do a lot more by himself. When he played, he was left up top on a squad that struggled to move the ball on the attack. This gave him few chances near the net, forcing him to take more shots than usual from outside the box.
How many goals will Mario Balotelli score this season?
If necessary, the Italian forward has the skill to beat defenders on his own and fire a shot from outside the box. Still, this is not going to work every time no matter who the player is.
On the other hand, Suarez was part of one of the top offenses in the Premier League. Not to take anything away from what the Uruguayan star accomplished last season, but he was not the only reason Liverpool scored 101 goals in league play.
Steven Gerrard, Philippe Coutinho, Raheem Sterling and others were excellent on the attack with their vision and passing ability. Meanwhile, Daniel Sturridge finished second in the EPL with 21 goals, taking a lot of the pressure off Suarez.
While Balotelli is used to firing shots whenever he gets a chance, he will instead be able to wait for the best opportunities. Less attention from opposing defenses will also be a plus. The 24-year-old player can instead focus on his finishing ability, which is still among the best in Europe.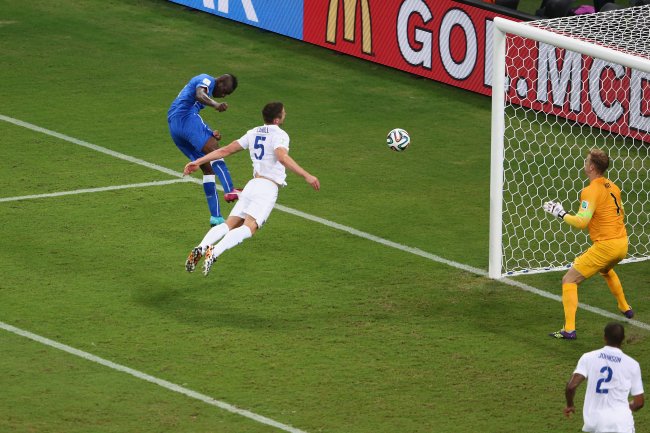 Warren Little/Getty Images
At this point, the biggest question remaining is whether Balotelli can remain focused enough to help his club. He has had off-field problems in the past and it is a big reason teams have been scared to bring in the talented striker.
However, manager Brendan Rodgers dealt with plenty of problems with Suarez. Between biting incidents, racism-related suspensions and other issues, the coach is fully experienced with dealing with this type of issue.
Before the start of last season, Rodgers forced Suarez to train alone for the good of the club. According to BBC Sport, the coach explained:
I will take strong, decisive action, absolutely. I think Luis knows the support he's had at the football club and that's something that's been unswerving throughout the whole of last season. My job is to fight and protect the club. The conversations I've had with him he knows I've had, and they will remain private.
The manager has shown the ability to keep a star player in check while also getting the most out of his ability.
This all creates the perfect situation for Balotelli to succeed. Although he might not be as productive as Suarez right away, he has the talent to immediately enter Liverpool's starting XI and make a major impact this season.
Follow Rob Goldberg on Twitter for the latest breaking news and analysis.