As some of the best teams in the world begin to head home from the 2014 Little League World Series, now would be the time for fans to do whatever it takes to catch the action.
Upsets, superb individual performances and some of the downright best baseball available this calendar year has yet again been an adequate way to describe the proceedings in Williamsport, Pennsylvania.
With the championship matches soon to be written in stone, now is as good a time as ever to familiarize oneself with the remainder of the schedule and some of the biggest things to know as the final teams leave it all on the diamond.
Updated Schedule
| | | | |
| --- | --- | --- | --- |
| Date | Game | Time | TV Info |
| Thursday - August 21, 2014 | | | |
| | Mexico vs Japan | 3:00PM | ESPN |
| | Illinois vs Pennsylvania | 7:30PM | ESPN |
| | | | |
| Saturday - August 23, 2014 | | | |
| | LLBWS International Championship | 12:30PM | ABC |
| | LLBWS United States Championship | 3:30PM | ABC |
| Sunday - August 24, 2014 | | | |
| | LLBWS Third Place Consolation Game | 10:00AM | ESPN |
| | LLBWS Championship | 3:00PM | ABC |
ESPN
Full schedule courtesy of ESPN. All contests can be watched online at WatchESPN.
Storylines to Watch
South Korea's Eye-Opening Journey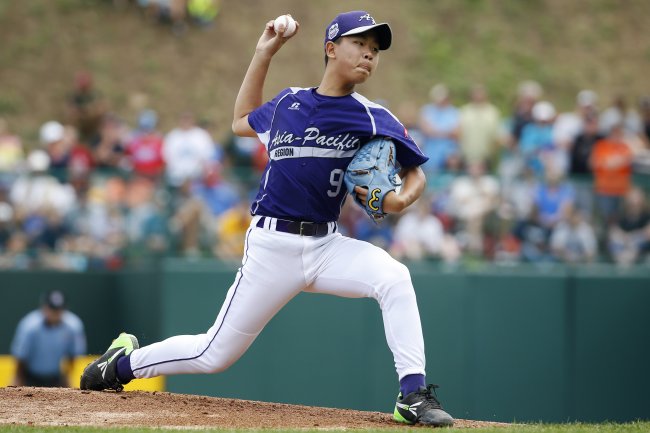 Matt Slocum/Associated Press
It would not be an LLWS without some sort of shocker. South Korea has provided more than a few, to say the least.
After a 10-3 win over Czech Republic to start things off (to make the country 7-0 in the tournament), South Korea is only this far because of a go-ahead run against Puerto Rico by Jun Hyeok Yun—when he stole home plate.
On a more broad scope, this team is more than just a smooth case of theatrics.
Matt Slocum/Associated Press
Fans were right to think it would be Japan going undefeated. The country is a juggernaut, the defending champ and winner in three of the last four LLWS. But Wednesday, South Korea was able to move past the obvious favorite to the surprise of many.
How? Hae Chan Choi was able to knock in two RBI on a home run despite 10 strikeouts in 3.2 innings of work by Japan's Takuma Takahashi. Choi went 2.0 innings on the mound himself and fanned three batters.
"The starting pitcher was excellent," South Korea manager Jong Wook Park said, according to the Associated Press. "He was better than we expected."
South Korea is far from done, though. The team touts a perfect balance between skill on the mound and explosiveness in the batter's box that can clearly overcome the best this year's tournament has to offer in the pitching department.
It was certainly not the case about a week ago, but now it looks as if South Korea has the talent to win the whole thing by the end of the weekend.
Nevada's Onslaught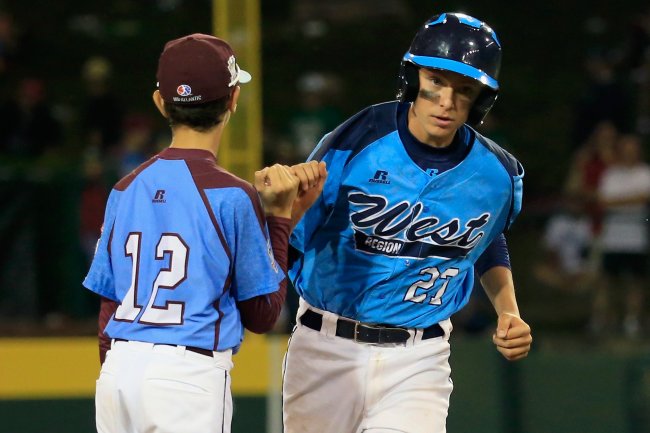 Rob Carr/Getty Images
For the first time in the tournament, Nevada played a full contest Wednesday night.
The explosive team had previously played just nine innings over the course of two blowouts. A 12-2 triumph over South Dakota took five innings and announced to the rest of the field Nevada's intentions—blow anyone and anything out of the water en route to a title.
So far, nothing has stopped that decree.
A few days after that debut, the team went on to demolish Illinois in four innings, 13-2. ESPN Stats & Info provided a look at the ridiculous numbers the team posted through two contests:
Nevada has 3 players hitting .800 or better in first 2 games of LLWS & has outscored opponents 25-4 in those 2 games pic.twitter.com/mEWSEoTq7V

— ESPN Stats & Info (@ESPNStatsInfo) August 20, 2014
Wednesday, Nevada overcame the tournament's most popular player and one of its best pitchers, Mo'ne Davis, 8-1. Austin Kryszczuk, Brennan Holligan and Dallan Cave each recorded a pair of RBI in the effort.
Do not fall victim to the narrative that Nevada is a one-trick pony, either. SportsCenter provides just a sampling of what the team is capable of on defense:
The best catch of the night may have come from Nevada's Alex Barker in LLWS action. #SCtop10 » http://t.co/e9BmSIMOJv

— SportsCenter (@SportsCenter) August 21, 2014
Until a team solves the riddle that is Nevada at the plate, lopsided outcomes are sure to continue. The added efficiency on defense does not hurt the team's chances at a title, either.
Nevada is not through to the championship game just yet, but the chances seem pretty good that it can overpower any team the tournament wants to throw at it in the coming days.
Note: All statistics and info courtesy of LLBWS.org unless otherwise specified.