You know how the old saying goes: "Sometimes, it's better to be lucky than good."
There's no denying that luck was on Auburn's side on more than one occasion in 2013.
"The Miracle at Jordan-Hare" against Georgia was perhaps the luckiest Hail Mary play in college football history.
The Tigers were also lucky Alabama straight up missed a couple of early field goals and opened the door for Chris Davis to take another miss 109 yards for the most improbable ending in college football, no, sports history.
However, that worn-out adage doesn't apply to the Auburn Tigers, who are coming off the definition of a storybook season.
As they showed last season, it's better to be lucky and good.
The same team that won on back-to-back miracle finishes snapped a lengthy conference losing streak on a last-minute touchdown drive against Mississippi State, outscored Johnny Manziel and Texas A&M on the road and broke several school records set by legendary rushing attacks.
First-year head coach Gus Malzahn's return to the Plains marked a return to lightning-fast, high-scoring offense and an aggressive defense that usually found a way to make stops when it mattered the most.
The two combined with an experienced special teams unit to grab an SEC Championship and a berth in the final BCS National Championship Game, where the Tigers were 13 seconds from the biggest prize. Auburn wasn't the best team in college football, but it became a really good one in the span of a few months.
So while it's hard to imagine two legendary strokes of good fortune happening again this season, this team shouldn't need them to get back into the SEC and national title picture.
There are definitely question marks surrounding Malzahn's program. NFL draft picks Tre Mason, Greg Robinson, Dee Ford and Jay Prosch are no longer on campus. Auburn's brutal schedule has the Tigers playing more preseason Top-25 teams than any other ranked squad, and only time will tell how much offseason issues and injuries affected the returning talent that has to play those tough matchups.
On the more positive side, Auburn returns a majority of its starters, including quarterback Nick Marshall and leading tackler Cassanova McKinzy. Both units had an entire offseason with the second-year coaching staff to fine-tune their skills, get a better grasp of their respective systems and welcome new playmakers who can make an immediate difference.
So while the lucky and good Auburn team from 2013 gave its fans a dream season, it wants more.
The Tigers are hoping to show this season that, ultimately, it's better to be better—13 seconds better.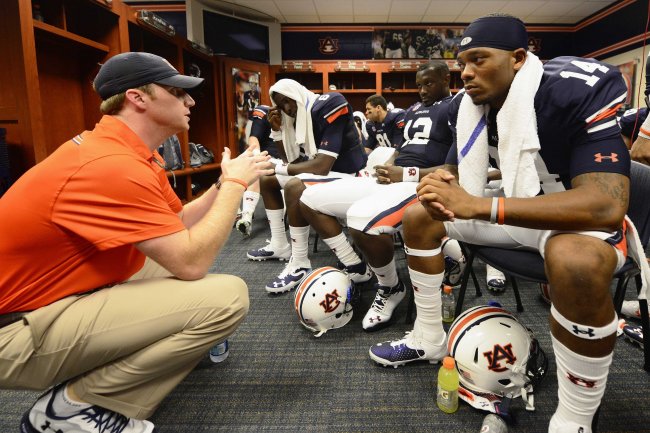 Todd J. Van Emst/Associated Press
Coaches
2014 Auburn Coaching Staff

| | | |
| --- | --- | --- |
| Title | Name | Years on Team |
| Head Coach | Gus Malzahn | 2 |
| Offensive Coordinator/Quarterbacks Coach | Rhett Lashlee | 2 |
| Defensive Coordinator/Linebackers Coach | Ellis Johnson | 2 |
| Running Backs Coach | Tim Horton | 2 |
| Wide Receivers Coach | Dameyune Craig | 2 |
| Tight Ends/Special Teams Coach | Scott Fountain | 2 |
| Offensive Line Coach | J.B. Grimes | 2 |
| Defensive Line Coach | Rodney Garner | 2 |
| Cornerbacks Coach | Melvin Smith | 2 |
| Safeties Coach | Charlie Harbison | 2 |
AuburnTigers.com
Malzahn might have lost a few behind-the-scenes faces from his support staff this offseason, but his entire on-field coaching staff is back for its second year on the Plains.
Keeping the 2013 coaching staff intact was important for Auburn this offseason on and off the field. The staff continued to develop current talent without a hitch and brought in new talent with another top-10 recruiting class.
The second-year head coach has a wealth of experience and talent around him, from 33-year collegiate coaching veteran Ellis Johnson to 31-year-old offensive protege Rhett Lashlee. Malzahn also has Rodney Garner, J.B. Grimes, Charlie Harbison and Melvin Smith, who each have over a decade of experience coaching at power-conference programs.
The younger coaches on Malzahn's staff also bring top-level recruiting prowess to the Tigers. Dameyune Craig, former Auburn quarterback and Florida State position coach, spent some time in the summer of 2013 on top of 247Sports' recruiter rankings, per AL.com's Joel A. Erickson. Lashlee and Tim Horton have joined Craig with a big offseason on the recruiting trail.
While other top schools in the SEC are implementing new coordinators and coaches this season, Auburn will have the advantage of having the exact same group that led the team to a conference championship.
What to Watch For on Offense
2014 Auburn Projected Offensive Depth Chart

| | | | |
| --- | --- | --- | --- |
| Position | 1st String | 2nd String | 3rd String |
| QB | Nick Marshall (Sr.) | Jeremy Johnson (So.) | Sean White (TFr.) |
| RB | Cameron Artis-Payne (Sr.) | Corey Grant (Sr.) | Roc Thomas (TFr.) |
| WR | Sammie Coates (Jr.) | Melvin Ray (Jr.) | Jaylon Denson (Jr.) |
| WR | D'haquille Williams (Jr.) | Tony Stevens (So.) | Dominic Walker (RFr.) |
| WR | Marcus Davis (So.) | Ricardo Louis (Jr.) | Quan Bray (Sr.) |
| TE/HB | C.J Uzomah (Sr.)/Brandon Fulse (Sr.) | Chris Laye (TFr.) | Jakell Mitchell (TFr.) |
| C | Reese Dismukes (Sr.) | Xavier Dampeer (Jr.) | Deon Mix (RFr.) |
| OG | Chad Slade (Sr.) | Devonte Danzey (Jr.) | Jordan Diamond (So.) |
| OG | Avery Young (Jr.) | Jordan Diamond (So.) | Devonte Danzey (Jr.) |
| OT | Shon Coleman (So.) | Braden Smith (TFr.) | Will Adams (So.) |
| OT | Patrick Miller (Jr.) | Robert Leff (So.) | Will Adams (So.) |
| K | Daniel Carlson (RFr.) | Alex Kviklys (Jr.) | Duncan McKinney (Jr.) |
Various Press Conferences and Interviews
- The Feature Back vs. The Committee: Auburn lost a school record-breaking Heisman finalist in running back Tre Mason, but the nation's No. 1 rushing offense from a year ago still has a pair of senior backs with a good amount of experience. Both Cameron Artis-Payne and Corey Grant have worked on developing their respective "smash and dash" role into more all-around styles this offseason.
The Tigers started the 2013 season with a running back-by-committee style before Mason took over—will one of the seniors step up and command a bulk of the carries after the first few games of the 2014 season?
- It's All About Balance: The Tigers ran the ball 72 percent of the time last season, and Malzahn talked about his desire to throw the ball more in 2014 before the 2013 season even ended.
Nick Marshall and Auburn had a limited playbook for most of 2013 but still found ways to beat up on opposing defenses. This season, with an entire year to work on Marshall's throwing mechanics and develop more chemistry with a receivers unit that did not lose a single player, look for the Tigers to still be run-first but also move those play-calling percentages toward an even split.
- The Youth Revolution: Although Auburn returns plenty of offensive starters this season, the coaching staff has made it clear this fall there will be several opportunities for new players to own major roles.
Outside of JUCO transfer D'haquille Williams—more on him later—the Tigers can choose from 5-star running back Roc Thomas, speedy slot receiver Stanton Truitt and massive offensive lineman Braden "Drago / The Hulk / The Terminator" Smith. Expect all three of these true freshmen to play this season for Auburn and start their path to becoming big-time players for the program.
What to Watch For on Defense
2014 Auburn Projected Defensive Depth Chart

| | | | |
| --- | --- | --- | --- |
| Position | 1st String | 2nd String | 3rd String |
| DT | Gabe Wright (Sr.) | Ben Bradley (Sr.) | Angelo Blackson (Sr.) |
| DT | Montravius Adams (So.) | Devaroe Lawrence (Jr.) | Jeff Whitaker (Sr.) |
| DE | Elijah Daniel (So.) | DaVonte Lambert (Jr.) | Raashed Kennion (TFr.) |
| DE | LaDarius Owens (Sr.) | Gimel President (So.) | Andrew Williams (TFr.) |
| MLB | Cassanova McKinzy (Jr.) | Tre' Williams (TFr.) | Cameron Toney (RFr.) |
| WLB | Kris Frost (Jr.) | Anthony Swain (Jr.) | JaViere Mitchell (So.) |
| Star | Robenson Therezie (Sr.) | Justin Garrett (Jr.) | Mackenro Alexander (So.) |
| CB | Jonathon Mincy (Sr.) | Josh Holsey (Jr.) | Kalvaraz Bessent (TFr.) |
| CB | Jonathan Jones (Jr.) | Trovon Reed (Sr.) | Joe Turner (Jr.) |
| SS | Derrick Moncrief (Jr.) | Johnathan Ford (So.) | Markell Boston (TFr.) |
| FS | Jermaine Whitehead (Sr.) | Stephen Roberts (TFr.) | Brandon King (Sr.) |
| P | Daniel Carlson (RFr.) | Jimmy Hutchinson (RFr.) | Matt Shiel (TFr.) |
Various Press Conferences and Interviews
- Somebody, Get to the Quarterback: The blow of Dee Ford's departure to the NFL was supposed to be eased by standout sophomore Carl Lawson, who earned major minutes as a true freshman on Auburn's defensive line.
But with Lawson out for an extended amount of time with an ACL injury and surgery from the spring, Garner is on the hunt for someone to become the main third-down pass-rusher this fall. Names mentioned to take over that role include sophomore Elijah Daniel, true freshman Raashed Kennion and, surprisingly enough, middle linebacker Cassanova McKinzy.
- Slowing Down the Passing Attack: It has been the constant thorn in Auburn's side for several years running: pass defense. Auburn lost two starters from a secondary that finished 102nd nationally in passing yards allowed per game.
Even with those departures, Auburn still has veteran leadership in Jonathon Mincy, Jermaine Whitehead and Robenson Therezie—if and when the latter is cleared to play from his ongoing "eligibility issues." Reinforcements have arrived in JUCO star Derrick Moncrief and several 4-star true freshmen, and the Tigers will hope they will help bring change to a secondary that must improve in 2014.
- Can Carlson Really Do It All?: This note affects both the offense and the defense because it's about Auburn's all-important and completely rebuilt special teams unit.
The Tigers will try to replace experienced starters Cody Parkey and Steven Clark with one redshirt freshman, Daniel Carlson, who won the kicker, punter and kickoff specialist job during the offseason. One of these positions contains plenty of pressure for a new starter, and now all eyes will be on the talented Carlson to take over three positions that have been important to Auburn's success in recent seasons.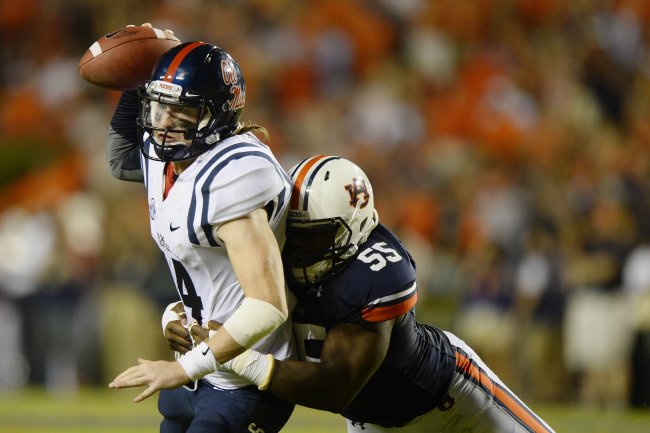 Todd J. Van Emst/Associated Press
Injury News
2014 Auburn Injuries

| | | |
| --- | --- | --- |
| Player Name | Injury | Expected Return Date |
| OG Alex Kozan (So.) | Back | Out for season |
| DE Carl Lawson (So.) | Knee | Toward end of season |
| HB Gage Batten (So.) | Undisclosed | Unknown |
| HB Patrick Young (Sr.) | Knee | Unknown |
Various Press Conferences and Interviews
Carl Lawson's injury sent shockwaves throughout a defensive line that prides itself on heavy rotation. Lawson made an incredible impression on the SEC last season with some breakout performances, and the Tigers will now have to rely on someone else to step up in place of Lawson and the departed Ford.
Lawson and his coaches are aiming for a comeback toward the end of the season, but Auburn cannot rely on him to carve out a major role again this season.
But the Lawson injury leaves some hope for fans as he might return before the end of the season. That's not the case for another talented sophomore, left guard Alex Kozan.
He was such a vital part of Auburn's success along the offensive line last season, but an offseason back injury and surgery forced the Tigers to shift the starters a bit—right guard Chad Slade to left guard, right tackle Avery Young to right guard and former starter Patrick Miller back to right tackle.
Senior Brandon Fulse had Jay Prosch's job locked down at H-back, but the depth behind him took a massive hit with a pair of undisclosed injuries to Fulse's backups. Batten's injury will especially hurt as he was Prosch's backup all last season, which gave him a great amount of practice at the position.
Auburn will look to build depth with newcomers Chris Laye and Jakell Mitchell, so they should be fine if Fulse can avoid a long-term injury.
247Sports
X-Factor
Dameyune Craig called new wide receiver D'haquille "Duke" Williams "our Jameis Winston" and "a once-in-a-lifetime player" weeks before he stepped on the field for his first practice at Auburn.
For an offense that is intent on throwing the ball more, there is no doubt the former No. 1 junior college player is the Tigers' X-factor this season.
Last season, most of Auburn's pass plays were either screens or deep balls to Sammie Coates, who seemed like the only target at times for quarterback Nick Marshall. This season, Marshall gets an all-around receiver in Williams who can torment defenses inside or outside.
"Duke's role is get him the ball," Lashlee said earlier this month. "He's a guy who needs the ball and plays well with the ball, but the thing I have been most impressed about with Duke is we really ask a lot of our receivers outside of catching footballs...he's been exceptional like the other guys in that area."
Williams' arrival gives Marshall, who spent the offseason working on his accuracy issues, a new intermediate threat that he did not have last season. Another weapon for Marshall is ultimately another weapon for Malzahn and an offense that looked unstoppable at times with just one dimension.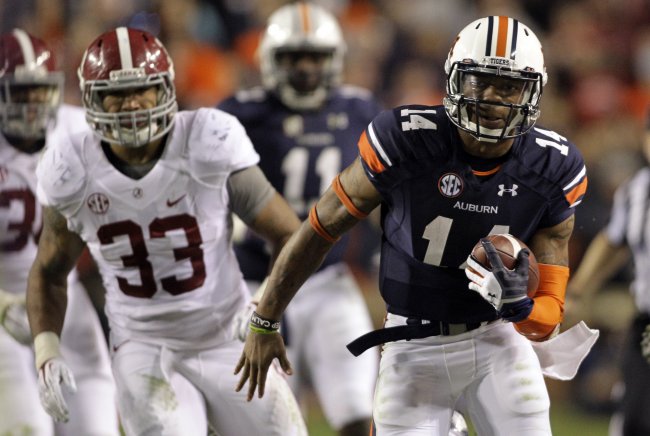 USA TODAY Sports
2014 Schedule
2014 Auburn Schedule
Date
Opponent
Location
Aug. 30
Arkansas
Auburn, AL
Sept. 6
San Jose State
Auburn, AL
Sept. 13
BYE
Sept. 18
Kansas State
Manhattan, KS
Sept. 27
Louisiana Tech
Auburn, AL
Oct. 4
LSU
Auburn, AL
Oct. 11
Mississippi State
Starkville, MS
Oct. 18
BYE
Oct. 25
South Carolina
Auburn, AL
Nov. 1
Ole Miss
Oxford, MS
Nov. 8
Texas A&M
Auburn, AL
Nov. 15
Georgia
Athens, GA
Nov. 22
Samford
Auburn, AL
Nov. 29
Alabama
Tuscaloosa, AL
AuburnTigers.com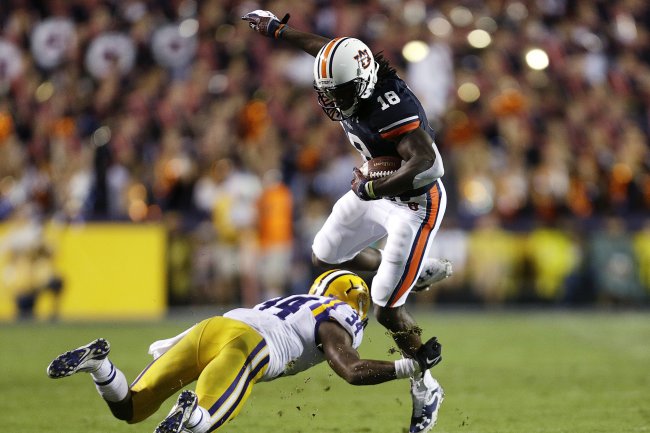 Gerald Herbert/Associated Press
Make or Break Games
- Kansas State: Auburn will reach unfamiliar territory in the schedule several times this season, including a rare SEC game to open the season and the program's first all-road "Amen Corner" of Georgia and Alabama games.
A trip to power-conference team Kansas State on a Thursday night in September will also be out of the ordinary for the Tigers, who will face their first test against a preseason-ranked opponent when they head to Manhattan. Bill Snyder's disciplined team will test Auburn's defense through the air with dangerous receiver Tyler Lockett, and a road collapse here would be such a huge early blow to the Tigers' playoff race.
- LSU: There's no way around it: LSU has won seven of the last nine Tiger Bowls, and no wins have come easy in this series for Auburn since 2002's 31-7 victory in Jordan-Hare Stadium.
Auburn will be looking for revenge of 2013's lone regular-season loss and a crucial divisional victory against a Les Miles squad that might not be getting the proper credit it deserves. Sure, the Bayou Bengals have to replace several key offensive playmakers, but a veteran offensive line and defensive backfield should make this another hard-fought matchup between the two sets of big cats.
- Alabama: If Auburn drops one of the cross-divisional games to South Carolina or Georgia, the Tigers still have a good chance of getting back to Atlanta if they get back on the right track. However, it will be nearly impossible to win the conference championship again without a road victory at powerhouse rival Alabama.
The Crimson Tide have several question marks across its depth chart, but a strong base of players from No. 1 recruiting classes puts Alabama in a perfect position to reload once again. Auburn matched Alabama punch for punch last year—something that doesn't happen often to Nick Saban's team—and delivered a knockout blow no one saw coming. Nothing will top 2013's ending, but the stakes should be just as high for 2014's rematch in Tuscaloosa.
Prediction
B/R's Michael Felder, Adam Kramer and Barrett Sallee all predicted Auburn to go 11-1 this year in the above video, and all three predicted completely different postseason fates for the Tigers.
What is your prediction for Auburn in 2014?
I am continuing to stick with my original 11-1 prediction from May. With the returning talent and incredible potential on offense and the fire of an underappreciated and underrated defense, Auburn will be one of the best teams in college football this season.
However, I don't think any team in the country could survive a schedule as brutal as Auburn's without dropping at least one game. I see Georgia getting the best of Auburn again in Athens, but Malzahn's offense will stay one step ahead of Saban's defense at Bryant-Denny Stadium for the SEC West crown and a rematch with the Bulldogs in Atlanta.
I predict Nick Marshall will get an invite to New York City this year for the Heisman Trophy presentation—he won't win the award, but he will finish in the top three of voting. Reese Dismukes will get his hands on the Rimington Award as the nation's best center, while Cassanova McKinzy will be Auburn's best chance at a defensive award since Nick Fairley in 2010.
In Malzahn's second year as the head man, this Auburn team will show great improvement on both sides of the ball, shatter a few more school records and find a way into the inaugural College Football Playoff.
And don't be surprised when luck has little to do with it.
Justin Ferguson is Bleacher Report's lead Auburn writer. Follow him on Twitter @JFergusonAU. All quotes were obtained firsthand unless otherwise noted. All recruiting rankings and information courtesy of 247Sports. All stats courtesy of CFBStats.com.