Angel Di Maria and Sami Khedira have rejected new contracts at Real Madrid, as confirmed by Carlo Ancelotti on Thursday and reported by Nicholas Rigg of ESPN.
The unneeded duo continue to be linked with transfers away from the Bernabeu and aren't willing to commit their future to the club, per Rigg:
Ancelotti said Di Maria asked to leave this summer and has rejected a contract renewal. Finding a resolution #realmadrid

— Nicholas Rigg (@nicholasrigg) August 21, 2014
Khedira also rejected a contract renewal but has not asked to leave the club. #realmadrid

— Nicholas Rigg (@nicholasrigg) August 21, 2014
Madrid's summer signings have rendered Di Maria and Khedira surplus to requirements. James Rodriguez's arrival is likely to push Di Maria down the pecking order in the long run, with Cristiano Ronaldo, Gareth Bale, Karim Benzema, Jese Rodriguez and Isco also vying for attacking places across the team's frontline.
While Di Maria settled into a central midfield role last season, the decision to bring Toni Kroos in from Bayern Munich limits the Argentinian's chances of making an impact from deep. Ancelotti appears to favour Kroos alongside Xabi Alonso and Luka Modric in a midfield trio, a tactical choice which also pushes Khedira to the periphery.
Paris Saint-Germain and Manchester United are said to be the main contenders for Di Maria's signature. The French club recently pulled out of a deal to sign him after admitting they cannot afford the potential fees involved, per David Anderson of the Daily Mirror. PSG are currently working under UEFA's Financial Fair Play sanctions and would most likely take the player on loan, if at all.
United need a handful of superstar signings as the transfer window draws to a close. Di Maria's versatility could see him slot into Louis van Gaal's plans, especially as the Dutch manager name-dropped the player, saying "we don't have wingers of the highest level, like Ronaldo or Di Maria or somebody like that," per Sky Sports.
Guillem Balague, Sky Sports' resident Spanish football expert, says United are yet to make an offer for the 26-year-old:
On di María. As of today, there has been no offer whatsoever for the player by Manchester United. None so far.

— Guillem Balague (@GuillemBalague) August 21, 2014
The Red Devils would also be wise to consider a swoop for Khedira, who offers the physical attributes to shore up their midfield. It seems the German star's future could be set to take place at either Chelsea or Arsenal, however, as reported by James Dickenson of the Daily Express.
Jose Mourinho may be put off by Khedira's potential interest in Arsenal, as tweeted by Balague:
Khedira: Mou reluctant 2 enter an auction 'cause he thinks player has a personal deal with Arsenal. His agent denies it. RM want him to go

— Guillem Balague (@GuillemBalague) August 21, 2014
Bayern Munich can also be considered candidates for Khedira's signature after Kroos' sale and Javi Martinez's long-term injury was confirmed, as reported by Matt Morlidge of the Daily Mail. Club president Franz Beckenbauer praised Khedira to Sport Bild, suggesting the Bundesliga champions could be tempted, per Morlidge:
Khedira would fit in in any team. He would fit in very well at Bayern, too.He is incredibly strong in the No 6 position. He could play alongside Philipp Lahm or Bastian Schweinsteiger. That would be perfect. It doesn't matter that he lacks a bit of speed. In midfield, it's all about the willingness to run rather than about speed.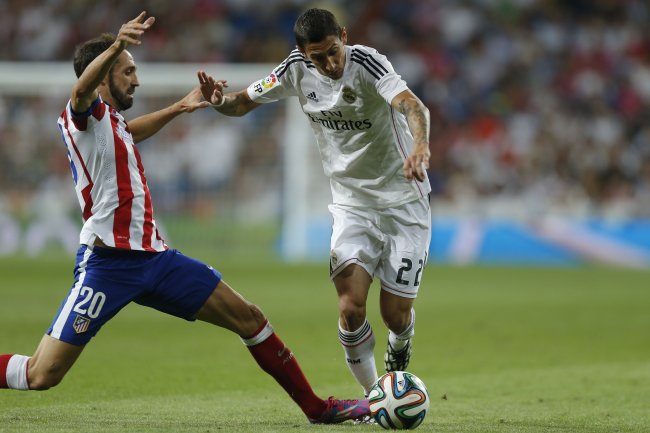 Daniel Ochoa de Olza/Associated Press
Which player will Real Madrid miss most if they decide to sell?
Both Di Maria and Khedira are victims of Real Madrid's constant willingness to spend. They are destined to move on after enjoying key roles at the club. In particular, Di Maria, who continued to show his class during the Spanish Super Cup first-leg draw with Atletico Madrid on Tuesday.
The injury Khedira suffered last season slowed his progress in the capital, but he bounced back with an excellent run of form during Germany's World Cup triumph. Two fantastic players are up for grabs, but any suitors will need to act decisively before the opportunity passes them by.
Both players are likely to be looking for a speedy move now that their reported unwillingness to sign new contracts is public knowledge. Real Madrid will certainly be wise to cut them from the squad when focusing on financial matters (considering the aforementioned FFP guidelines), even if both players will be missed on the pitch.