Should Liverpool fans be appalled at their club signing Mario Balotelli from AC Milan?
Liverpool will buy Balotelli for €20/£16 million, per Ben Smith at BBC Sport.
Have the #LFC club shop started early? More on our live blog with @Getintothis: http://t.co/4aqZe9HYTz pic.twitter.com/TDyVqYmGps

— Liverpool Echo (@LivEchonews) August 21, 2014
We're moving closer to confirmation Mario Balotelli is a Liverpool player. Latest http://t.co/U1HxhFvMyT #WhyAlwaysMe pic.twitter.com/7xlMbTxMsn

— Bleacher Report UK (@br_uk) August 21, 2014
Balotelli Is Another Nicolas Anelka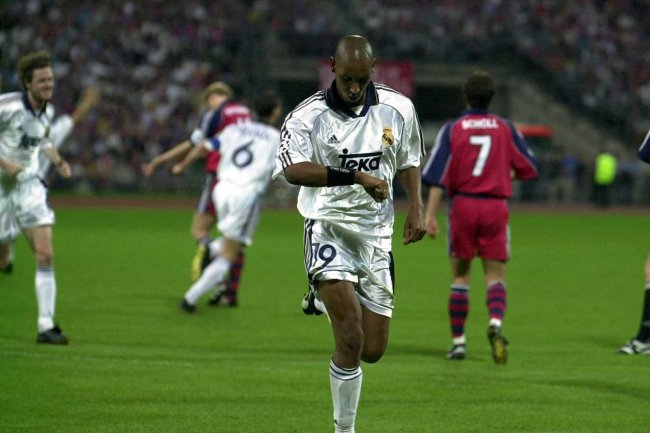 Ross Kinnaird/Getty Images
You have already witnessed a Balotelli-esque career before, per the Associated Press (h/t the Hurriyet Daily News): "Billed by team management as a future superstar but derided by many fans as a moody, overpaid prima donna."
Dated September 13, 1999, that passage was a pithy description of Anelka's acrimonious stint at Real Madrid.
Spanish football writer Sid Lowe quipped, per Fear and Loathing in La Liga: Barcelona vs. Real Madrid: "[Anelka] cost 5,540 million pesetas/£23.5 million from Arsenal. [Real president] Lorenzo Sanz called it a 'beautiful madness'. Others dropped the 'beautiful'."
Instead of taking responsibility for going on strike and embarking on a cold war against Real manager Vicente del Bosque, per Marca (h/t BBC Sport), Anelka's excuses were as profligate as Balotelli's shooting.
Balotelli shot below 50 percent for Milan last season, per Squawka.
He took 152 shots to score 14 Serie A goals at 10.9 shots per goal.
Excluding penalties,

Balotelli scored 11 league goals from 149 shots at 13.5 shots per goal.

In comparison, Luis Suarez's shots per goal for

Liverpool

last season was 5.8 (31 goals from 181 shots in the Premier League).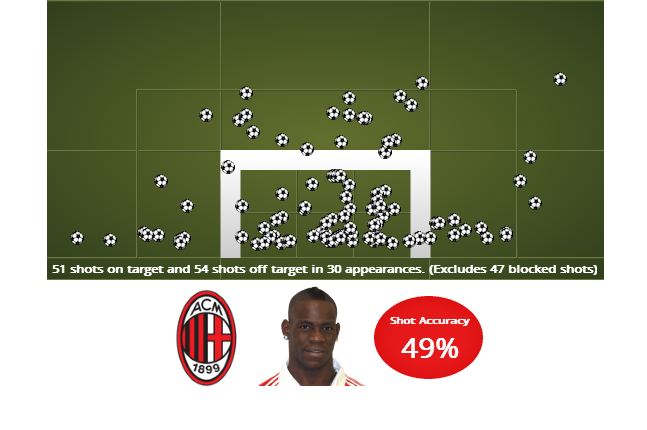 Credit: Squawka.com
105 - Mario Balotelli fired the most shots (105) over the last Serie A term. Liverpool?

— OptaPaolo (@OptaPaolo) August 21, 2014
No player had more shots in Serie A than Mario Balotelli (229) since he made his league debut for AC Milan in 2013. pic.twitter.com/lS99kNRWW5

— Squawka Football (@Squawka) August 21, 2014
Balotelli's close-range finishing has markedly deteriorated.
This was on show when he failed to convert from 12 yards out against Genoa and Napoli.
Balotelli is a punching bag for critics.
Why?
They detest Balotelli's petulance and his tendency to come up short in crunch time.
"[Balotelli's] performance against Roma was shameful," Milan's UEFA Champions League-winning midfielder Zvonimir Boban said, per Radio Deejay (h/t Football Italia). "He just walked around the pitch annoying all his teammates."
Milan legend Alessandro Costacurta is not a fan of Balotelli.
"[Balotelli] is not a star and in my view will never be a world-class player," Costacurta said, per Sky Sports (h/t Football Italia). "Balotelli can be a player the Rossoneri can count on, but only as long as he isn't the fulcrum of the team."
Juventus' set-up would have suited Balotelli more than Milan, a club in an erratic rebuilding period, according to Milan legend Paolo Maldini.
However, Maldini made it clear that he believes Balotelli lacks the intangibles of a winner.
"Balotelli is still not a champion," Maldini said, per La Gazzetta dello Sport (h/t Enis Koylu at Goal). "The day I see him put the team on his shoulders and drag them for 90 minutes then he will be."
Camoranesi "Mario Balotelli is an overrated player." #TJ

— Tarek Khatib (@ADP1113) June 25, 2014
Balotelli adds Liverpool as another major European club to his CV—he has also previously played for Inter Milan and Manchester City.
He is only 24 years old, which tells you he has had no framework of stability in his career.
It is a mental Anvil that has weighed down Balotelli.
His inability to rise to the occasion is an ominous red flag.
Clarence Seedorf said Mario #Balotelli's tears were not "abnormal" and defended #Milan http://t.co/By4zuJiROD pic.twitter.com/PaYELJbQk3

— footballitalia (@footballitalia) February 8, 2014
Why Are Liverpool Signing Balotelli?
Liverpool manager Brendan Rodgers is taking a glass-half-full approach to Balotelli.
High upside: still only 24 years old.
Physically outstanding: mobile, 6'3", 194-pound centre-forward.
Experienced: has eight seasons of top-flight football under his belt.
Impact player: world-class free-kick taker.
Balotelli is stuck in a corner after a disastrous FIFA World Cup campaign, which could work to Rodgers' advantage.
If we beat Costa Rica i want a kiss,obviously on the cheek, from the UK Queen.😂😂😂.

— Mario Balotelli (@FinallyMario) June 19, 2014
12 - Mario Balotelli attempted just 12 passes vs Costa Rica, fewer than any other Italy's starter. Flushed. #italycostarica

— OptaPaolo (@OptaPaolo) June 20, 2014
Costa Rica takes down Italy 1-0! The #CRC victory officially eliminates England from advancing in the #WorldCup. pic.twitter.com/p8gvxA3Lys

— Bleacher Report (@BleacherReport) June 20, 2014
Milan president Silvio Berlusconi bemoaned Balotelli's transfer stock nosediving, per La Gazzetta dello Sport (h/t The Guardian).
For those asking, Arsenal's deal with Balotelli fell through cause after World Cup Wenger wasn't convinced of his reliability

— Tancredi Palmeri (@tancredipalmeri) August 21, 2014
Once again the scapegoat, Balotelli is vulnerable.
Rodgers is a caring, sympathetic and understanding manager who will put his arm around Balotelli and be a genuine father figure.
This increases the likelihood of Balotelli buying into Rodgers' philosophy.
Rodgers can contain Balotelli if his behaviour is not as bad as the media hype it up to be.
That was Steven Gerrard's view on Anelka.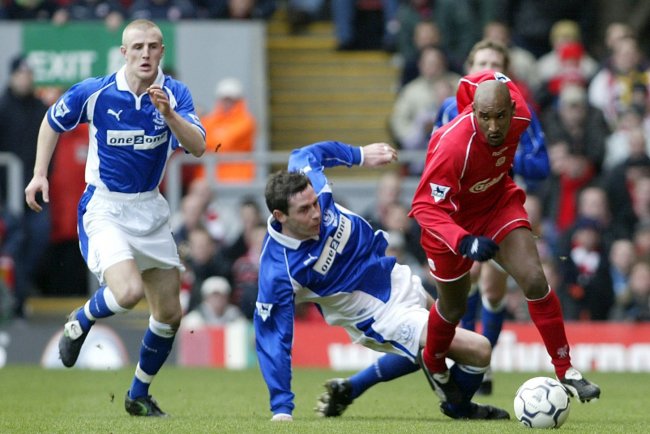 Laurence Griffiths/Getty Images
When Paris Saint-Germain loaned Anelka to Liverpool, he made a positive impression on Gerrard, per Gerrard: My Autobiography:
Anelka had done well for Liverpool and seemed an all-right guy.

Anelka actually surprised me.

He had a reputation for being trouble, for being moody, but I liked him.

He was dead quiet, and he just got on with things.

He was a star at the time, a far bigger star than me.

[...]

Everyone expected Liverpool to keep Anelka, but not the man who mattered, Gerard Houllier.

We finished second in 2002 with Anelka and fifth in 2003 with [El Hadji] Diouf.

Draw your own conclusions.
Like Anelka, Balotelli is misunderstood.
It is hard to separate truth from fiction regarding Balotelli's behaviour, as is the case with one of his childhood heroes, boxer Mike Tyson, per TIME.
Balotelli is perfect for "The Tyson Zone," per Brendan Quinn (h/t The Sports Guy, Bill Simmons at ESPN):
Quinn: If a friend said, "Did you hear that (fill in celebrity's name) just (fill in the insane behaviour: urinated on a police officer, began breeding unicorns, etc.)?", I would have no problem believing it was true.

Simmons: First of all, fantastic theory.

I think we should call this "The Tyson Zone."

Others who qualify: Dennis Rodman; Omarosa; R. Kelly; Landon from the Real World; Najeh Davenport; Suge Knight; Flava Flav; Brigette Nielsen; anyone in G Unit; Billy Joel; Andy Dick; Lindsay Lohan's Dad; Anna Nicole Smith; Margot Kidder; Tara Reid; Lil John; Gary Busey; Ricky Williams; the late Bison Dele; Liza Minnelli; Paris Hilton; and Henry Winkler.
Bottom Line
Rodgers turned a UEFA Europa League-calibre squad into the second-best team in the Premier League.
If you are an optimistic Liverpool fan, you will hope Balotelli turns the corner under Rodgers.
But Balotelli is Anelka 2.0; he appears promising but will ultimately leave you underwhelmed.
Vote on Corriere about whether it's a good move for Milan to sell Balotelli: 78% say yes.

— Matteo Bonetti (@TheCalcioGuy) August 21, 2014
Balotelli is not Thiago Silva and is not Kaka or Shevchenko. I'm annoyed, but far from heart broken.

— Meytar Zeevi (@RossoneriBlog) August 21, 2014
Rodgers attempting to fix the mad genius and labyrinthine persona of Balotelli is like a woman trying to settle down with a Janus-faced, high-flying philanderer.
Once the honeymoon period is over, the relationship will crash and burn.
Statistics via WhoScored