The pitching sensation that is Mo'ne Davis didn't quite have her dominant, shutdown stuff Wednesday that fans have grown accustomed to seeing, but she still managed to strike out six batters in 2.1 innings of work.
Nevada knocked off her Pennsylvania squad 8-1 in a Little League World Series game that was much closer than the final score indicated.
CBS Sports captured Davis' final stats from the mound:
Mo'ne Davis done pitching for night. Allows 3 runs and Ks 6 in 2.1 IP on 55 pitches. Nevada up 3-0 after 3 ins. pic.twitter.com/L2bSPiwdw5 #LLWS

— CBS Sports (@CBSSports) August 21, 2014
The primary storyline entering the game was the fact that something had to give between Davis on the mound and Nevada's dominant offense. ESPN Stats & Info pointed out exactly what she was up against:
Nevada enters tonight's game with Pennsylvania hitting .472 as a team at Little League World Series (7:30, ESPN)

— ESPN Stats & Info (@ESPNStatsInfo) August 20, 2014
Baseball showdowns like that are sure to draw an audience, regardless of the league. SportsCenter put the incredibly large crowd in context:
More than 35,000 fans are expected to watch Mo'ne Davis & Pennsylvania play at #LLWS tonight. Attendance at today's Phillies game: 25,157.

— SportsCenter (@SportsCenter) August 20, 2014
As if there wasn't enough pressure with the large crowd on hand, Davis is turning into a celebrity. She appeared on the cover of Sports Illustrated recently and also earned a nickname from rapper Lil Wayne before Wednesday's game began and the admiration of WNBA star Brittney Griner:
YMCMB-Young Mo'Ne Cash Mo'Ne Baseball!!!

— Lil Wayne WEEZY F (@LilTunechi) August 20, 2014
How do I get a Taney Dragons #MoNe jersey??????

— Brittney Griner (@brittneygriner) August 21, 2014
Perhaps feeling some of that pressure, Davis allowed a bloop single and a triple to the first two batters she faced and fell behind 1-0 early. However, she struck out the Nos. 3-5 hitters after that. Talk about settling in, as SportsCenter noted:
Mo'ne Davis settles down, striking out the side after allowing first 2 batters to reach. Nevada takes 1-0 lead after top of the 1st. #LLWS

— SportsCenter (@SportsCenter) August 20, 2014
Adam Schick of ESPN 850 and Doug Gottlieb of CBS Sports added some humor to all the early strikeouts:
It's crazy watching Mo'Ne strike out a kid that looks as out of place in Little League as Jonah Hill did as high schooler in 21 Jump Street!

— Adam Schick (@AdamDSchick) August 20, 2014
Mo'Ne Davis doing what every dad in America would like to do... Humiliate annoying 13 year old boys

— Doug Gottlieb (@GottliebShow) August 20, 2014
It looked like Pennsylvania was going to get Davis some run support in the bottom of the first, but Nevada's Alex Barker made an incredible catch at the wall in right field, robbing Pennsylvania of multiple runs. Zac Jackson of FoxSportsOhio.com reminisced after the play:
That amazing LLWS catch takes me back to when I'd dive but not get the ball. And the one time I got my tooth knocked out. Kinda similar

— Zac Jackson (@FSOhioZJackson) August 21, 2014
Things got a bit rockier for Davis on the mound in the second inning. She allowed another bloop single, and then Dallan Cave blasted a two-run homer to push the lead to 3-0. Davis then allowed a couple more baserunners, but battled back with multiple strikeouts. One happened to come against Nevada slugger Austin Kryszczuk.
ESPN's Stuart Scott was impressed:
Great showdown btw Mo'ne & Kruzszcuk ...best pitcher from U.S...best hitter from U.S...he got her 1st AB...she K'd him 2nd. #Respect 2 both

— Stuart Scott (@StuartScott) August 21, 2014
Davis' day on the mound came to an end after she registered yet another strikeout in the top of the third inning. Amy Fadool Kane of Comcast SportsNet Philadelphia explained why Pennsylvania elected to take Davis out of the game so early:
Mo'ne Davis is done pitching... she's headed into the field. She would be eligible to pitch on Saturday, if Taney gets there. #TaneyTalk

— Amy Fadool Kane (@amyfadoolCSN) August 21, 2014
In all, Davis threw 55 pitches in 2.1 innings, allowed six hits and three earned runs and struck out six batters (out of seven outs). It may not have been a vintage performance, but she's definitely made her mark, via MLB Fan Cave and Jessica W. Luther:
In the record books. #LLWS pic.twitter.com/BE3n4RrUrK

— MLB Fan Cave (@MLBFanCave) August 21, 2014
THIS IS WHY #MoNeDavis matters. THESE GIRLS RIGHT HERE (h/t @MissStaceyMay) pic.twitter.com/By7bYf6lUx

— Jessica W. Luther (@scATX) August 21, 2014
Zach Harper of CBS Sports had an answer for any ridiculous criticism that Davis was receiving after her outing:
Wait, people think Mo'Ne Davis is overrated? How are Little Leaguers even rated?

— Zach Harper (@talkhoops) August 21, 2014
Awful Announcing did have a good point though, given the fact that Davis was on the cover of Sports Illustrated recently (as was Ohio State's Braxton Miller right before he was injured this week):
Even 13 year olds aren't safe from the SI cover jinx.

— Awful Announcing (@awfulannouncing) August 21, 2014
Davis had a golden opportunity to make an impact at the plate in the bottom of the fourth inning with her team trailing 3-0. She came up to bat with runners on second and third and nobody out and battled for a seven-pitch walk. In the process, a wild pitch scored the runner from third to cut the lead to 3-1.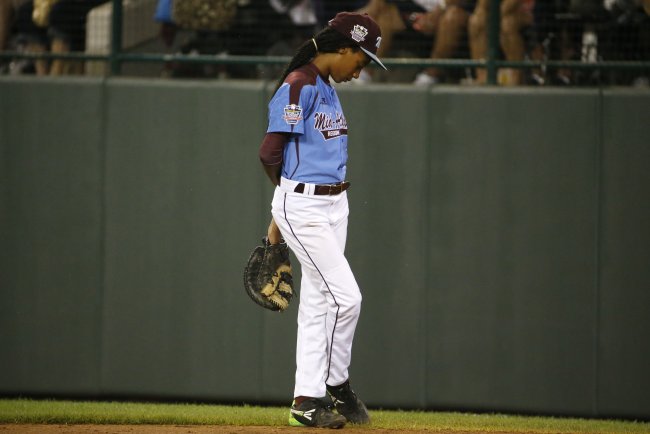 Gene J. Puskar/Associated Press
That she kept her composure at the dish during one of the more important moments of the game was no surprise given how she's handled the pressure in Williamsport. She commented on that pressure in an ESPN interview: "I never thought that I would be a role model at this age...so I just have to be myself."

Pennsylvania had the bases loaded and nobody out down 3-1, but Kryszczuk came in and shut the door with a strikeout and double play. The dramatic moments were certainly enjoyable to watch, as ESPN's Jason Whitlock noted in tongue-in-cheek fashion:
Am I the only one feeling guilty for watching and enjoying these little kids playing baseball late on a school night?

— Jason Whitlock (@WhitlockJason) August 21, 2014
MLB Fan Cave pointed out just how fast Kryszczuk threw the ball:
Pitch speed equivalent. #LLWS pic.twitter.com/rcKptXWgx6

— MLB Fan Cave (@MLBFanCave) August 21, 2014
Pennsylvania once again had a golden opportunity to score in the bottom of the fifth when it put two runners on base before recording an out. However, it failed to score after a groundout to the pitcher and two strikeouts.
It was the last realistic opportunity Davis' Pennsylvania squad had at victory because the offensive machine that is Nevada exploded in the top of the sixth. It tacked on five insurance runs to open up a nearly insurmountable 8-1 lead and carried it home to victory.
What's Next?
Gene J. Puskar/Associated Press
Nevada's victory propelled it to the United States championship game on Saturday. It is an ideal position to be in because Pennsylvania and Illinois have to play again Thursday for the right to make it there. Nevada can rest its pitchers and get ready for the game in the meantime.
As for Davis and Pennsylvania, a showdown with Illinois awaits Thursday evening. That means facing the triumvirate of Pierce Jones, Marquis Jackson and Joshua Houston without Davis on the mound. However, she will be eligible to pitch Saturday if Pennsylvania finds a way to knock off the dangerous Illinois squad.
Those hoping to watch Davis throw like a girl again will certainly be pulling for Pennsylvania.