Updates from Sunday, Aug. 31
Darren Rovell of ESPN is reporting that Kevin Durant has re-signed with Nike after Under Armour's push for the Oklahoma City Thunder superstar:
Kevin Durant has now officially signed with Nike. Deal runs through start of 2024 season.

— darren rovell (@darrenrovell) August 31, 2014
Earlier, Rovell and Marc Stein reported Durant may not be signing with Under Armour after all:
With Durant on the verge of a move to Under Armour, sources told ESPN on Sunday that Nike has exercised its right to match any rival shoe company's offer to the Oklahoma City Thunder star.

Nike has countered Under Armour's offer of between $265 million and $285 million and believes it will keep Kevin Durant for the next 10 years, sources told ESPN. Nike, whose seven-year deal that guaranteed Durant $60 million is expiring, made an initial offer of about $20 million a year that was far from what Durant was looking for. Under Armour's huge play for Durant had many believing that Nike would even let him go at that price.

But on Saturday, Nike officials told Durant and his team at Jay Z's Roc Nation Sports that it would indeed step up enough to allow the world's largest shoe and apparel company to keep him in its robust stable of basketball endorsers that includes LeBron James and Kobe Bryant.
Original Text
Under Armour is reportedly seeking to outbid Nike in the race to secure Oklahoma City Thunder superstar Kevin Durant to a massive endorsement deal.
According to ESPN.com's Darren Rovell, Durant's agency, Roc Nation Sports, told Nike of Under Armour's offer:
Kevin Durant's representation, Roc Nation Sports, informed Nike on Wednesday that he has a deal on the table with Under Armour worth between $265 million and $285 million over 10 years.

The deal includes Under Armour stock and other incentives such a community center built in his mother's name whose exact worth will not be known for some time. ...

... Nike's last offer would have given Durant a base and a minimum royalty guarantee that would equal no less than $20 million a year.
Rovell provided more perspective and background details on Twitter and also compared Durant's situation with that of Cleveland Cavaliers star LeBron James:
Durant took $22M less to sign with Nike over adidas in his rookie year. If Nike doesn't match UA, he can still chose them.

— darren rovell (@darrenrovell) August 20, 2014
If Under Armour deal with Durant goes through, UA will be spending 10% of its marketing budget on biz that is currently 1% of its revenues

— darren rovell (@darrenrovell) August 20, 2014
Durant wouldn't be the only NBA player to make more on shoe deal than on court. LeBron will likely make around $30M from Nike this season.

— darren rovell (@darrenrovell) August 20, 2014
The following quote from Durant, per Slam Magazine, outlines a primary reason why he would be so coveted and deserving of such an opportunity to make big bucks away from the basketball court:
KD: "Honestly, I think I score better than anybody." #2KUncensored

— SLAM Magazine (@SLAMonline) August 19, 2014
Durant has won the scoring title four times already in just seven NBA seasons (2010-2012, 2014) and took home his maiden NBA MVP award in 2013-14 after averaging a career-best 32 points and 5.5 assists to go with 7.4 rebounds per contest.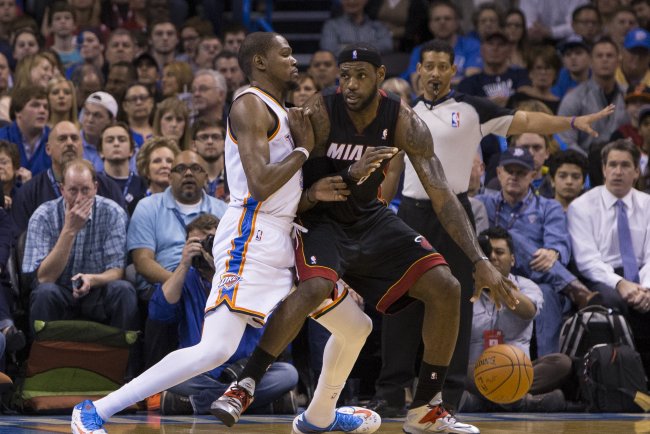 Richard Rowe/Getty Images
Along with fellow All-Star Russell Westbrook, Durant has helped Oklahoma City make a seamless transition from Seattle, turning the franchise into a perennial contender. Triangle Offense made a pertinent comparison in that context to the endorsement offer Durant reportedly has:
Kevin Durant reportedly offered a 10-year deal worth $265 million (plus equity) from Under Armour. Sonics sold in '06 for $350 million.

— Triangle Offense (@Tri_Offense) August 20, 2014
All that's missing for Durant is a championship, which could come with the Thunder or elsewhere. With just two years left on his contract, there's a chance he'll move on for the best shot at a Larry O'Brien Trophy.
Will Nike match or exceed Under Armour's reported offer?
No matter what he decides for the next phase of his career, Durant's impending endorsement deal will lock him in as he approaches his prime. Just 25 years old, his best days are still ahead of him as a player. Now he is taking his endorsement ceiling to new heights.
Fortune magazine combines with Sports Illustrated to compile an annual list of the highest-earning professional athletes, and Durant was 13th in this year's edition: $17,832,627 salary and $13,000,000 for endorsements ($30,832,627 total).
But with nearly $19 million in salary coming this season, per Spotrac.com, and the bidding battle between Nike and Under Armour, Durant stands to improve his stature among the highest earners in sports.