Manchester United were rumoured to have been turned down by German stars Marco Reus and Thomas Muller, but a team spokesman now claims the Red Devils never made an offer to either player to begin with.
Sky Sports' Bryan Swanson broke the news, claiming someone within the team organisation denied ever approaching either Borussia Dortmund or Bayern Munich for the respective players:
Manchester United spokesman tells us: "It is not true that we made offers for either Muller or Reus at any stage." #mufc #SSNHQ

— Bryan Swanson (@skysports_bryan) August 20, 2014
He also knows the Red Devils have yet to make an offer for any player other than Marcos Rojo:
As Marcos Rojo has medical, we're told Man Utd have yet to make a formal offer for any other player. 12 days to go. #mufc

— Bryan Swanson (@skysports_bryan) August 20, 2014
The Independent's Joe Krishnan couldn't believe United would actually go out of their way to deny statements that at this point are no more than speculation:
Oh god Man Utd, really? Commenting on pure speculation. It's almost as if they're trying to hide from fact Muller & Reus rejected them.

— Joe Krishnan (@joekrishnan) August 20, 2014
The club spokesman likely made the statement following comments from Muller to Bild (h/t the Independent's Tom Sheen), where the World Cup hero claimed he turned down an "astronomical offer" from United in favour of a stay with Bayern Munich.
When asked about an offer from the Red Devils, he said: "I knew that I would have earned more money. The sums from other clubs which circulated had been astronomical. I can just say: a transfer for me was never an option. FC Bayern is my club."
The English media and the fans ran with the story, and following the club's disappointing start to the 2014-15 Premier League season and a lack of star arrivals during the summer, the Red Devils likely made the statement on Muller and Reus as damage control.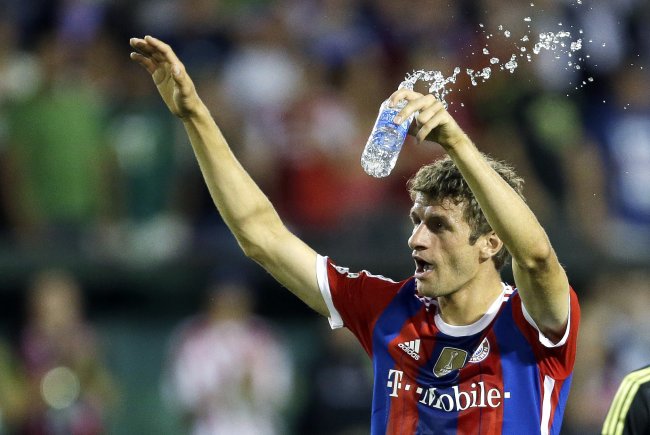 Ted S. Warren/Associated Press
The move seemed to backfire spectacularly on social media. Krishnan appeared to voice what most fans were thinking: The club only made matters worse by commenting on the matter.
If United did in fact not make an offer to Muller or Reus, fans will wonder why the Red Devils didn't try. The club promised to invest heavily during the summer transfer window—something that is yet to happen.
In contrast, if the Red Devils are now denying making an offer not to lose face, the reaction seems almost petty. Either way, the club come out looking worse than if they would have just remained quiet.
With less than two weeks to go before the end of the summer window, United better pick up the pace as they look for reinforcements, if only to wash away the bitter taste from the defeat to Swansea and this latest transfer debacle.