Updates from Sunday, Oct. 5
Manchester United announced Marouane Fellaini's availability for today's match:
United XI: De Gea; Rafael, McNair, Rojo, Shaw; Blind; Valencia, Di Maria; Mata; Falcao, van Persie (c). #mufclive pic.twitter.com/vPuNZbirI4

— Manchester United (@ManUtd) October 5, 2014
Updates from Friday, Oct. 3
Manchester United's official Twitter feed provided an update on Fellaini's status, courtesy of manager Louis van Gaal:
More: "You can be fit but not match fit. Herrera is fit but can't play because of his rib pressure. Fellaini's not yet fit to play 90 mins."

— Manchester United (@ManUtd) October 3, 2014
Updates from Monday, Sept. 22
Marouane Fellaini is nearing his return to action for Manchester United following a spell on the sidelines with a foot injury.
The midfielder posted on his official Facebook page: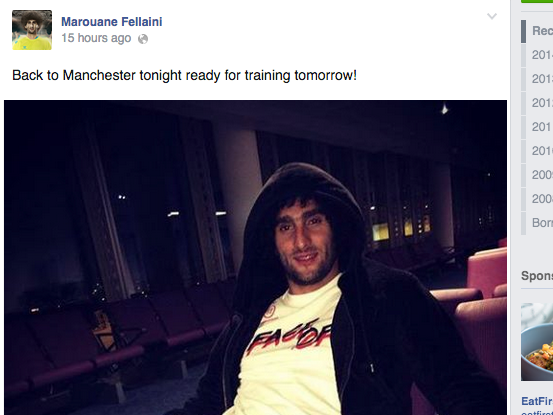 Marouane Fellaini's official Facebook page
Updates from Sunday, Sept. 21
Manchester United confirmed Marouane Fellaini is still not fit to play:
United XI: De Gea, Rafael, Evans, Blackett, Rojo, Blind, Herrera, Di Maria, Falcao, Rooney, van Persie #MUFClive pic.twitter.com/jD3m76VBuB

— Manchester United (@ManUtd) September 21, 2014
Updates from Friday, Sept. 12
Manchester United's official Twitter feed has the latest on Fellaini:
Boss: "Fellaini is more than a month away, Jones maybe three weeks or a month. Carrick isn't ready but has run for the first time on grass."

— Manchester United (@ManUtd) September 12, 2014
Updates from Thursday, Aug. 28
Martin Blackburn of the The Sun provides the latest update on Marouane Fellaini and a possible timetable for his return:
Fellaini out for 2-3 weeks with ankle ligament injury acc to Belgium coach Marc Wilmots. He'll stay at #mufc this month.

— Martin Blackburn (@SunMartinB) August 28, 2014
Updates from Friday, Aug. 22
Manchester United's official Twitter feed has the latest on Fellaini:
Van Gaal tells #MUTV four midfielders are injured for Sunderland: Ander Herrera, Marouane Fellaini, Michael Carrick, Jesse Lingard.

— Manchester United (@ManUtd) August 22, 2014
Original Text
Marouane Fellaini appears bound to Manchester United until at least January after suffering an injury in training.
The Belgian midfielder was pictured entering Bridgwater hospital on crutches by The Sun, according to a report via ESPN. 101 Great Goals also tweeted the newspaper's photo of Fellaini with his foot in a protective cast:
Fellaini pictured on crutches, Napoli move for Man United midfielder now unlikely http://t.co/aqVNGNUcof pic.twitter.com/81Of1AJrTH

— 101 Great Goals (@102greatgoals) August 20, 2014
Jamie Jackson of The Guardian provides further detail:
Doctors remain cautious re initial scans of Fellaini foot - no severe damage but whether ligaments injured to be determined. #mufc

— jamie jackson (@JamieJackson___) August 20, 2014
Adam Crafton of The Daily Mail reported more on the early diagnosis for Fellaini:
Sportsmail understands that the early prognosis is that the Belgium star has not broken his ankle but there are fears in his native land that he has suffered ankle ligament damage. Fellaini is awaiting the result of further scans.
It is now extremely unlikely Fellaini will be able to secure a move away from Manchester United this season. The Red Devils midfielder has endured a torrid time since joining from Everton last summer and is yet to truly fit in at the club.
His unwieldy style, which often sees the big man throw elbows, adds an uneasy sense of rhythm to United's midfield play. He isn't a great passer of the ball, struggles to maintain position and is prone to lapses in concentration.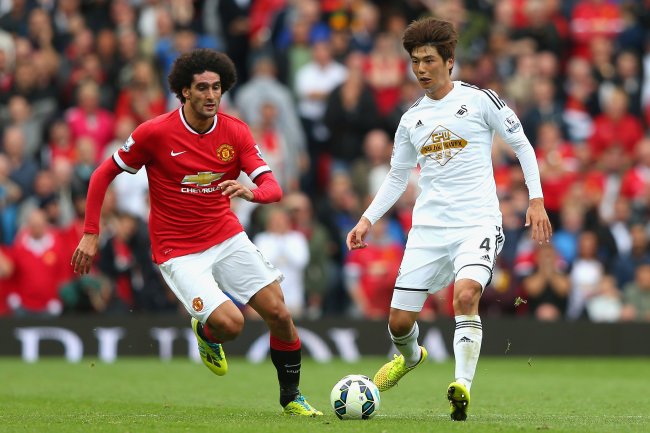 Alex Livesey/Getty Images
That said, Fellaini is a behemoth in the air and can provide a direct attacking route if last-ditched attempts are needed (as we saw during United's loss to Swansea on Saturday).
Napoli were said to be weighing up a loan move, per David Wright of the Daily Express, but will be put off by Fellaini's current state. He hasn't maintained consistent fitness since heading to United in 2013, meaning he will likely be forced to remain at the club until at least the winter transfer window.
Fellaini's stock has dropped so low he was even jeered by United fans during their pre-season win over Valencia. The 26-year-old scored an injury-time winner in that match, his first goal for the club, despite notching an impressive 11 in 31 Premier League fixtures for Everton the season prior, per WhoScored.com.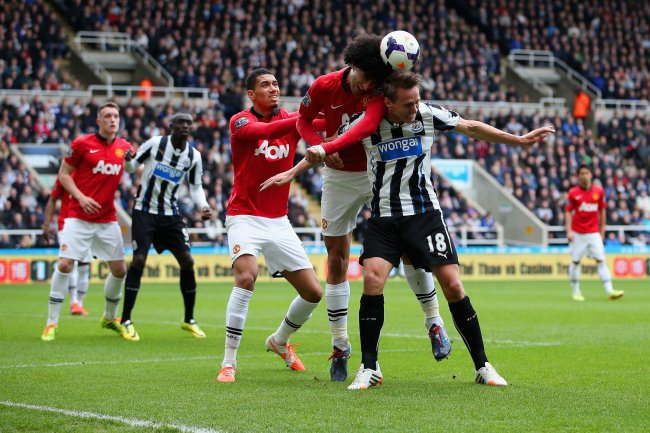 Jan Kruger/Getty Images
Will Marouane Fellaini ever become a star at Manchester United?
The afro-haired midfielder is yet to replicate his Toffees form at the Theatre of Dreams, where he has become synonymous with David Moyes' reign of failure. Fellaini has always appeared of greater use when attacking the opposition's box with late runs rather than trying to dictate the pace of play on the halfway line.
Like many of his teammates, Fellaini's career could use a change of scenery. United's system has never suited his style of play, which was true even when Moyes was in charge. Louis van Gaal is unlikely to incorporate the player into his 3-5-2 formation, one that hinges on the midfield being able to transition between defensive and offensive duties in an instant.
Fellaini certainly has plenty to offer when utilised in an advanced role, but his latest injury provides another hurdle during a difficult spell with United. Both he and the club may have been craving a loan move this summer, a possibility that now appears off the table.