Sevilla have thrown fallen star Ever Banega a lifeline by signing him from Valencia, but can he revive his career?
Here is a scouting report on the 26-year-old, 5'9", 157-pound Argentine international.

Presentación en la sala de prensa del #RSP de Gerard Deulofeu y Éver Banega #SomosDeulofeu #SomosBanega #SevillaFC pic.twitter.com/GLWx2lNssH

— Sevilla Fútbol Club (@SevillaFC) August 19, 2014
Banega Positives
Banega was lauded as a visionary midfielder and was referenced multiple times in the 2007 FIFA U-20 World Cup technical report, per FIFA:
The most outstanding playmakers in defensive midfield were Banega.

[...]

Banega, [Mathias] Cardaccio and [Michael] Bradley were midfield dynamos in both defence and attack.

[...]

Banega (5) covered a lot of ground between defensive and attacking midfield.


He was responsible for dictating the pace of the game and launching attacks by playing accurate balls in behind the opposing defence for Argentina's strikers to run on to.

[...]

Ever Banega: midfielder, playmaker with good vision and excellent positional play, good passing.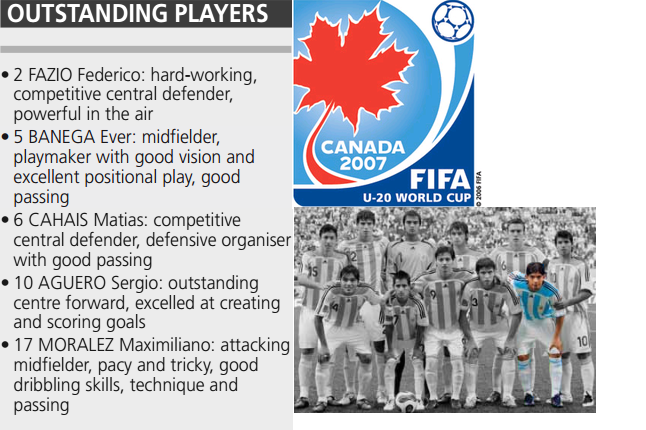 Credit: FIFA.com
Sevilla are betting on Banega's immense ability.
He is a phenomenal talent who flashes Sergio Aguero's dribbling, Fernando Redondo's passing and Javier Mascherano's grit.
Having had their defence dissected by Banega, Sevilla know firsthand about the Argentine's game-winning potential.
Banega scored a virtuoso goal by striking a free-kick past then-Osasuna (now Porto) goalkeeper Andres Fernandez.
Showing composure, Banega cushioned a high ball and made a big play by scoring against Barcelona.
Banega has a zest for taking on players, such as using the elastico move to jink past then-Malaga (now Atletico Madrid) right-back Jesus Gamez.
The through ball to then-Valencia (now Real Sociedad) central attacking midfielder Sergio Canales against Espanyol was an impeccable moment of artistry from Banega.
From a ball-winning perspective, Banega has demonstrated that he can be an elite defender.
Several months into the 2012-13 season, Banega's tackle-success percentage was 86 (he finished with 68), per Squawka.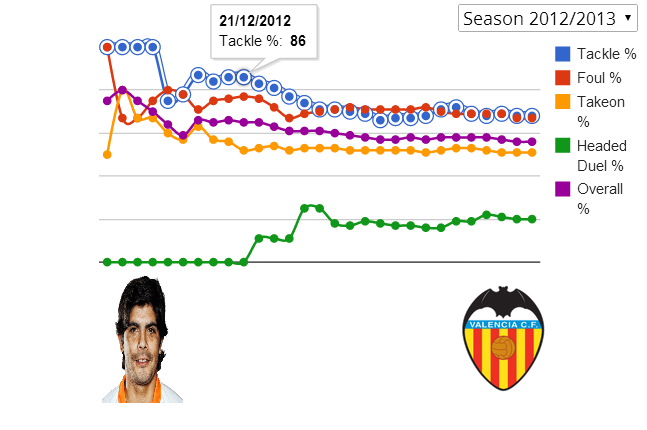 Credit: Squawka.com
Banega Negatives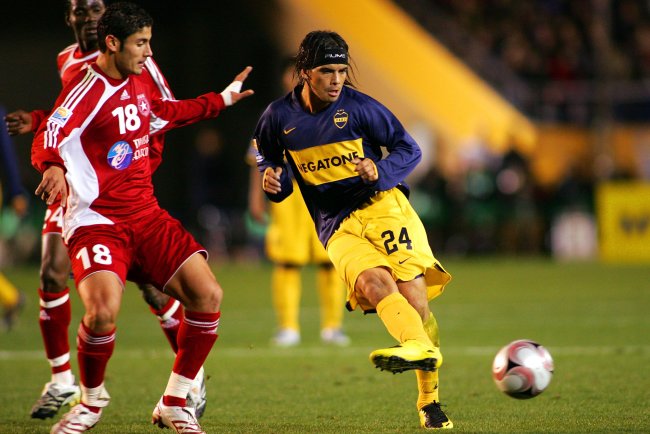 Koji Watanabe/Getty Images
A tormented genius who grew up impoverished to the extent that he "practically ate mud," per Sid Lowe at The Guardian, Banega's performances as an Argentine youth international star and an emerging Boca Juniors young gun made him one of the most desirable prospects in the world.
He became very wealthy when Valencia came calling.
Still, South American football correspondent Tim Vickery worried about Banega's life-changing career move, per BBC Sport: "But from Banega's point of view, the problem with accepting the first big-money bid is that it might not be the right time or the right club."

Vickery foreshadowed Banega's demise: more money, more problems.
Valencia were perturbed by Banega drinking, driving under the influence, his lack of punctuality, wearing a Real Madrid shirt and being run over by his own car, per Fernando Alvarez at Marca.
So Éver Banega won't play for Valencia against Barcelona--forgot to use handbrake on his car and ran over his ankle, breaking it.

— Grant Wahl (@GrantWahl) February 19, 2012
Ever Banega should stop driving. In Feb, car ran over his ankle, breaking it. On Monday, Ferrari caught fire with him in it. He's unhurt.

— Tim Stannard (@LaLigaLoca) July 31, 2012
Banega in trouble for appearing on internet wearing Real Madrid shirt. At least he was wearing something this time.

— Sid Lowe (@sidlowe) July 28, 2011
Éver Banega arrived for Friday's training session late and drunk. (PD)

— Eóin - Valencia News (@XimoVCF) February 2, 2013
The Valencia public-relations department suffered as much as Banega's liver.
On the field, Banega has been a tantalising player.
He has periods of world-class play, and then his form randomly disperses.
Arguing with the referee instead of tracking back after being dispossessed against Barcelona is an example of Banega's petulance, which has held him back from fulfilling his potential.
Bottom Line
Ever Banega, Valencia 10-11. Huge talent, and a huge radar at age 22. Injuries and focus issues in recent years pic.twitter.com/DppSese38a

— Ted Knutson (@mixedknuts) August 19, 2014
Banega can start as a No. 6, a No. 8 or a No. 10 and dictate midfield proceedings.
He is a replacement for Ivan Rakitic, a world-class midfielder, who departed for Barcelona.
Europa League Player of the Tournament: Ivan Rakitic #Sevilla #UEL #B1_WithSevilla http://t.co/W66VAOp2C3 pic.twitter.com/V0GrsmQ9qq

— Goal Photos (@GoalPhotos) May 15, 2014
Edit: Rakitic [ @barcastuff ] pic.twitter.com/3RC50c1aZl

— Youssef Aly (@Youssefious) July 19, 2014
The move on paper makes sense for Sevilla, so can Banega re-produce Rakitic's season?
Yes, strictly from an ability perspective.
But if you factor in Banega's erratic behaviour, then no.
If he does not straighten out, he will continue sabotaging his career, which is tragic, since he is one of the most talented players of his generation.
Valencia once hired a bodyguard to follow Ever Banega around at all times to keep him out of trouble. Might need to be a lifelong position.

— Dan Colasimone (@DanColasimone) February 19, 2012
Statistics via WhoScored