Chelsea rode through the setback of conceding early at Turf Moor to earn a 3-1 victory over Burnley on Monday evening, claiming their place atop the Premier League as a result.
Scott Arfield's half-volley from distance saw Sean Dyche's side go 1-0 up in the 14th minute, but Jose Mourinho's men hauled themselves back into the fixture.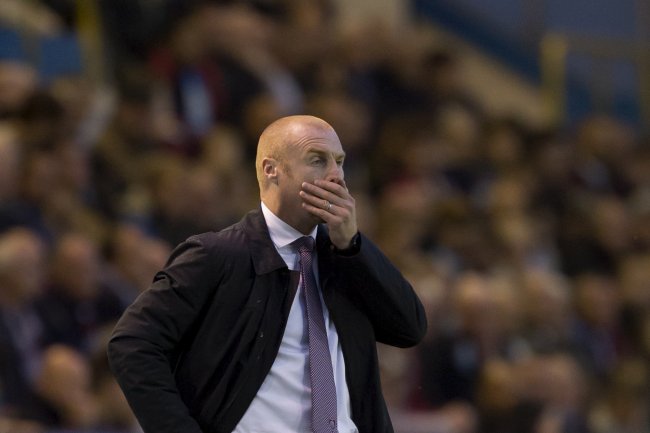 Jon Super/Associated Press
Diego Costa, Andre Schurrle and Branislav Ivanovic all netted in the first half to round off the scoring early, with Cesc Fabregas enjoying a classy Premier League debut for the Blues upon his return to England.
Costa could have had a second, too, showing predatory instincts to pounce upon a poor Ben Mee back-pass before forcing contact from Tom Heaton as he went to the ground. No penalty was given and a caution for simulation was instead shown, but Mourinho is quoted by the Daily Mail in giving his take:
Jose Mourinho: 'I feel very, very sorry for Diego [Costa] because it was a penalty and never a yellow card.' http://t.co/22xblRIABF

— MailOnline Sport (@MailSport) August 18, 2014
Bleacher Report's Garry Hayes quotes Dyche in backing the referee in his decision, however, not giving much indication of his own personal feelings on the matter:
Sean Dyche on Costa's penalty claim: "I'll go with the ref. He had a great view of it." @br_uk

— Garry Hayes (@garryhayes) August 18, 2014
The Portuguese was also quick to highlight the battling will shown by his players, per the official Chelsea Twitter account, praising the Blues for their first-half response:
Mourinho says we had a good reaction to going behind and that we were not emotionally affected by conceding. #CFC

— Chelsea FC (@chelseafc) August 18, 2014
Mourinho: 'The players were very calm and never lost their composure. After that we had a fantastic 20/25 minutes with three goals.' #CFC

— Chelsea FC (@chelseafc) August 18, 2014
That resilience was just too much for Burnley to handle in the end, and with the money that Chelsea have invested over the summer, those at Stamford Bridge may like to believe there are only further improvements to come.
Sky Football's Matthew Stanger quotes Dyche in being upbeat despite the result, while the official Premier League Twitter account has the Turf Moor boss as saying Chelsea were a class above his own outfit:
Dyche: "Chelsea top of the market, so much quality in all areas." Happy to confirm he's calling it the 'Barclays Premier League'.

— Matthew Stanger (@MatthewStanger) August 18, 2014
Burnley boss Sean Dyche: "We knew this was the top end, and our challenge is not going to be at the top end, arguably" #BURCHE

— Premier League (@premierleague) August 18, 2014
After bouncing back so successfully following that initial stumbling block, the second half was a much more flat period for both teams, a test in consistency that Chelsea may see as a point in need of improvement.
Mourinho did point this out as being one of their weaker aspects, but three points were the ultimate reward, deserved according to the west Londoners' manager:
Jose says we lost a little bit of attacking appetite in the second half but we were in control and deserved to win. #CFC

— Chelsea FC (@chelseafc) August 18, 2014
The tactician was also pleased to see such a bright return to Premier League football for Fabregas, per Hayes:
Jose: 'I agree with Cesc being Man of the Match. Him and Matic controlled the intensity of the game.' #CFC

— Chelsea FC (@chelseafc) August 18, 2014
JM: "I agree that Cesc was MOTM. He controlled the intensity of the game." @br_uk

— Garry Hayes (@garryhayes) August 18, 2014
Fellow Spanish international Costa also caught praise upon marking his debut with a goal. Mourinho added that Thibaut Courtois' place in the starting XI was merely for Monday night, with no permanent decisions made on where Petr Cech ranks, according to The Guardian's Daniel Taylor:
JM: "Costa presented himself today with a fantastic attitude, a clean attitude. He had a clear penalty but got a yellow card." @br_uk

— Garry Hayes (@garryhayes) August 18, 2014
JM: "I don't like to say Courtois is my first-choice for the rest of the season. I don't like that word." @br_uk

— Garry Hayes (@garryhayes) August 18, 2014
Mourinho making a strong case here that he wants Petr Cech to stay. "He hasn't asked (to leave) and I hope he doesn't ask." #CFC

— Daniel Taylor (@DTguardian) August 18, 2014
Altogether, Chelsea can be pleased with the way in which they opened their account for the 2014-15 campaign, and first place is the reward earned, at least for the time being.
That being said, there will be far more difficult tasks than Burnley on the road to Premier League glory, with both Mourinho and Dyche able to look upon this result as one filled with lessons.