Five Non-Rookies Ready To Break Out in 2009-10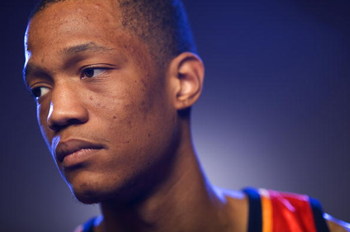 With this year's rookie class looking to be potentially underwhelming, here are five players that have already played at least one year in the league that are ready to become the next Danny Granger or Rajon Rondo.
A couple of these guys have asserted themselves, but haven't quite received the notoriety that they soon will.
Michael Beasley-Miami Heat
Beasley went through what seemed to be a fairly disappointing and underwhelming rookie season last year with Miami.
He only started 18 games, often struggling to find floor time due to his lack of commitment to the defensive end of the floor.
However, there is no doubt whatsoever about Beasley's offensive potential.
In just about 25 minutes per game last season, Beasley averaged just under 14 points per game, and ranked fifth among all rookies in Player Efficiency Rating.
He also managed to hit over 40 percent of his three-point attempts-a great sign that Beasley will have no problem scoring from wherever he wants to, whenever he wants to.
The key will be his willingness to commit to playing consistent defense, as head coach Erik Spoelstra made quite clear during Beasley's rookie year.
While playing alongside Dwyane Wade (the NBA's leading scorer in 08-09) may limit Beasley's opportunities to score a bit, it seems as though Beasley will be the starting power forward for the Heat next year, and could make the leap to a 20-10 type player in just his second season.
Anthony Randolph-Golden State Warriors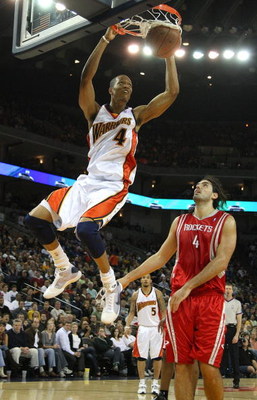 Anthony Randolph's skill set is something of a mix between Hedo Turkoglu and Chris Bosh.
Randolph is 6'10" and can do anything and everything on a basketball court.
Somehow, Randolph dropped all the way to 14th in last year's draft, where the Warriors were ecstatic to scoop him right up.
Randolph can score on the inside, score from the outside, handle the ball like a guard, pass it, and block shots.
The sky is the limit for him, and after some early-season tussles with head coach Don Nelson, Randolph progressively saw more floor time and began to flourish.
Through two games in the summer league (I know, it's summer league) Randolph has been the unquestioned best and most dominant player on the floor.
Randolph could stand to add some strength, but if he doesn't, it won't hurt him either.
On talent alone, Randolph is capable of one day becoming the best player in the NBA.
I'm not saying he will be the best, but he will be a top-tier NBA star very soon.
Thaddeus Young-Philadelphia 76ers
Thaddeus Young has a body type and a game very similar to those of Anthony Randolph.
He's about 6'9" and has good strength, and also has the ability to shoot it from the outside and stretch the defense.
Like Randolph, Young is a lefty, which provides a tougher matchup for defenders.
He's supremely athletic and long, making him a very solid defender already, and should continue to grow into one of the league's best on defense.
While his game still needs development, it's easy to see what Young brings to the table.
In March, Young averaged about 21 points per game for the 76ers, and finished the season averaging 15.3 points and five rebounds per night.
Young is still just 21 years old, and could blossom into a star as soon as next season.
Eric Gordon-Los Angeles Clippers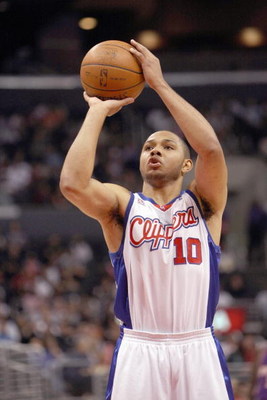 Because the Clippers were so awful last season, few probably realize that Eric Gordon enjoyed quite a stellar rookie season.
The 6'3" guard finished the season having averaged over 16 points on 46 percent shooting from the floor.
Gordon was born to do one thing, and that is score.
His range is essentially unlimited, and he shot 39 percent from beyond the arc as a rookie, a number that will continue to escalate.
Gordon should also benefit from having Oklahoma rookie Blake Griffin occupying the paint for the Clippers next season, as defenses will likely have to gear more towards stopping Griffin.
This should help to free Gordon on the outside for some open looks.
He can also take it off the dribble and finish around the rim pretty well for a guy his size.
Gordon was under-the-radar as a rookie in Los Angeles, but I believe he's likely to breakout fully in his second season, and could average over 20 points per game.
Tyrus Thomas-Chicago Bulls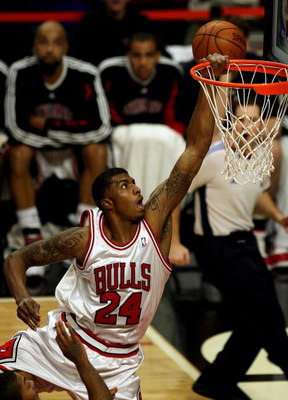 Tyrus Thomas will be going into his fourth NBA season next year, and showed enough progress towards the latter half of the 2008-09 season for me to believe he's finally ready to flourish.
While his numbers didn't jump off the page (10.6 points, 6.4 rebounds), his game has developed to a point where he is finally capable of scoring it himself.
He's developed a consistent mid-range jumper, as displayed during Chicago's epic seven game series against the Celtics.
He's amazingly athletic, and uses his athleticism and length to his advantage on defense, as he averaged about two blocks per game last season.
He's one of the best finishers around the rim in the league, and at just 22 years old, he's about to take his game to the next level.
The departure of Ben Gordon should also open up more scoring opportunities for Thomas.
I believe Tyrus Thomas is on the verge of exploding and establishing himself as a true stud NBA player for the Bulls.
Honorable Mention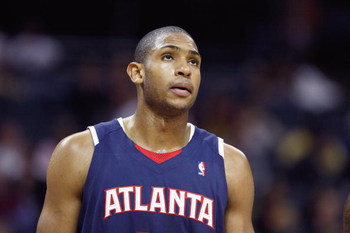 These are players that could also make a little noise next season:
Al Horford-Atlanta Hawks
Wilson Chandler-New York Knicks
Corey Brewer-Minnesota Timberwolves
Randy Foye-Washington Wizards
Jason Thompson-Sacramento Kings
Marreese Speights-Philadelphia 76ers
Raymond Felton/DJ Augustin-Charlotte Bobcats
Keep Reading