Chelsea have gained something of a renowned reputation for their stacked reserves of up-and-coming talent, but speculation suggests they haven't stopped adding, with a move for Paris Saint-Germain youngster Adrien Rabiot on the cards.
The 19-year-old has just a year left on his deal in the French capital, and Anthony Chapman of the Express writes that Laurent Blanc is willing to let his asset leave for a cut-price fee of just £5 million.
It's a potentially valuable deal by all means, Rabiot holding a reputation as one of the club's most promising midfielders. However, Chelsea are on a need-to-buy basis at present, and his acquisition doesn't fit the profile, at least not at the moment.
Jonathan Johnson of ESPN FC reported recently that a contract dispute is thought to be at the centre of Rabiot's willingness to move away from Parc des Princes:
Le Parisien: PSG have reached conclusion it is best to sell Adrien Rabiot with player refusing to sign new deal. Will now search for buyer.

— Jonathan Johnson (@Jon_LeGossip) August 15, 2014
Able to play in a number of midfield roles, the teenager could well fit in with the Blues' requirements some day, but given that the club already houses a number of talents eyeing similar future prospects, it's hardly a necessity that Chelsea invest.
After all, Sky Sports have reported that Josh McEachran will be joining up with Eredivisie club Vitesse Arnhem for the 2014-15 campaign, so it's clear Jose Mourinho is in no dire need of engine-room faces.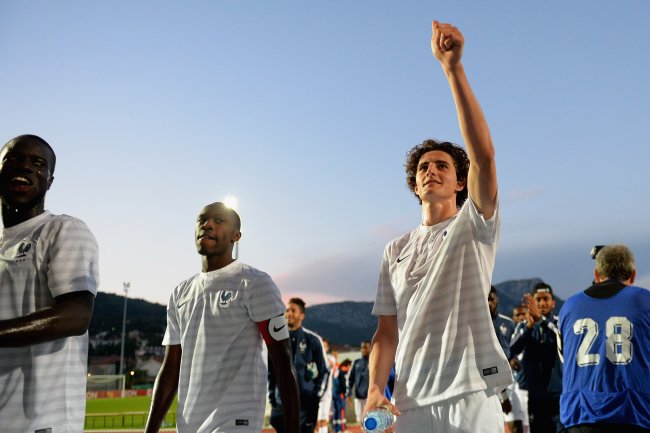 Christopher Lee/Getty Images
In terms of first-team options, the Portuguese has Nemanja Matic, Cesc Fabregas, Ramires, Marco van Ginkel and John Obi Mikel all happy to play in almost identical capacities to Rabiot, not to mention the younger likes of Nathan Ake and Oriol Romeu, on loan at Stuttgart.
Rabiot is a player of extreme promise in the role and had his most prominent season yet under Blanc in 2013-14, as OptaJean illustrates:
37 - Adrien Rabiot won 37 of his 40 tackles attempted in Ligue 1 2013/14. Exit.

— OptaJean (@OptaJean) August 15, 2014
Mourinho's summer has been a busy one thus far, but it hasn't stopped the manager from being open to the thought of further business, per talkSPORT:
We can never say what is going to happen, as players will have different feelings, different reactions. The reality is that I am happy with my squad. Very happy with my club, the structure that supports me. I feel very good. I was very good with the explanation of my needs. My squad is good. Not a perfect one, because there is no perfect squad.
So, for Rabiot to arrive, one would imagine those currently out on loan would take a hit in the pecking order, a fairly worthless move at this time if Mourinho truly has any intentions to promote his existing youth.
Do Chelsea need more prospect signings?
It hasn't been the club's prerogative to develop from within their own ranks in recent years, admittedly, but when so much talent is bustling about, waiting to be afforded opportunity, what sense does it make to spend once again.
That being said, should PSG hang onto Rabiot this season and indeed not agree a new transfer, it may be a wholly new argument when the player is available for little more than compensation next summer.
One more niggling factor that offsets the timing of Rabiot's arrival right now is his current fitness, which Johnson reports as being not quite 100 percent:
Blanc also revealed that Cavani & Luiz picked up small knocks since Napoli clash, but that Adrien Rabiot will still be out for some time.

— Jonathan Johnson (@Jon_LeGossip) August 14, 2014
In the grand scheme of things, it's a fairly small aspect of any potential deal, but a factor nonetheless, and one that could give Chelsea an excuse to hold off, inspect further and save their interest for another time.
Should that be the mode of address, the west Londoners risk seeing another side steal Rabiot from under them. However, needless to say, it's a loss they can afford with so many options already at their disposal in what would be another luxury splurge.