The inaugural Singapore Darts Masters got off to a bang Friday, as the quarter-final round at the Singapore Indoor Stadium was filled with upsets and the kind of top-level darts people associate with any World Series of Darts event.
Only the top players in the world are invited to these events, and on Saturday, we saw why. Legends fell at the very first hurdle, and surprise contenders put themselves firmly in the role of favourites with masterful performances.
Semi-Final and Final Recap
Michael van Gerwen recovered from his disappointment at the 2014 World Matchplay tournament to win the first edition of the Singapore Masters. Van Gerwen had been soundly beaten by Phil Taylor in the Matchplay final at Blackpool's Winter Gardens.
But with Taylor booted from this tournament at its quarter-final stage, Van Gerwen was too much for the rest in Singapore. The Dutchman vanquished Simon Whitlock in a competitive final:
(R): World Darts Series, Final, Michael van Gerwen (100.33) 11 (21) 8 (95.56) Simon Whitlock

— PDCResults (@PDCResults) August 16, 2014
Whitlock had secured his place in the final by dispatching Dave Chisnall, Taylor's slayer, at the semi-final stage. Here are the full results from the final four stage and the all-important last match:
| | | | |
| --- | --- | --- | --- |
| Match | Players | Score | Winner |
| Semi-Final | Dave Chisnall vs. Simon Whitlock | 6-11 | Whitlock |
| Semi-Final | Michael van Gerwen vs. James Wade | 11-9 | Van Gerwen |
| Final | Michael van Gerwen vs. Simon Whitlock | 11-8 | Van Gerwen |
PDC.tv
The semi-finals can best be described as thrilling, high-scoring affairs. There were ton-plus scores galore between Chisnell and Whitlock, per PDC.tv:
Earlier in the evening, the first semi-final involving Whitlock and Dave Chisnall got off to a flyer with both players averaging over 105 after just three legs, with both taking out a ton-plus finish in the process.
A late rally from Chisnall proved fruitless in a match that set the stage for an instant classic between Van Gerwen and Wade.
An erratic beginning from Van Gerwen gave Wade some hope, before the Dutch ace composed himself to establish a measure of dominance, according to PDC.tv:
In the second semi-final, James Wade and Michael van Gerwen traded blows to share the first four legs. Van Gerwen got off to a shaky start, missing six attempts at a double in the opening leg, but recovered to take out two ton-plus finishes in order to head into the first break 3-2 up.
However, a resolute Wade wouldn't be so easily shook off. He evened the match at 5-5, before a series of frantic lead changes.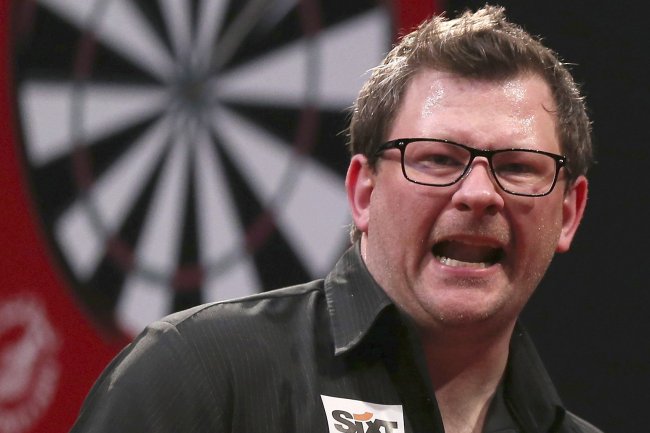 Francois Nel/Getty Images
Eventually though, Van Gerwen, now 9-8 ahead, steeled his nerves and claimed two legs in a row to ensure his place in the final.
Once there, Van Gerwen made a faster start than the one he managed against Wade. However, the prolific Whitlock was able to make just as quick work of his early deficit, per PDC.tv:
Van Gerwen wasted no time in racing to a 3-0 lead, but Whitlock wasn't about to make this final a foregone conclusion, taking out 122 before sealing the next leg to head into the first break just one leg behind.

Whitlock continued his form in the next mini-session, winning two of the next three legs to level at four-all, before van Gerwen found his form once more and took the next two to head into the second break 6-4 up, landing an 11-darter in the process.
But just as he had against Wade, Van Gerwen crafted a strong finish. His late flurry meant he won with a little more room to spare.
MVG celebrates after winning the Singapore Darts Masters! https://t.co/9hwAwmgW1f

— PDC (@OfficialPDC) August 16, 2014
Afterwards, Van Gerwen expressed his delight with the win and also deemed the Asia-based tournament a success, per PDC.tv:
That feels great, there's a big market for darts in Asia and we've all done a great job to bring the sport to the people over here. This means a lot to me, it's a fantastic win.

Simon never gave up - he never does - so you have to try 200 percent when you play him. It's been great here in Singapore, I'd like to thank the fans and everyone who bought a ticket, but I was here for one thing only, to win the trophy.
It was the perfect way to rebound from his Matchplay final hammering at the hands of Taylor. By dominating in Singapore, Van Gerwen has reasserted himself as the premier player in Darts.
That had been in some doubt after he was taught a lesson by the game's old master in Blackpool. However, Van Gerwen has now removed any such doubts.
Here are the full results for every quarter-final match:
Quarter-Final Results

| | | |
| --- | --- | --- |
| Peter Wright | 4-10 | James Wade |
| Simon Whitlock | 10-6 | Raymond van Barneveld |
| Phil Taylor | 6-10 | Dave Chisnall |
| Michael van Gerwen | 10-4 | Andy Hamilton |
PDC.tv
Peter Wright 4-10 James Wade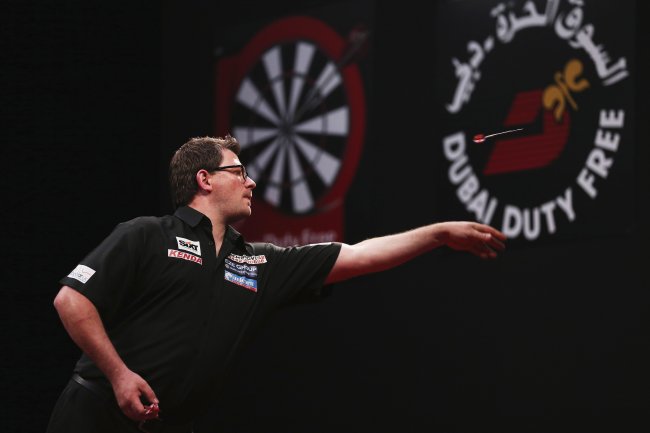 Francois Nel/Getty Images
The Machine dominated the opening match from start to finish, only surrendering one of the opening six legs. Going up against the favoured Peter Wright, James Wade put together a complete display, finishing with an average in the triple digits and an impressive 71 percent on the checkout.
PDCResults had the final score:
(R): World Darts Series, Quarter-Final, Peter Wright (96.13) 4 (19) 10 (100.65) James Wade

— PDCResults (@PDCResults) August 15, 2014
Snakebite took the second leg but had no answer for his opponent early, and he needed two late rallies to limit the damage to 6-3 going into the break. Momentum seemed to shift in favour of the seeded player, but Wright missed two shots at double eight on the checkout in the 10th leg, allowing Wade to regain his composure.
The 31-year-old never looked back, only surrendering one more leg on his way to an easy win. Missing the 2014 Premier League must have left the World No. 6 bitterly disappointed, but his progression throughout the year indicates it only aided his play.
Simon Whitlock 10-6 Raymond van Barneveld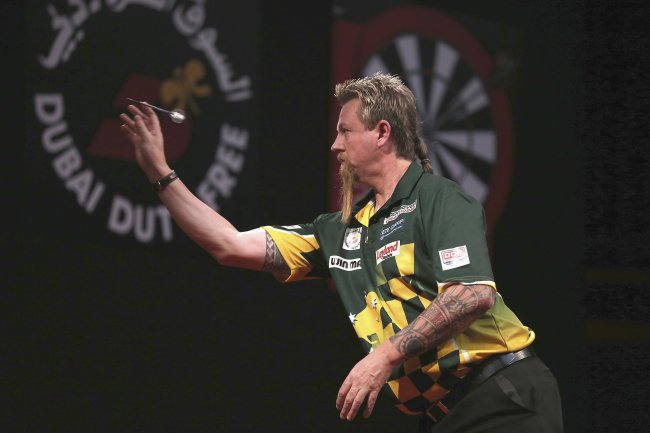 Francois Nel/Getty Images
Simon Whitlock is in the form of his life, and he needed only 10 minutes to win five consecutive legs and steal this quarter-final from the Netherland's Raymond van Barneveld.
Live Darts was as stunned as everyone in attendance:
Simon Whitlock reels off five consecutive legs to seal a thrilling 10-6 win over Raymond van Barneveld! #darts pic.twitter.com/AJZFysbnP3

— Live Darts (@livedarts) August 15, 2014
Down 5-6, the Wizard turned on the jets and dramatically improved on the checkout, giving Van Barneveld almost no chance. The big Dutchman has struggled somewhat of late, dropping all the way to 15th place in the world ranking, and his struggles were once again on display in Singapore.
Crucial misses in the 15th leg painted the perfect picture of how this match played out, as Barney couldn't finish one of his three chances on the checkout, handing the frame to his Australian opponent.
The match stats:
(R): World Darts Series, Quarter-Final, Simon Whitlock (97.05) 10 (19) 6 (95.51) Raymond van Barneveld

— PDCResults (@PDCResults) August 15, 2014
Whitlock's slow start is somewhat worrisome, but the Wizard seems to have gotten over his tendency to finish matches slowly. He's been excellent under pressure in the summer of 2014 and will be a dangerous opponent for anyone he faces.
Phil Taylor 6-10 Dave Chisnall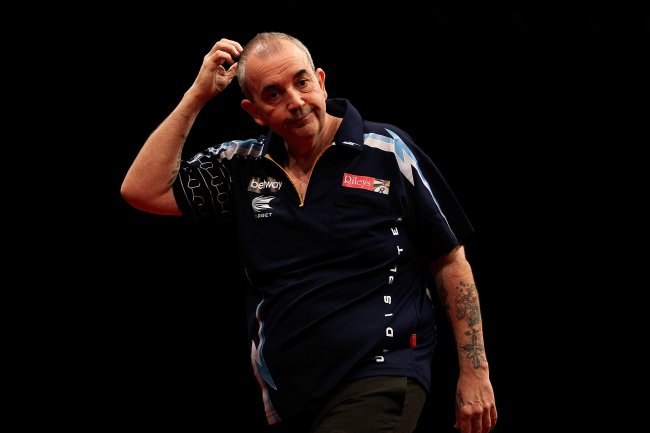 Ben Hoskins/Getty Images
Dave Chisnall gave fans the upset of the day, eliminating strong favourite and darts legend Phil Taylor in the third quarter-final.
The Power dominated on the averages, but the problems that plagued him earlier in the season seemed to rear their ugly heads once again, as multiple errors on the checkout gave the match to Chisnall. Team Chizzy shared the stats:
(R) World Darts Series, Quarter-Final Phil Taylor (101.47) 6-10 (95) Dave Chisnall #TeamChizzy

— Dave Chisnall Fans (@TeamChizzy180) August 15, 2014
Chizzy took an early break to go up 2-0 and kept the pressure on the experienced Taylor throughout the match, forcing him into costly mistakes. The Power won his frames decisively but couldn't fit back in Chisnall's legs, going down 3-9.
Taylor then proceeded to do, well, what Taylor does, winning three consecutive legs and igniting the crowd. It looked like the legend would do the impossible and somehow win the match, but two misses on the checkout opened the door for Chizzy to finish 112 on the checkout, and he didn't miss.
Speaking to PDC.tv, he was understandably excited about the result: "I'm delighted. I started quite well and was hitting my finishes well. My finishing was my strong point but I scored quite well and that gave me the chances. Phil gave me the shot at 112 at the end and I took it."
Taylor's hot streak comes to a sudden end in a match he never thought he would lose, but looking at the Power's phenomenal season, there's no reason to fear his struggles on the checkout will continue.
Michael van Gerwen 10-4 Andy Hamilton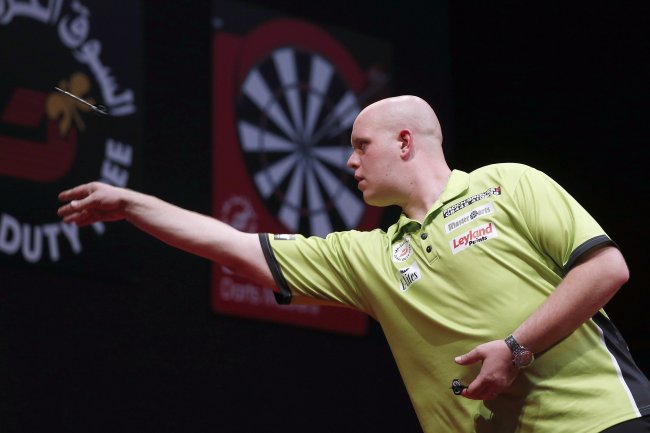 Francois Nel/Getty Images
Michael van Gerwen did what he had to do as World No. 1 and tournament favourite, easily beating Andy Hamilton to secure his spot in the semi-final.
The Dutchman had a sloppy start but recovered to take a 4-3 lead, and four consecutive legs meant he never had to worry about the final result of this match. The stats, via PDCResults:
(R): World Darts Series, Quarter-Final, Michael van Gerwen (98.04) 10 (19) 4 (87.54) Andy Hamilton

— PDCResults (@PDCResults) August 15, 2014
The Hammer didn't have his best outing of the season, failing to push his average beyond 90. He never looked like he could really threaten the in-form Van Gerwen, who, following the exit of Taylor, will now be the favourite for the win.
Darts pundit and "Grumpy Old Man" Stuart Pyke was impressed by what he saw on this opening night of the very first Singapore Darts Masters:
Really enjoyable opening night here in Singapore at the #darts Masters event. Taylor out. S/finals Van Gerwen/Wade + Whitlock/Chisnall

— Stuart Pyke (@stuartpykesport) August 15, 2014
The semi-final draw:
Semi-final Draw

| | | |
| --- | --- | --- |
| Dave Chisnall | v | Simon Whitlock |
| Michael van Gerwen | v | James Wade |
PDC.tv
The semi-finals will follow the same format as the quarter-finals (best of 19, first to 10 legs wins), the format regular followers of darts are familiar with. Van Gerwen and Wade put together the most complete performances of the first round, and they'll meet in a semi-final for the ages.
Whitlock knows he can't afford to make too many mistakes on the checkout against the dangerous Chisnall, who doesn't need to hit triple-digit averages to find ways to win matches.
The 2014 Singapore Darts Masters will continue on Sunday.