Hot Seat: The Eight Toughest Managerial Jobs in Football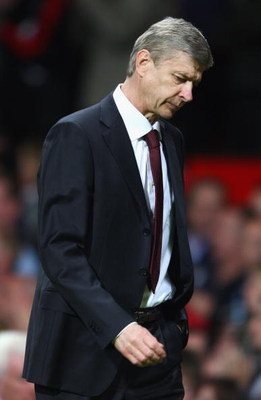 Much like the comparison between a high-profile Head of State's inauguration portrait and his picture upon leaving office, the manager of a big name squad can expect to gain his share of wrinkles and white hair through the years—if he makes that long.
Listed here are eight men who possess some of the most high-pressure managerial jobs in the world (and thus, perfect candidates to head a Just For Men ad campaign).
Vicente del Bosque—Spain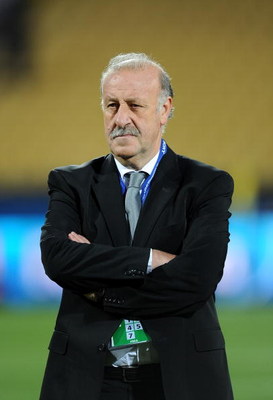 So, Mr. del Bosque, care to take the reins of the best national team in the world? Yes? And how will you follow your predecessor, one Luis Aragonés, who won the 2008 EURO Cup in style, bringing the first major title to Spain since 1964?
Make sure to keep that incredible undefeated streak going! Here, the Confederations Cup will be a great opportunity to assert your dominance and keep the silverware rolling in! The United States? They should be harmless. What? Oh, no.
And just like that—Vicente del Bosque feels the seat under him heating up like an oven.
The consensus favorite to win the 2010 World Cup, Spain has now been shown to be over-confident and vulnerable against the counter-attack, with limited capability to answer back when down, even when it possesses superior footballers, buckling under pressure.
Just like the old Spain.
Uh-oh.
Javier Aguirre—Mexico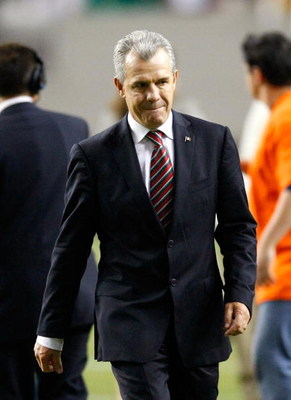 Just one year ago, Javier Aguirre was awash in praise.
Having qualified his club, Atlético de Madrid, to its first Champions League in a little over a decade, Aguirre had built upon a career managing in Spain that already included a solid run through Osasuna, culminating in a Copa del Rey final and a UEFA Cup appearance.
Last season, Aguirre's practical—but boring—brand of football and his inability to control a locker room with egos the likes of Sergio Aguero, Diego Forlan and Maniche culminated in his team's drop in form, and Aguirre's eventual ouster.
Struggling Mexico came knocking on Aguirre's door, offering him a handsome salary in exchange for waving the same magic wand that he used to when he rescued El Tri from nearly missing the 2002 World Cup in his first stint as Mexico's manager.
In early 2009, Aguirre took over from Sven-Goran Eriksson, promising a better brand of football and a promise that only the best would get to wear the Mexico shirt.
However, Mexico have not recovered from their post-2007 lull and remain in danger of missing the 2010 World Cup.
Promising to win the 2009 Gold Cup, Aguirre might not even be around to witness his team's eventual success or failure, as he is likely to be suspended for kicking Panama's Ricardo Phillips in the second match of the group stage, a 1-1 draw.
Aguirre's failure in Mexico would severely hamper his chances of taking another high profile European club in the future.
View Aguirre's kick and eventual red card here: http://www.youtube.com/watch?v=yCxWxHRp8TI
Manuel Pellegrini—Real Madrid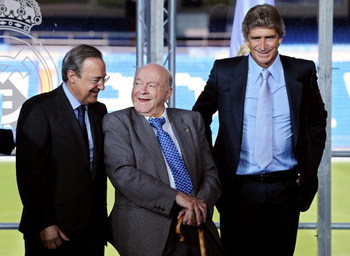 Pellegrini's new job is a manager's dream that can very quickly become a nightmare.
It's one thing to accept a job at Real Madrid, arguably the biggest club in the world under any circumstances, but to take that job with the added pressure of incorporating Cristiano Ronaldo, Karim Benzema, Kaka, Raul Albiol (and God knows who else at this point) to a squad that features Raul and Iker Casillas?
The last incarnation of the "Galacticos" swallowed well-respected managers such as Jose Antonio Camacho and Vanderlei Luxemburgo, so a slow start or a lack of spectacular results on the pitch (i.e. no 1-0 results, ask Fabio Capello) could mean an early exit for Pellegrini.
Add to that the fact that the most finely tuned footballing machine in recent memory (FC Barcelona) is the one thing standing in his way to win the League, Cup and European Club Championship... all competitions Barcelona won last season.
Another season at Villareal doesn't sound so bad anymore, does it, Mr. Pellegrini?
Carlo Ancelotti—Chelsea
A fixture on Italian sidelines since 1995, Carlo Ancelotti will venture outside of the boot-shaped country for the first time this summer, taking charge of Roman Abramovich's Chelsea.
Between Abramovich's spending and Jose Mourinho's tactical wizardry, Chelsea rose to the top of the EPL this decade.
Mourinho's failure to capture the white whale that is the UEFA Champions League provoked his ouster, and since then, a revolving door of managers have failed to match the Portuguese manager's success.
Enter Ancelotti, who already boasts a UEFA Champions League trophy with AC Milan in 2007, looks to take the Blues back to prominence in England and abroad.
With Manchester United losing star player Cristiano Ronaldo, it's safe to say that the Premiership will be wide open... at least for the Big Four. It is also safe to say that Ancelotti's obligation is to win the Premiership this season.
Ancelotti crashed out of Milan unable to manage a stable full of egos in Kaka, Ronaldinho, and Pato, among others, and will now be expected to rein in the likes of Terry, Lampard, Malouda and Drogba.
Uh, parla italiano Drogba?
Diego Maradona—Argentina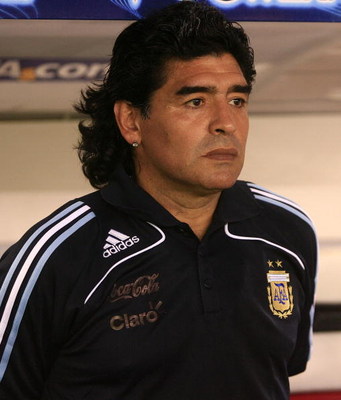 Maradona, considered by some in Argentina to be the closest thing to a living deity, assumed duties as La Albiceleste's manager after current Boca Juniors boss Alfio Basile crashed out of the gate.
Surely with "divine" intervention, Argentina would be just fine, right? I mean, Argentina couldn't possibly fail with the likes of Messi, Aguero, Mascherano, and Riquelme in the team, right?
Wait, scratch that last name off the list. Maradona quickly clashed with the former Barcelona and Villareal star, resulting in Riquelme quitting the team.
Defeats to Ecuador and Bolivia (the last one a 6-1 thrashing) have Argentina just two points above fifth place in the 2010 World Cup qualification and a direct berth.
Should Argentina continue its decline it could very well have to resort to a playoff in order to accede to the competition in South Africa.
In "God" we trust?
Arsene Wenger—Arsenal
The long-time manager of the Gunners has been a master of his craft, the achievements in his 13-year career at Arsenal prove it.
Last season, heading a generational shift, Arsenal started strong but began to fade out quickly, leaving Arsenal at times on the outside looking in of the Champions League qualification race.
Having to recruit Russian talent Andrei Arshavin to save his season, Wenger faced serious vocal opposition from sections of the Arsenal fan base for the first time in a long time, with rumours he would leave the club.
The rumours came to pass, but a stark reality remains. Since 2005, Wenger has not won a single trophy.
The pressure is definitely mounting, and although Wenger's squad is not as flashy or as loaded with big names as say, Manchester United or Chelsea, it is definitely a team that should do better than its most recent fourth-place finish.
Wenger has been said to have a "job for life" at Arsenal... but no one lives forever. Especially in football.
Josep Guardiola—Barcelona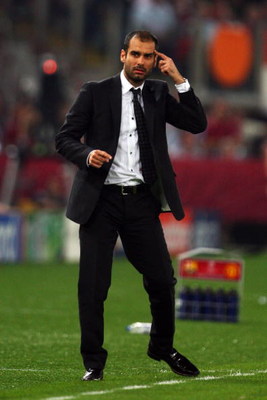 Care for an encore, Mr. Guardiola?
Josep Guardiola stepped into Frank Rijkaard's very successful shoes at Barcelona and proceeded to win the treble, cruising to victory in La Liga, the Copa del Rey, and the Champions League.
Guardiola will have quick opportunities to make it five trophies this year when he squares off in the European and Spanish Super Cups.
Repeating his marvelous feats will be easier said than done, considering that Barcelona's most hated rival, Real Madrid, have armed themselves to the teeth in quality footballers.
Should Barcelona miss out on any potential summer targets (David Villa), the amount of pressure will be equally great, as the Cules have shown to be an extremely efficient and powerful squad at the doorstep of creating a dynasty worthy of the "Dream Team" that Guardiola himself was a part of as a player in the 1990's.
Failure to repeat will most likely regard 2008-09 to be a fantastic fluke, and send Guardiola crashing back down to Earth.
Joel Santana—South Africa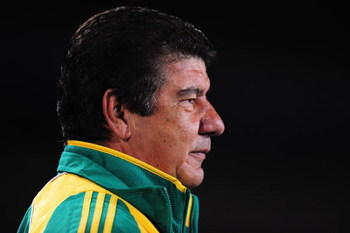 Santana was South Africa's consolation prize when Carlos Alberto Parreira stepped down from the team in 2008.
At times, he's seemed more like a booby prize.
As the host nation, having to bypass the qualification process to the 2010 World Cup by rule provides a difficult task for the manager in terms of gauging his team's true potential.
The 2008 African Nations Cup was a good first test, one that Bafana Bafana failed miserably by crashing out in the first round.
Furthermore, failure to qualify for the 2010 African Nations Cup compounded worries that South Africa wouldn't be up to task in football's biggest competition.
Their performance at the 2009 Confederations Cup was a slight step in the right direction, but as it stands right now, South Africa may very well turn in one of the weakest performances of a host nation in a long time.
Keep Reading

Arsenal: Like this team?