Jose Mourinho is exceedingly pleased with the development of his Chelsea squad, but he hasn't ruled out adding to his side's considerable ranks before the transfer window closes.
Speaking ahead of the Blues' Premier League opener with Burnley on Monday, Mourinho chatted passionately about the current make-up of his team. He suggested Chelsea's new signings—namely Diego Costa, Cesc Fabregas, Filipe Luis and Didier Drogba—will advance the side's game, per the club's official Twitter account:
Jose: 'We have bought some key players having analysed our squad and we believe. These new players bring us to another dimension.' #CFC

— Chelsea FC (@chelseafc) August 15, 2014
Jose: 'I told my players today that every one of them in the squad, I am happy to have them.' #CFC

— Chelsea FC (@chelseafc) August 15, 2014
Despite suggesting Chelsea's transfer business was completed in July, as reported by Sky Sports, Mourinho hinted he may be willing to bring in additional faces if the right opportunity arises, per Miguel Delaney of ESPN:
Mourinho on any more transfers: "The market is open. You never know what can happen. The reality is I'm happy with my squad, my club."

— Miguel Delaney (@MiguelDelaney) August 15, 2014
Mourinho was unwilling to offer his exact thoughts on the title race and instead focused on last year's third-place finish, but he did predict five or six teams will once again contest the prize.
However, there was an air of confidence surrounding the Chelsea boss that—despite his typically guarded manner—suggested he fancies Chelsea's chances, per Delaney and the club's feed:
Mourinho: "Last season, we were not feeling a title contender but in fact we finished very close... so we did well."

— Miguel Delaney (@MiguelDelaney) August 15, 2014
Jose: 'Yes we are a title contender. If you want me to say we will win the league I can't, because I respect this competition.' #CFC

— Chelsea FC (@chelseafc) August 15, 2014
Jose: 'To win against Burnley is the first step, and to win against Burnley will be very hard.' #CFC

— Chelsea FC (@chelseafc) August 15, 2014
One major decision must be taken by Mourinho in the coming days. He has to choose between Petr Cech and Thibaut Courtois in goal, as two of the world's best 'keepers finally compete for the Stamford Bridge No. 1 spot.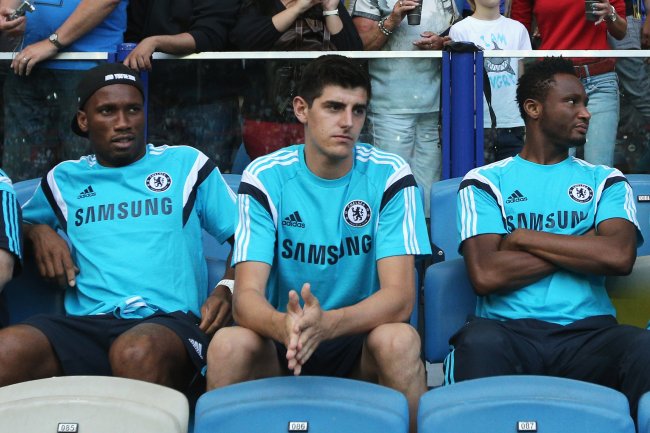 Dean Mouhtaropoulos/Getty Images
Courtois has spent the last three seasons on loan at Atletico Madrid, where he quickly developed into a key player for the Spanish club. The youngster played a leading role in the Rojiblancos' ascension to the 2014 Champions League final and was a pivotal member of the squad that captured last season's La Liga crown.
At 22 years old, he represents an excellent alternative to Cech, who has remained Chelsea's No. 1 since Mourinho's original tenure with the club. Mourinho isn't willing to publicly state who will start between the sticks, reported by Delaney:
Mourinho refuses to confirm if Cech or Courtois will start. "They will know. I think Chelsea have two of three best goalkeepers in world."

— Miguel Delaney (@MiguelDelaney) August 15, 2014
Mourinho on keepers: "It is something unique. It is a great problem for me. Two fantastic goalkeepers... even Schwarzer, different age."

— Miguel Delaney (@MiguelDelaney) August 15, 2014
Glimpses of "The Happy One" were certainly on show during his press conference, a positive sign for Chelsea fans. Mourinho grew critical of players including Eden Hazard and Samuel Eto'o last season, while he was also fined for comments after Chelsea's loss to Sunderland.
A smidgen of the manager's sarcastic side came out when asked about such incidents during his presser, per Paul Brown of the Daily Star:
Classic #Mourinho today on run-ins with the authorities: "I think it's easier to say they had a run-in with me, not me with them" #CFC

— Paul Brown (@pbsportswriter) August 15, 2014
Mourinho has everything in place for a successful 2014-15 campaign. His Chelsea squad is only matched by Manchester City when considering all-round talent in the Premier League, making the rich clubs firm favourites to land the title.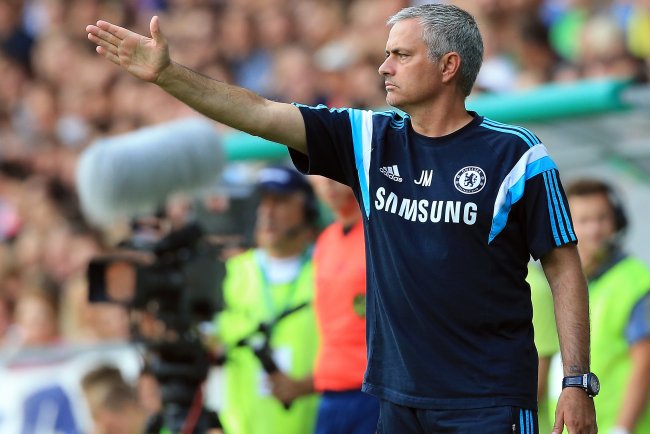 Srdjan Stevanovic/Getty Images
Somewhat significantly, Mourinho has added further Champions League experience to his numbers and can expect to get an instant return with the likes of Costa and Fabregas working through the centre. A typical Mourinho squad has been built: Chelsea flaunt pace, power, technical skill, the ability to score beautiful goals and defend for their lives when needed.
As such, it wouldn't be a surprise to see Mourinho's jovial mood replicated at the conclusion of the upcoming campaign, backed up with the silverware the Portuguese boss so badly craves during his second tenure.