The Tampa Bay Buccaneers got a lot out of all-purpose running back Doug Martin in his rookie season, as did many pleased fantasy football owners. After an injury-shortened second year and numerous adverse circumstances looming in 2014, though, Martin can't be relied on as a top-tier fantasy option.
No one can deny how impressive Martin was in his maiden NFL campaign, which Rotoworld's Patrick Daugherty referenced in his endorsement of the talented 2012 first-round draft pick:
Doug Martin has deservedly lost some luster, but pretty amusing watching people pronounce a 25-YO dead two years after 1,926 YFS.

— Patrick Daugherty (@RotoPat) July 22, 2014
So just what are these apparent ominous signs that forecast doom to Martin's fantasy stock? In general, there is a lot of uncertainty in Tampa Bay amid an all-out regime change and an overhauled roster.
Martin, 25, is no exception. He needed a lot of touches to amass those yards as a first-year player. When he was in the lineup for six games in 2013 before a season-ending torn labrum, his yards per carry dropped a full yard (4.6 to 3.6) and his yards per catch went from 9.6 to 5.5—almost cut in half.
Check out this insider analysis from Pat Yasinskas of ESPN.com from Wednesday:
Under [Greg] Schiano, the Bucs often overused Martin. That's not going to be the case with [Lovie] Smith. The Bucs have made it clear that Martin will remain as the feature back but that they'll rotate in some other backs to keep him fresh. Rookie Charles Sims, Bobby Rainey and Mike James could be in the mix for playing time.
Previous production versus the role Martin projects to have in 2014 makes him among the most heavily debated fantasy players, given his general boom-or-bust nature, per ESPN's Field Yates:
Doug Martin ranks 11th overall in our @ESPNFantasy ranks. Safe to say he's been the most polarizing player thus far in mock drafts.

— Field Yates (@FieldYates) August 4, 2014
Now onto an even more important position, and the potential fantasy implications it has for Martin and those high on him.
Former Chicago Bears head coach Lovie Smith is at the helm in Tampa Bay now. Smith successfully lobbied to reunite with quarterback Josh McCown, a veteran he coached in the Windy City. McCown is a career backup and journeyman, yet now the Bucs are opting to make him their leader in a new era for the franchise.
Check out this story from NFL Network insider Ian Rapoport regarding the history between Smith and McCown:
How much does Lovie Smith like Josh McCown? He's tried to sign him 3 times. Got him twice. Once McCown wouldn't renege on his UFL commitment

— Ian Rapoport (@RapSheet) August 13, 2014
Seriously, in 2010, Lovie Smith called Josh McCown to sign him. McCown said "Sorry, I told my UFL team I'd play the whole season." He did.

— Ian Rapoport (@RapSheet) August 13, 2014
It helps to have a seasoned pro in the fold to not only bring along youngster Mike Glennon, but also to digest the extremely complex offense being implemented by offensive coordinator Jeff Tedford. This is the first time Tedford has gotten a shot in the pros.
Although he is familiar with any type of concept an expert football mind could name, it's quite a big step for Tedford to take from coaching at California. Working with a QB who has never had a shot to be a surefire starter before doesn't help matters.
ESPN analyst Trent Dilfer remarked on Tedford's system, per PewterReport.com's Scott Reynolds:
Jeff is a volume-based coach. He likes having all the answers to the tests going into the game. If you can handle the load as quarterback, it's awesome. You never feel like you don't have an answer. The more you ask athletes to do, the more they'll respond. It puts a greater burden on the player to put in the work and to own the information, but that's not a bad thing.
It's reasonable to doubt McCown (35) ahead of his first and best shot to start under unprecedented pressure and expectations to deliver. Take his preseason debut as the proverbial man, wherein the Jacksonville Jaguars crushed the Bucs' first-team offense.
Patrick Finley of the Chicago Sun-Times outlined the damage done to McCown:
Josh McCown has fumbled twice (lost 1), thrown a pick and been sacked twice. And completed 2 passes. #Ouch

— Patrick Finley (@patrickfinley) August 9, 2014
Meanwhile, Martin had just eight yards on four touches. This is to blame on horrendous offensive line play that doesn't promise to get any better, barring a drastic turn of events or lightning-fast player development.
An uncertain situation at both guard positions involves Oniel Cousins—poor in four starts for the Cleveland Browns last year—starting on the left side and 2013 undrafted free agent Patrick Omameh on the right as of Thursday, per the Tampa Bay Times' Greg Auman:
Today's first-team guards for Bucs are Oniel Cousins on left, Patrick Omameh on right ...

— Greg Auman (@gregauman) August 14, 2014
Others are in contention, but there isn't much reason for optimism in that department.
Look no further than these evaluations from DraftBrowns.com's Justin Higdon and Dane Brugler of CBSSports.com following Cousins' performance in the 2013 season opener in Cleveland:
Oniel Cousins could go from starter to street in a week. He is one of the worst players in the NFL

— Justin Higdon (@afc2nfc) September 8, 2013
Oniel Cousins might get cut before he makes it to the locker room today...#Browns

— Dane Brugler (@dpbrugler) September 8, 2013
The hope is that McCown can somehow overcome the protection issues to utilize the size of his massive receivers in Pro Bowler Vincent Jackson and rookie first-rounder Mike Evans. It would be similar to how he took advantage of big-bodied playmakers Brandon Marshall and Alshon Jeffery in Chicago. McCown threw for 13 touchdowns and just one interception in eight games last season.
To stick with the Bears parallels, Martin would then play the role Chicago star Matt Forte did as the workhorse ball-carrier, still getting enough yards to make Bucs fans and fantasy owners happy.
But matters were easier for Forte in the NFC North, where he faced less formidable defenses than Martin will encounter in the conference's South division.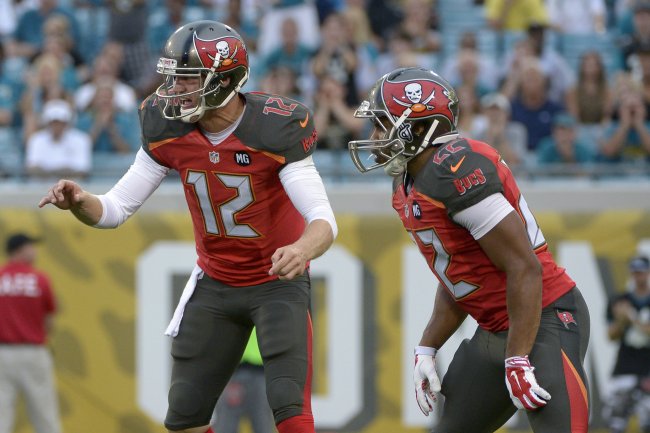 Phelan M. Ebenhack/Associated Press
The Carolina Panthers were among the NFL's elite units last season and don't figure to be going anywhere, based on the young talent assembled in the front seven, headlined by linebacker Luke Kuechly. New Orleans Saints defensive coordinator Rob Ryan deploys an exotic scheme and attacks the opposition with complex blitzes and disguised coverages.
Both the Panthers and Saints made the playoffs last season, and the year before, the Atlanta Falcons made it to the NFC title game and could very well be in for a bounce-back year.
Tampa Bay also faces the AFC North this year, which is littered with tough, reputedly physical defenses in Baltimore, Pittsburgh and even Cleveland. Suddenly, that's seven—almost half—of the 16 games on the schedule that promise to be tough.
A stout defense will allow the Bucs to be around .500 in 2014, according to Bleacher Report experts Chris Simms and Matt Bowen.
Even with the NFC North to take on, Minnesota underwent a coaching change and should be tougher on defense with former Bengals defensive play-caller Mike Zimmer patrolling the sidelines. The Detroit Lions ought to be more disciplined and able to capitalize on their overall talent with Jim Caldwell installed as the new coach.
Will Doug Martin be a No. 1 fantasy running back in 2014?
All of this is bad news for the Bucs, McCown and Martin. And that woeful-looking offensive line.
Even if McCown is able to get down Tedford's new system and produce passable numbers, will it be enough to keep defenses honest enough for Martin to succeed?
It may not be on Martin or McCown in the end, but rather the suspect offensive line that made Tampa Bay look bad in the first preseason contest. Reading too much into these games is dangerous, yet in this case, an exception can be made.
Martin's decreased workload, diminutive size and resultant durability concerns, a questionable QB situation and woeful blocking will contribute to lackluster numbers.
Fantasy buyers, beware of all the potential pitfalls ahead of Martin if you're considering drafting him. There are numerous internal obstacles for Martin to overcome on top of the stiff defensive tests he'll encounter in 2014.