One of the best events of the summer is underway, as the 2014 Little League World Series in Williamsport, Pennsylvania, has commenced. And with four games in total on the schedule Thursday, it promises to be an excellent day of action.
Below, we'll take a look back at the scores and recaps of the contests while paying attention to how the day's action will impact the bracket.
Scores
Little League World Series Thursday Results

| | | |
| --- | --- | --- |
| Team 1 | Score | Team 2 |
| Czech Republic | 3-10 | South Korea |
| Illinois | 12-2 | Washington |
| Australia | 16-3 | Puerto Rico |
| Nevada | 12-2 | South Dakota |
Recaps
Nevada Handles South Dakota With Ease, Winning 12-2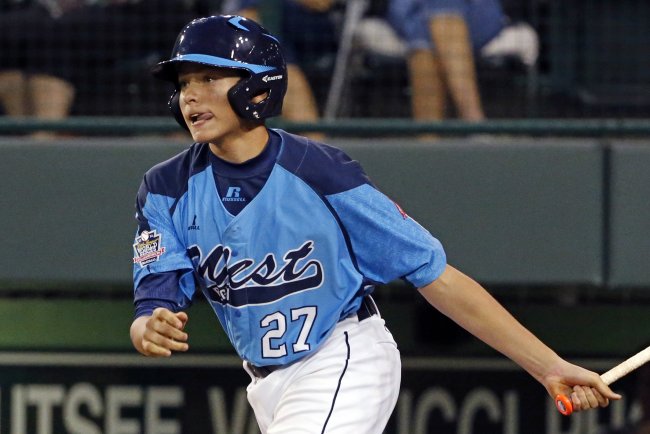 Gene J. Puskar/Associated Press
For two innings, South Dakota gave Nevada a game. And that's when the team from Las Vegas exploded.
Nevada scored three runs in the third, four in the fourth and four in the fifth, ending the game after five once the mercy rule kicked in. Zach Hare (two hits, one home run, one RBI, four runs) and Brennan Holligan (two hits, three RBI, one run) led the onslaught.
Meanwhile, Austin Kryszczuk and Josh Zuehlsdorff combined to toss a gem, giving up just two runs on four hits and two walks while striking out seven.
South Dakota was in the game early. After giving up a run in the top of the first, a two-run dinger by Blake Weaver gave them the lead in the bottom of the second. Things rather quickly got out of hand after that, however.
Nevada is going to need their bats to stay heated up for their next game, as they'll face the explosive offense from Jackie Robinson West, led by slugger Pierce Jones, in the winner's bracket. South Dakota, meanwhile, will take on the team from Washington in the loser's bracket, with the winner of that game remaining alive but the loser eliminated from contention for the title.
Given the round-robin format of the tournament, however, the loser of that game will still play one more contest, though it will be a consolation game, since every team in the tournament is assured of playing three games.
Puerto Rico Cruises to 16-3 Victory Over Australia
The team from Puerto Rico didn't leave anything to chance on Thursday, needing just four innings to dispose of an overwhelmed Australian side.
This one was never in doubt. With Australia's pitchers struggling to find the plate early in the contest, Puerto Rico registered 13 runs in the first inning alone. Things couldn't have gone worse for Australia to open this contest, as Ben Brigandi of the Williamsport Sun-Gazette tweeted:
Abimael Torres grand slam to right is Puerto Rico's first hit after 4 walks, a pitching change and hit batsman. 6-0 lead in Australia.

— Ben Brigandi (@benbrigandisg) August 14, 2014
Abimael Torres (four RBI, one run) and Oscar Lopez (three RBI, one run) led the onslaught, while four different players scored two runs for the Caribbean representatives.
Joel Santos and Janiel Perez pitched well for Puerto Rico, combining to give up just three runs on seven hits while striking out six in four innings.
Puerto Rico will now face South Korea, while Australia and the Czech Republic will battle for their tournament lives in the loser's bracket.
Pierce Jones Leads Great Lakes to 12-2 Win Over Washington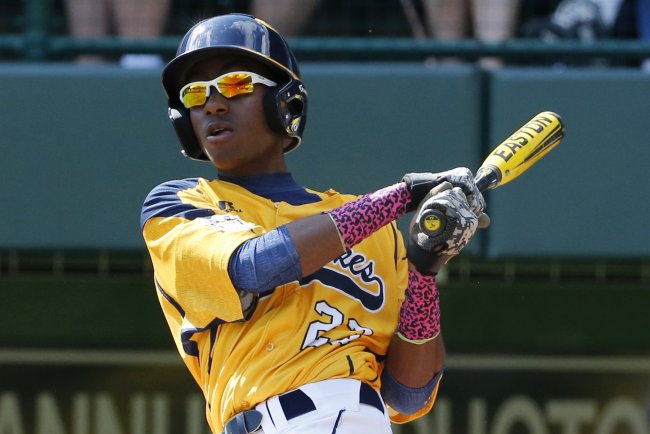 Gene J. Puskar/Associated Press
Pierce Jones is something to see, folks.
The Great Lakes right-fielder was superb in Thursday's opener, bashing three home runs, a triple, four RBI and scoring four runs as Great Lakes rolled to a blowout victory over the team from Washington in five innings after the 10-run mercy rule was invoked.
It wasn't just that he smacked three homers, however, but rather how he did it that had many folks so impressed. Philip Hersh was amongst them:
And all three Pierce Jones homers were blasts. Last one was eye-high pitch #LittleLeagueWorldSeries

— Philip Hersh (@olyphil) August 14, 2014
Even Jones was a little surprised by the performance, noting on the ESPN broadcast after the contest, "I don't ever think I've had a game like this."
Of course, his teammates were pretty darn impressive too. The Great Lakes team scored in every inning and bashed 13 hits, with eight of them going for extra bases. Joshua Houston and Marquis Jackson were also strong on the mound, combining to give up just two runs on two hits and two walks while striking out nine.
It's safe to say the team from Jackie Robinson West just made more than a few fans around the country. Of course, they also have a few famous fans from the MLB, as the league shared on it's official Instagram account, noting "The @cubs pick their side in the #LLWS."
You could make a pretty strong case the kids from Jackie Robinson West have a bit more bite in their lineup than the Cubbies. Certainly, they are a team to watch closely.
South Korea Slugs It's Way Past Czech Republic, 10-3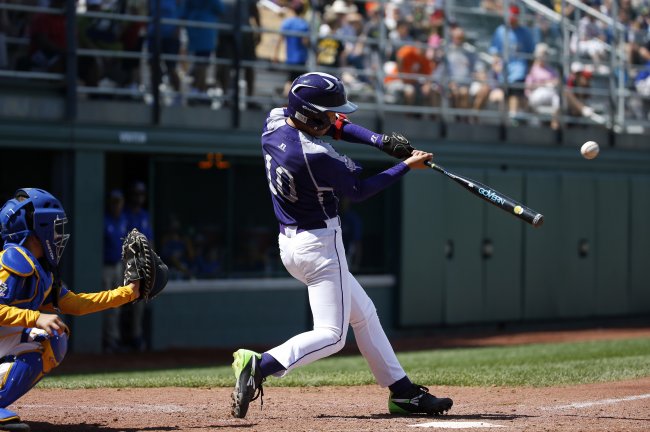 Matt Slocum/Associated Press
The Czech Republic players looked like they were going to make things very interesting against South Korea. In the course of an inning, however, the South Koreans ended that notion rather abruptly.
Stepping up to bat in the bottom of the fourth with the game tied at three apiece, the South Koreans exploded for five runs after Ji Ho Park blasted a three-run dinger and Jae Yeong Hwang followed with a solo shot.
That was too much for the Czechs to overcome, as Hae Chan Choi came on to pitch the last two innings and held them scoreless, striking out four batters along the way. In total, four pitchers for the South Korean squad combined to give up just three runs on three hits.
The Czech Republic's starting pitcher, Patrik Kadrnozka, had a rougher go of it, giving up eight runs (seven earned) on 11 hits.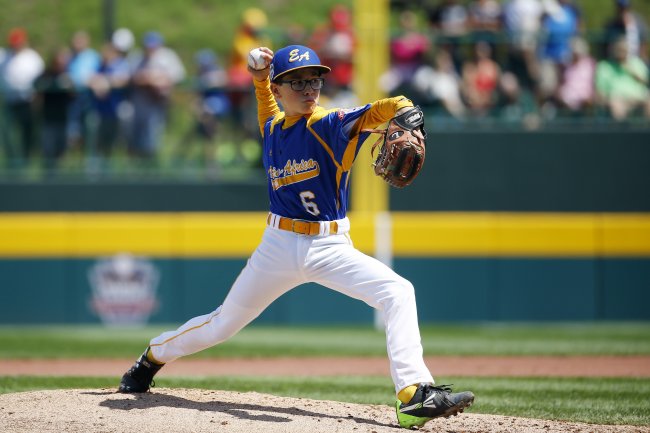 Matt Slocum/Associated Press
After a scoreless first, Jin Woo Jeon opened the scoring in the bottom of the second with an RBI single, and Choi quickly followed that up with an RBI single of his own. The Czechs would get one back in the top of the third, however, as Lukas Maly scored on a fielder's choice.
The teams continued to trade runs, as Sang Hoon Han doubled home another in the bottom of the third. But the Czechs would tie things up in the top of the fourth, as Tomas Oppelt scored on a fielder's choice and Ondrej Chlubna came home on an error.
But in the bottom of the fourth, the South Koreans put the game away. As ESPN Stats & Info tweeted, it was business as usual for the country when it appears in this tournament:
South Korea defeats Czech Republic in LLWS opener and improves to 7-0 all-time in tournament (won title in 1984-85)

— ESPN Stats & Info (@ESPNStatsInfo) August 14, 2014
The South Korean side now will face Puerto Rico, while the Czechs will take on Australia.