What do you get when you combine the mobile-card-game craze with the power of the WWE brand, and proven play mechanics?
One of the most fun and addictive games wrestling fans can find on a tablet or cell phone.
Announcing WWE SuperCard for iOS/Android, a Collectible Card Game featuring @WWE Superstars! http://t.co/Mex4WwIV0w pic.twitter.com/P88UqBqw9M

— WWE 2K (@WWEgames) August 13, 2014
WWE SuperCard released for Android and Apple mobile devices on Thursday. The game isn't overly complex or simplistic, and that's part of what makes it cool to play. It functions almost exactly like the mobile companion for the NBA 2K series, but the world of wrestling better lends itself to the fantasy card-game realm.
For those who are unaware how the game works, here's a quick breakdown:
Ideally, players are trying to build the most powerful roster of WWE Superstars possible. You acquire these Superstars in the form of virtual cards, and each have their own unique attributes.
There are multiple versions of the Superstars, Divas and Legends to acquire. The common versions of the cards are the least powerful, while the rare cards are the best.
Think of Hulk Hogan's rare card as the equivalent of the Hulkster in his heyday during the 1980s, and his common card a version of him before he blew up with the WWF.
There are more than 400 cards available, and more are to be added post-release.
There are a few different modes to play. The Exhibition mode is a head-to-head contest against another human player online. Then there's the King of the Ring which functions as the season mode for the game.
Players are awarded additional points the more they play.
The Gameplay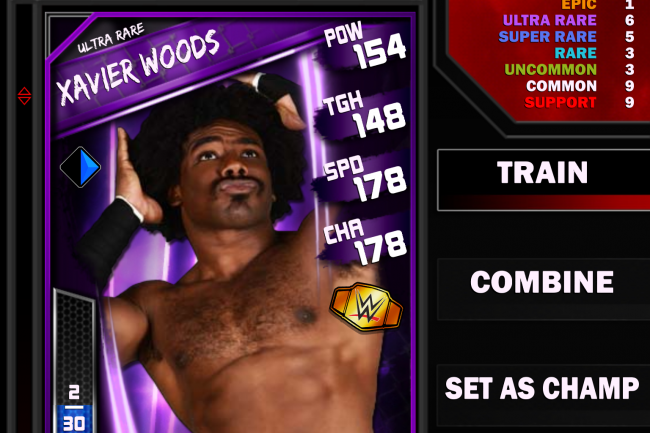 image provided by 2K Sports
Essentially, each contest is divided into rounds. Each round has a theme such as power, charisma, speed, toughness or a combination of two skills. Players must choose the best Superstar in their starting lineup to match up against their opponent's selection.
The winner of the round gets a point in the best-out-of-five format.
There's two singles rounds, a tag team and a Divas match. Thus your starting lineup contains five Superstars. Players will have available Superstars in reserve that they can swap out between matches to be sure to put their best Superstars and Divas in the virtual ring to compete.
To add some spice to the process, props and signature WWE items can be used as power-ups to give the gamer an advantage in a certain category. Think your Superstar, tag team or Diva may be overmatched in power? Then use a chair on your opponents to cause a dip in their power ratings to even the score.
The cool thing is that you don't know what card your opponent is going to play. Thus there's some strategy involved. If you win your match, you're awarded two cards. If you lose, you simply get one just for playing.
This is one of the ways to build your roster. You also have the option of spending real money to get credits to upgrade your roster quicker.
Downloaded WWE Supercard. It's actually pretty fun.

— Rick Velazquez (@RickVelazquez96) August 14, 2014
If your Superstar just isn't up to par, or you're actively trying to create a monster, you can use Superstar's cards that are in your stable to train and improve any member of your roster.
The Presentation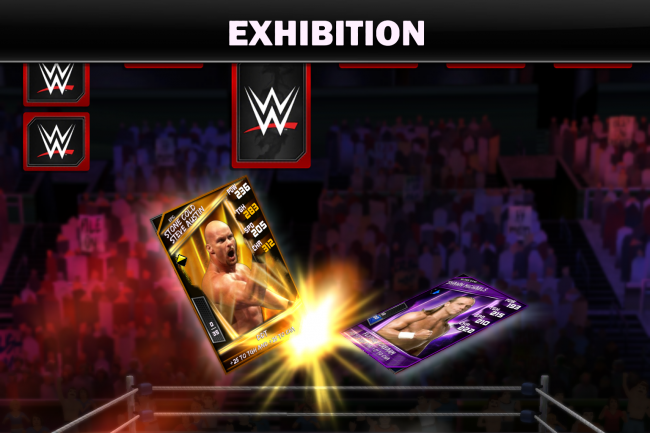 image provided by 2K Sports
With virtual card games, presentation is important. There's no next-generation graphics and animation to lean on, so the developers must captivate players with flashy sequences and suspenseful reveals.
WWE SuperCard does well in this aspect of the game. The virtual cards actually have a ring entrance leading into head-to-head battle, and the card reveals at the end of the match are fun.
One area with room for improvement is the sound. It would have been super cool to have the real Superstar entrance music accompanying the Superstar or Diva during their virtual entrance. Instead, we get some real generic, gender-specific tunes.
That's perhaps the only real gripe I could find after spending a good portion of the night playing the game. That's not too bad for a free-to-play app. If you like the WWE and mobile card games, this one might be worth a look.
Recommendation
You need to try this.
Follow Brian Mazique, the Sports Video Game Journalist on Twitter.