From the outside looking in, it was easy to see Stan Van Gundy taking over as the new head coach and president of the Detroit Pistons as a move based primarily on positional security.
After all, if the Joe Dumars era taught Pistons fans anything, it's that having control of both the players and the purse string lends itself to some serious staying power.
But there's another, simpler motivation behind Van Gundy's recent ascendance, one that could lead to a new beast in the Eastern Conference: a chance to build around Andre Drummond.
Indeed, Van Gundy all but admitted that was the plan during his introductory press conference back in May, via Matt Watson of Detroit Bad Boys:
There's nothing about Andre Drummond that doesn't appeal to me. I think [this because of] his athleticism, what he's accomplished at a young age. And I was very impressed with my first phone call with him. ... The guy, man, he was asking questions like, 'What do I do? What do I need to do?' He's a guy that wants to be great…I think we have two responsibilities to Andre Drummond that will help our team. And that is, number one, to do everything we possibly can to develop him as a player.
In the 21-year-old center, Van Gundy has the spitting image of a young Dwight Howard, whom the longtime Orlando Magic coach rode to a showing in the 2009 NBA Finals.
Balderdash, you say? Take a look for yourself:
Pivotal Players (second season)

| | | | | |
| --- | --- | --- | --- | --- |
| Player (year) | Points | Rebounds | Blocks | PER |
| Dwight Howard (2005-06) | 15.8 | 12.5 | 1.4 | 19.3 |
| Andre Drummond (2013-14) | 13.5 | 13.2 | 1.6 | 22.6 |
| | | | | |
Basketball-Reference.com
It's still far too early to tell whether these comps portend a steady trend. But as a basketball Rorshach test, it's pretty hard to take your eyes off of. From their physical builds to their uncanny defensive instincts, the raw offensive rudiments to their woeful free-throw shooting, Drummond and Howard appear—on the surface—to be two sides of the same coin.
As he did with Howard, Van Gundy's best chance at building a contender depends on surrounding his new centerpiece with shooters aplenty.
Unfortunately, the team's current roster isn't exactly flush with perimeter firepower.
Jodie Meeks, whom the Pistons recently signed to a three-year, $18 million tender, is certainly a start. Beyond him, however, Detroit's legitimate three-point threats are limited to the middling Kyle Singler and the as-yet unproven Kentavious Caldwell-Pope. And while Caldwell-Pope is coming off a stellar showing at the Orlando Summer League, putting too much stock in an offseason showcase is seldom, if ever, advisable.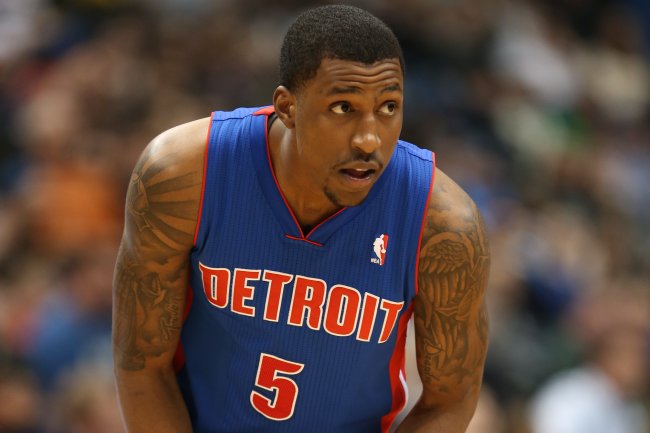 Jordan Johnson/Getty Images
The more immediate concern for Van Gundy, from a purely rotational perspective, lies in figuring out how to best balance the talents of Detroit's ill-fitting frontcourt trio: Drummond, Josh Smith and Greg Monroe.
In a surprising turn of events, Monroe on Tuesday became just the 14th first-round selection since 2003 to sign his qualifying offer, per SB Nation's Kevin Zimmerman, keeping the former Georgetown standout in the Motor City through at least next season.
At that point, however, it'd be hard to imagine Detroit—flush with cap space as it stands to be—breaking the bank to bring Monroe back. Particularly with Drummond eligible to receive the rookie max extension next summer.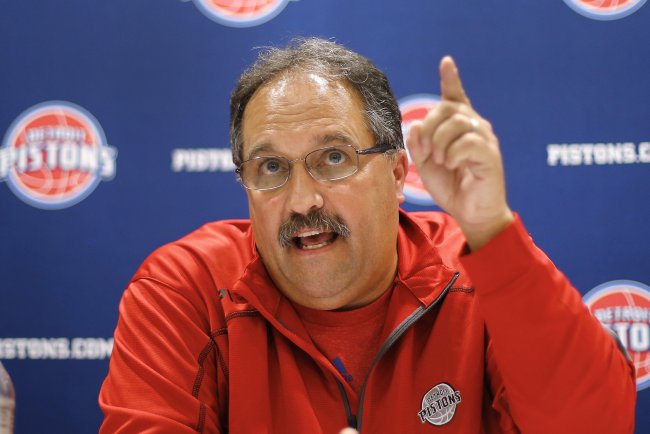 Paul Sancya/Associated Press
During a recent press conference—via the AP, courtesy of NBA.com—Van Gundy intimated that not bringing Monroe back wasn't necessarily a bad thing.
"We're comfortable with all of the options," Van Gundy said. "On the parts that we can control, we're comfortable that we'll be OK no matter what. There can't be a trade we don't like."
Rather than lose Monroe for nothing, Van Gundy would be wise to explore sign-and-trade options designed to bring back either cheap, young assets, or a comparable borderline star that fits better within Detroit's rotational scheme. From the AP story:
Van Gundy wants 'good value' for the restricted free agent if the franchise chooses to give him up in a sign-and-trade deal. He insisted even if the 24-year-old power forward gets offered a maximum contract by another team, the Pistons may determine they can live with paying him, Andre Drummond and Josh Smith a lot of money to essentially play two positions.
At this point, it's in Van Gundy and the Pistons' interest to have the rest of the league believe Monroe is a max player, if only to increase the value of any potential return haul. That's not overinflating Monroe's value for the sake of doing so; it's a great business strategy.
Smith, meanwhile, still has three years and $42 million left on his deal. The bad news: The mercurial forward is coming off his worst statistical season in years.
The good news: According to 82.games.com, Smith's numbers at the 4—both individually and team-wise—significantly outstripped his production when shoehorned into the small forward slot.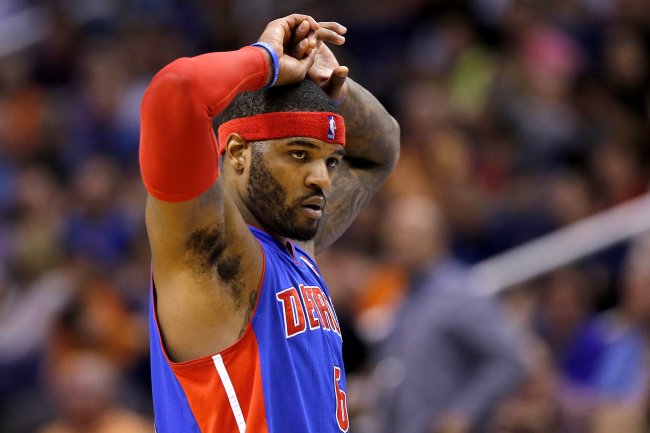 Matt York/Associated Press
The sheer size of Smith's contract will make it difficult for Van Gundy to unload for at least another year. But with Monroe (eventually) out of the picture and Smith geared back toward his more natural position, the Pistons should be able to count on improved overall production from their high-profile frontcourt.
Smith doesn't quite fit the power forward mold exemplified in Orlando by Rashard Lewis or Hedo Turkoglu, particularly when it comes to three-point prowess. What Smith does provide, however, is a second rim-protector to pair alongside Drummond, giving Detroit one of the league's most intimidating low-post duos.
Let's assume, for the sake of argument, that the Pistons will in fact extend Drummond on the rookie max scale—something in the neighborhood of $15 million per year.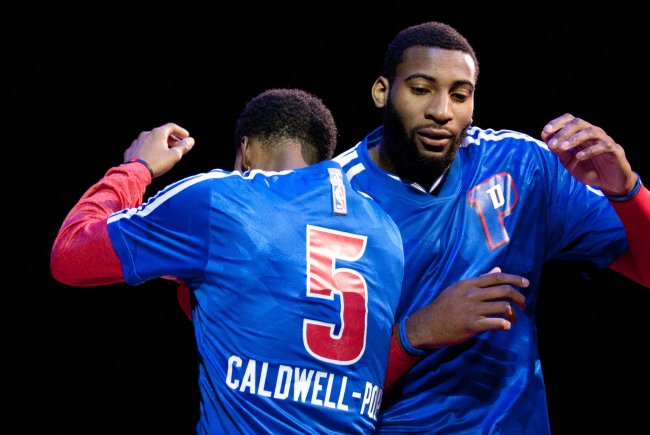 USA TODAY Sports
Assuming the team picks up Caldwell-Pope's player option, that would put Detroit somewhere in the neighborhood of $40 million in committed salaries heading into the 2015-16 slate. With CBA expert Larry Coon projecting the attendant cap to be around $66.5 million, that gives Van Gundy roughly $26.5 million to play with ahead of next summer's free-agency period.
Gerald Henderson, Jared Dudley, Khris Middleton, Chase Budinger, Wesley Matthews, Rudy Gay, Danny Green—these are just some of the players slated to hit the open market next summer, each of whom would give Van Gundy the three-point marksmanship a Drummond-centered team would need. Albeit at drastically variable price tags.
The following summer, the crop only gets more enticing, with DeMar DeRozan, Arron Afflalo, Tim Hardaway Jr. and Nic Batum typifying a star-studded class that could also include LeBron James and Kevin Durant.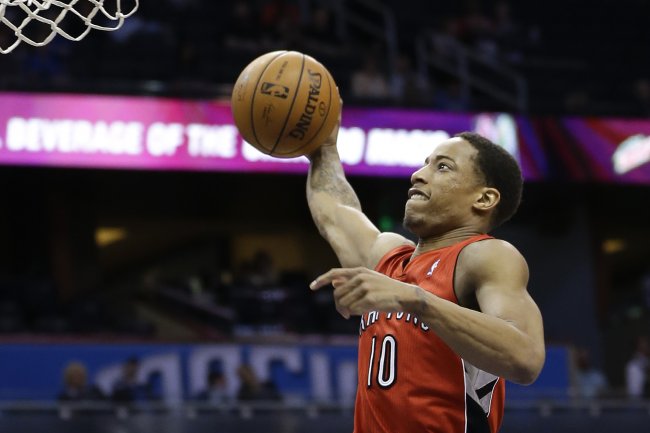 John Raoux/Associated Press
In short, Van Gundy might've inherited a franchise in something of a financial and rotational rut. At the same time, with Drummond as its cornerstone and cap space galore on the horizon, it's not hard to see Detroit being a major player as early as next season.
It's no wonder, then, that Van Gundy would want as much control as possible over the Pistons' near-future prospects; in the end, it's a team as much steeped in a rebuild as it is enticingly close to reloading.
With the NBA's guiding positional philosophies changing all the time, it's difficult to say whether pivoting around a player of Drummond's skill set—a potentially unparalleled rim-protector, yes, but with flaws aplenty at the other end—is the safest strategic play.
All the same, the always direct Van Gundy, itching as he must've been for one more shot at a championship, would probably have no qualms whatsoever with authoring another finals run by way of that age-old adage: Go big, or go home.