Arturo Vidal is reportedly slipping further out of Manchester United's reach, but the Red Devils must make one last push to attempt to sign the Chilean midfielder.
Tuttosport indicates that Juventus have given United a deadline of Aug. 15 to make an offer for their talismanic player but suggests the move is looking increasingly unlikely (h/t 101 Great Goals' Ben Green):
With Manchester United being linked by the English press with the likes of Angel Di Maria and in Spain with Juan Cuadrado, it is looking increasingly unlikely that Arturo Vidal will end up at Old Trafford this summer.

Tuttosport, a Turin based newspaper, have an update on the Vidal rumours and they suggest any move is now looking less likely than it did at the beginning of the summer.
Indeed, as reported by Simon Jones in The Daily Mail, new Old Trafford boss Louis van Gaal is looking into the signings of Marcos Rojo and Daley Blind, as well as those of Di Maria and Cuadrado.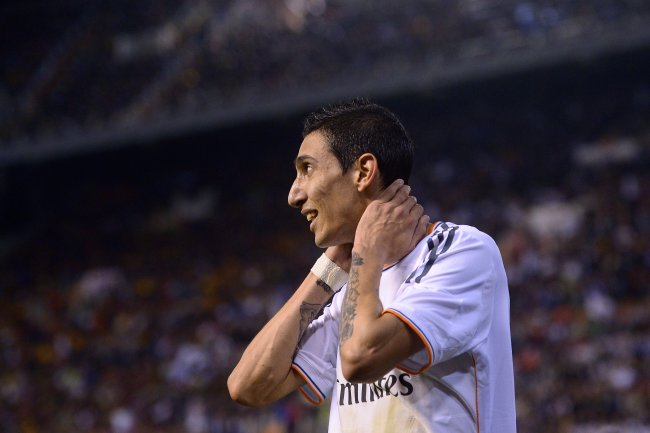 Manu Fernandez/Associated Press
However, it is Vidal who should be the prime target as he would have the most significant positive impact were he to make the switch to the Manchester outfit.
He is a box-to-box midfielder with great aggression, an ability to score goals and a terrific range of passing, a combination of skills arguably matched by no other player in the world.
Vidal would also bring quality and physicality into the Red Devils midfield which has been lacking since the departure of Roy Keane in 2005, per football writer Nooruddean Choudry:
Vidal would be akin to signing Roy Keane in 1993. Albeit a player of 26 rather than 22.

— Nooruddean (@BeardedGenius) January 23, 2014
While Di Maria and Cuadrado would no doubt add great strength to United's side, they are less urgent signings than Vidal, as in the likes of Wayne Rooney, Juan Mata, Danny Welbeck and Adnan Januzaj, Van Gaal already has some top-quality players in attack.
On the other hand, despite the presence of Michael Carrick, Ander Herrera and a returning Darren Fletcher, the centre of midfield has been an issue for some time at United, stretching back to Sir Alex Ferguson's reign.
Vidal is a ball-winner who can both protect the back four and start attacks from deep, as well as score goals himself—he claimed 11 goals and five assists as Juve won Serie A last season, per WhoScored.com.
This is why Vidal should be United's No. 1 priority ahead of the new Premier League season, and they should spare no expense in snapping him up. Indeed, according to beIN Sports' Tancredi Palmeri, United have already made a significant offer for the player:
Manchester United have bid a figure between 45-48m€ for Vidal. Juventus have replied they want also 2 players, 1 of the two is Chicharito

— Tancredi Palmeri (@tancredipalmeri) August 12, 2014
As football writer Peter Hall points out, United were prepared to pay an estimated £30 million for Herrera—an excellent player—and should do the same, and more, to sign Vidal:
What #MUFC must understand is Vidal is one of the best midfielders in the world. To pay that for Herrera & then turn down Vidal is criminal.

— Peter Hall (@PeteHall86) July 15, 2014
The impact he would have on United's team could genuinely put them back into contention to win the Premier League as he would both bolster their defence and galvanise the attack.
Should United continue to pursue the signing of Vidal?
With Juventus seemingly genuinely prepared to listen to offers for Vidal, it would be foolish of Van Gaal and United to miss the opportunity to sign him.
There is still time left for the Red Devils and all other potential signings should be put on the back-burner, for now, to make one final push to bring the incomparable Vidal to Old Trafford.