Are AC Milan making the right decision signing Diego Lopez from Real Madrid?
Pending the successful completion of a medical, Lopez will become a Milan player.
We are ready for the medical tests! @Armero7 #weareacmilan pic.twitter.com/EdeomipX5T

— AC Milan (@acmilan) August 12, 2014
Armero and Diego Lopez just arrived at Milanello, where they will undergo the 2nd part of the medicals at Milan Lab. https://t.co/4YwSYppNrp

— AC Milan News (@Milanello) August 13, 2014
Here is a scouting report on the 32-year-old, 6'5", 196-pound Spanish international.
Lopez Positives
Milan's goalkeeping stocks are abject, so making a move for Lopez is logical.
Seasoned veteran Christian Abbiati is clinging onto his professional contract.
"We've conceded some incredible goals this season," Abbiati said, per Milan's official website. "I've been at the club for many years and this is one of the worst seasons I've had."
The difference between Gabriel and Manuel Neuer is the German clears the ball while the Brazilian is a hazard to his own team-mates (Mattia De Sciglio is nodding in agreement).
GIF: Nasty collision between Di Sciglio and Gabriel - Liverpool v AC Milan (US) http://t.co/MI23z8Z4Za

— CJ Fogler (@cjzero) August 3, 2014
Milan's Gabriel is set to leave on loan, the backstory on Real Madrid… http://t.co/VWPwHQWFtZ #dimarzio @dimarzio

— Enrico Passarella (@Guardalinee) August 12, 2014
Michael Agazzi is on track to have a Dimitrios Eleftheropoulos-like impactless tenure at Milan.
63% - Last season Michael Agazzi had the lowest saves % among Serie A 'keepers with more than 12 apps. Unconvincing. https://t.co/aeittuHLFz

— OptaPaolo (@OptaPaolo) August 6, 2014
Lopez is a substantial upgrade over Agazzi, who is lacking confidence.
The unceremonious way Lopez was ousted from Real provides a chip on the shoulder mentality to which Milan manager Filippo Inzaghi can exploit.
Lopez put his body on the line as he rebuffed Villarreal centre-forward Jonathan Pereira in a one-on-one situation.
Lopez stopped Rayo Vallecano deep-lying forward Alberto Bueno's instep drive with an excellent diving save.
Showing outstanding reflexes, Lopez tipped the shot of Sevilla's Levante loanee Baba Diawara over the crossbar.
Same situation when Barcelona left-back Jordi Alba was denied by Lopez.
Then-Real Zaragoza (now Valencia) centre-forward Helder Postiga's goal-bound header was swatted away by Lopez.
Lopez Negatives
A dehydrated cactus planted in front of goal would do better than Agazzi right now.

— Matteo Bonetti (@TheCalcioGuy) July 27, 2014
Agazzi is struggling to justify donning the Milan shirt but bear in mind two years ago Lopez was the backup to Andres Palop at Sevilla.
Sliding in late and clipping then-Granada (now Sassuolo) centre-forward Antonio Floro Flores, Lopez conceded a penalty and was sent off.
Lopez's ruinous mistake cost him his starting position at Sevilla and gave Palop, who was in the same position as Abbiati in fighting father time, one last hurrah.
While Lopez has redeemed his reputation, his tendency to make careless decisions could see him sink into an Agazzi-like slump giving Abbiati an extended run.
Sevilla centre-forward Carlos Bacca's shot was deflected into the goal by Lopez.
Lopez fluffed his attempt of stealing the ball from Celta Vigo centre-forward Charles.
Not covering the near-post, Lopez was at fault when Richmond Boakye scored for Elche.
Parrying the ball straight to Atletico Madrid centre-back Diego Godin, Lopez was helpless as the ball was pinged back to then-Atleti (now Monaco) centre-forward Radamel Falcao.
Bottom Line
More photos of Diego Lopez's arrival in Milano this evening: #BenvenutoDiegoLopez #DiegoLopezRossonero pic.twitter.com/3YIej0DhPf

— AC Milan News (@Milanello) August 11, 2014
Photos of Galliani with Diego Lopez' agent in Forte dei Marmi today: pic.twitter.com/S6chrNINr9

— AC Milan News (@Milanello) August 9, 2014
Milan chief executive officer Adriano Galliani only targeted Lopez because he was made available on a free transfer under complicated circumstances, per Roberto Palomar at Marca:
The Diego Lopez saga is finally over.

In a political solution to a footballing issue, the goalkeeper is being shipped off to Milan in a deal that is unsatisfactory on many counts.

Real Madrid know that they are losing a superb goalie and there are mutterings of "what if we're making a mistake?" around the place.

The keeper, meanwhile, is leaving the club he loves with his tail between his legs.

The only winners are Milan, who are getting a top player free of charge.
Real signed a world-class goalkeeper in Keylor Navas who would have competed with Lopez for the No. 1 role.
Key words being "would have" since Iker Casillas is still around.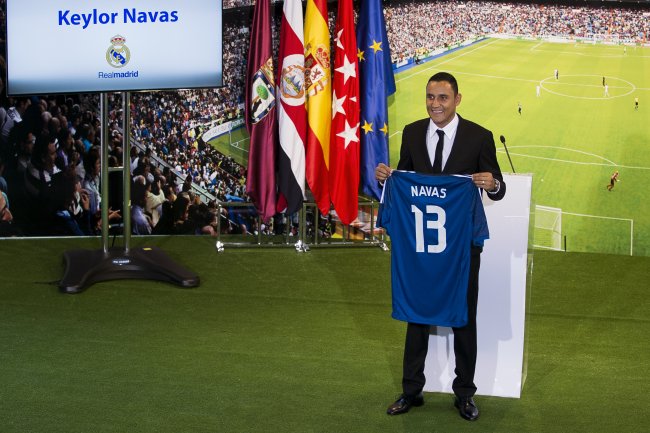 Andres Kudacki/Associated Press
Lopez's exit increases the chances of Casillas, the fallen one-club legend, mounting a comeback made for fables.
Cartoon: #Casillas still the man at #Madrid #Realmadrid #LopezRossonero pic.twitter.com/JEt90mTnHG

— Omar Momani (@omomani) August 11, 2014
Signing Agazzi and then replacing him with Lopez embodies the transfer carousel Milan have adopted.
Every goalkeeper at the 2014 World Cup including Algeria's Rais M'Bohli performed well and Milan's stuck with Michael Agazzi.

— Matteo Bonetti (@TheCalcioGuy) July 27, 2014
The overriding feature of Milan's transfer policy is cheapness.
Lopez is a cost-efficient signing who happens to be a great goalkeeper.
Talk about a big transfer win for Milan.
Statistics via WhoScored