The Cincinnati Bengals received a blow to their wide receiver corps with news of Marvin Jones' foot injury. Third-year wideout Mohamed Sanu will have to step up for the team in his absence early on in the regular season.
Bengals.com's Geoff Hobson reported the news regarding Jones' foot injury and surgery, along with his potential recovery time:
Marvin jones out a few weeks with foot injury

— Geoff Hobson (@GeoffHobsonCin) August 11, 2014
A Pin has been put in fifth metatarsal

— Geoff Hobson (@GeoffHobsonCin) August 11, 2014
Now the question is if they put him on IR return 8 games into season, PUP him for first 6 or maybe back sooner

— Geoff Hobson (@GeoffHobsonCin) August 11, 2014
As Hobson noted, Jones could miss up to the first eight games of the season if the team chooses to put him on injured reserve. According to Bleacher Report's injury expert Will Carroll, Jones' recovery could very easily extend a few weeks into the regular season:
I can't find any comparables to Marvin Jones that have come back in less than six weeks. Lots that have taken longer.

— Will Carroll (@injuryexpert) August 11, 2014
The news has big implications for fantasy football owners, as it immediately puts Sanu into the late-round draft conversation.
NFL Network's Albert Breer gave his take on Sanu's importance to the Bengals:
Mohamed Sanu becomes a more important piece in the interim for Bengals. Coaches see him as a potential tone-setter, with his physical style.

— Albert Breer (@AlbertBreer) August 11, 2014
According to FantasyFootballCalculator.com, Jones has an average draft position (ADP) of 128.7. Sanu is currently nowhere to be found in the 192 players listed on the site, which goes by a 12-team, 15-round format.
The Cincinnati Enquirer's Paul Dehner Jr. noted that Sanu has been having a great training camp so far, which means he should comfortably slide right into Jones' role:
Mo Sanu has been having a fantastic camp. He'll have his chance to prove his improvement in a big way now. #Bengals

— Paul Dehner Jr. (@pauldehnerjr) August 11, 2014
ESPN currently has Sanu ranked 97th among all wide receivers and projects him to reel in around 39 catches for 361 yards and two touchdowns. This is a somewhat conservative estimate, as Sanu racked up 47 catches for 455 yards and two touchdowns last season. Sanu could easily surpass those numbers with a few weeks in a starting role opposite A.J. Green.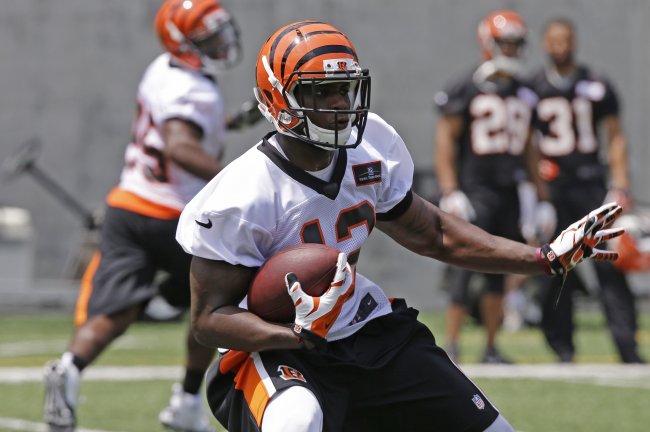 Al Behrman/Associated Press
The lukewarm projections could be due to the fact that Sanu was listed as a starter for most of those games and has slipped down to a backup role on the team's official depth chart, but he still managed to put up those respectable numbers while Jones was busy crafting his breakout year.
Before the Jones injury, no fantasy football owner would touch Sanu with a 10-foot pole. Now, he projects as an excellent late-round sleeper choice. It would be a definite risk to take him as high as the 128th pick, as Jones should be back on the field at some point in the regular season barring any unforeseen setbacks.
In any case, offensive coordinator Hue Jackson has been willing to move Sanu around in the offense during training camp, and the young receiver sees himself as an integral component of a dangerous trio.
"We call ourselves 'The Three Amigos,' 'The Three Stooges,' just playing around," Sanu said, via Hobson. "I roll off those two the same way they roll off me. We feed off each other."
And of course, Sanu can always grab a few extra points as a trick play quarterback.
There is also no issue with familiarity at the quarterback position thanks to Andy Dalton and his shiny new contract, which is always a boost for a young receiver's fantasy prospects. Sanu is entering his third year with Cincy, so he has had time to grow as a player alongside the Red Rocket.
There are still a few weeks left until the regular season, which gives Jones time to rebound. The Bengals open the regular season on September 7 against the Baltimore Ravens. All in all, Sanu receives a sizable boost due to the unfortunate Jones news, bumping him from non-factor to potential sleeper status.
It should also be noted that Jones hasn't had much time to establish himself as a long-term fixture in the starting lineup. If Sanu plays well enough, he could very well hold onto his new role throughout the remainder of the season.