In just a little more than a year, Anthony Bennett has been put through the NBA wringer. After being one of the most surprising first picks in NBA draft history, Bennett struggled mightily for the Cleveland Cavaliers, putting up one of the worst rookie campaigns a first pick has ever had.
Now, after just one season with the Cavs, Bennett is reportedly heading to the Philadelphia 76ers as part of the Kevin Love trade.
Here's Mark Perner at Philly.com:
A source informed the Daily News that the Sixers will be sending veteran forward Thaddeus Young to Minnesota for a package that will include Bennett, the No. 1 pick in the 2013 NBA draft.

The deal, which two sources have confirmed to the Associated Press,will not be official until Aug. 23, when Wiggins, this year's No. 1 draft pick, becomes eligible to be traded.
It has been reported that Minnesota sees Young as the right guy to fill Love's shoes. The Timberwolves, it has been reported, could use the first-round pick they get from the Cavaliers to help entice the Sixers to part with the 26-year-old Young, but that has not been confirmed.
Although it may not seem like it on the surface, this could be the best thing for Bennett's career.
If nothing else, it should remove some serious pressure on him to be a star right out of the gate. Bennett gets to hit the reset button on the expectations, as he'll be allowed to make mistakes for the Philadelphia 76ers that might earn him a quick pull on a team with plans of competing next season.
Big men typically tend to develop at a slightly slower rate, and Bennett should benefit from the patience Philadelphia and head coach Brett Brown can have.
While there was barely anything that didn't go wrong in his rookie year in Cleveland, the most concerning thing was Bennett's total lack of aggressiveness offensively. He was sheepish, as he was passing up open jumpers and often turning his back to the hoop and playing hot potato with the ball.
"I just put a lot of pressure on myself," Bennett told Sean Highkin at Sports on Earth. "Things weren't going right for me. Everything just collapsed and built up. I got down on myself."
It makes sense that Bennett would lose his confidence as his jumper abandoned him, but you could tell it impacted his entire game. It didn't help that Bennett wasn't in great physical condition, either, as he'd often get winded easily after just a few minutes.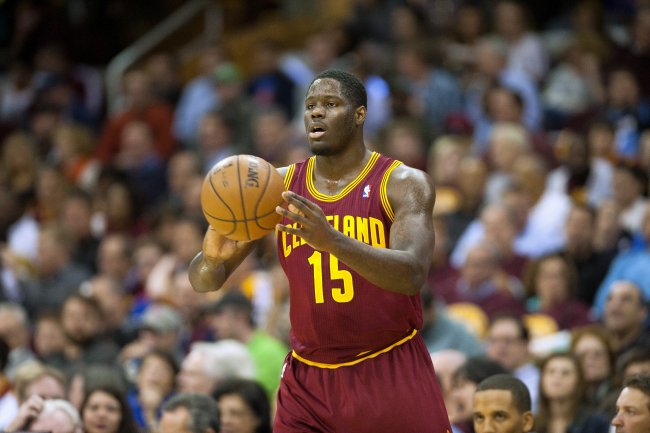 Jason Miller/Getty Images
There are plenty of aspects to Bennett's game that he needs to improve, but the basics have to be in place first. The Sixers played at the league's fastest pace last season, so Bennett's fitness level and conditioning simply has to be up to par. His guards aren't going to wait for him.
At least in that regard, it sounds like Bennett is already making positive strides in the right direction.
"I'm really happy with the way Anthony has come to our camp," Cleveland Cavaliers coach David Blatt told Zach Lowe of Grantland in a Q&A earlier this offseason. "He's worked extremely hard, has improved his body, has improved his approach. He's maturing. He's on the right track. We're gonna see what we can do with him."
Bennett looked notably slimmer during summer league, but he was also more aggressive in getting himself open and firing away from deep. Bennett played like a guy who actually wanted the ball, which was a big difference from the rookie who shot just 35.6 percent from the field and posted a measly 6.9 player efficiency rating, per Basketball-Reference.com.
Here's more from Highkin at Sports on Earth:
At Summer League, Bennett is a different player. He's lost a considerable amount of weight, drawing deserved "best shape of his life" buzz on media row.

A breakaway dunk in the Cavs' Summer League opener on Friday drew disbelief at first, but any cynicism had dissipated by the end of the night. His second game did not disappoint -- he finished with 14 rebounds and displayed a shooting range and knack for smart passes that was nowhere to be found last season.
In Philadelphia, Bennett should be able to keep it simple. He'll be tasked with trailing the break and either spotting up around the perimeter or diving straight to the rim.
In the half court, he'll run pick-and-pop with Michael Carter-Williams and have a green light offensively. In his rookie year and summer league, Bennett received most of his looks near the top of the arc. That shouldn't change much in Philadelphia.
Bennett can be a featured piece, and the presence of Nerlens Noel should help him find his role rather easily. Noel projects to be an elite shot-blocker and rim protector, so Bennett can focus on using his big frame to carve out rebounding room defensively while Noel contests everything in his range.
Fernando Medina/Getty Images
Playing the strong majority of his minutes next to a guy like Noel or rookie big man Joel Embiid (or both in big lineups down the line) can give Bennett a more focused role than the one he had in Cleveland.
Again, though, the basics need to be in place for Bennett to turn around his career after a disastrous rookie campaign. Better conditioning will go a long way, and so will a virtually pressure-free environment.
Philadelphia's coaching staff will be invested in the long-term, so taking it slowly with Bennett and riding out his errors won't be a problem at all.
It may seem crazy given how bad Philadelphia was last year, but this really could be the perfect place for Bennett to get out of the spotlight and slowly build toward becoming the dangerous stretch 4 he was always projected to be.