Percy Harvin suffered an apparent ankle injury at practice on Tuesday. The Seattle Seahawks wideout was pulled from practice, according to ESPN's Terry Blount and Mike Sando provide details:
Percy Harvin appears to injure his right ankle on a hitch pass.

— Terry Blount (@TerryBlountESPN) August 12, 2014
#Seahawks camp: Percy Harvin limps off. Moving slowly.

— Mike Sando, ESPN.com (@SandoESPN) August 12, 2014
Jason Puckett of Sports Radio KJR provides an image of Harvin with trainers.
Probably hard to see but trainers working on Percy Harvin, who appeared to suffer some type of lower leg injury pic.twitter.com/ciO2rQ1V7x

— Jason Puckett (@JasonPuckettKJR) August 12, 2014
John Boyle of the Everette Herald indicates he returned to practice shortly after being examined:
Percy Harvin just jogged back on the field and has his helmet on. #Seahawks

— John Boyle (@johnpboyle) August 12, 2014
Liz Mathews of 710 ESPN Seattle provides details from Seahawks coach Pete Carroll:
Carroll said Harvin got his foot stepped on during practice. Said he's OK. #Seahawks

— Liz Mathews 710 ESPN (@Liz_Mathews) August 12, 2014
Jermaine Kearse would likely see a majority of the action if Harvin's injury turns out to be more serious. This is becoming an all-too-familiar refrain for the defending Super Bowl champs, who made their run last season despite their most explosive offensive weapon being on the shelf.
Harvin played in only one regular-season game in 2013, catching one pass for 17 yards. He was dealing with complications from a surgically repaired hip. He briefly returned for the playoffs but was little more than a bit player. A concussion knocked him out of Seattle's divisional round win over New Orleans and then held him out entirely from the NFC Championship Game.
It was only in the Super Bowl where Seattle began seeing a return for the exorbitant sum it paid. Harvin cast the crushing blow to the Broncos' comeback hopes at the start of the second half, returning the opening kickoff 87 yards for a touchdown. He was the Seahawks' leading rusher with 45 yards and added five more through the air.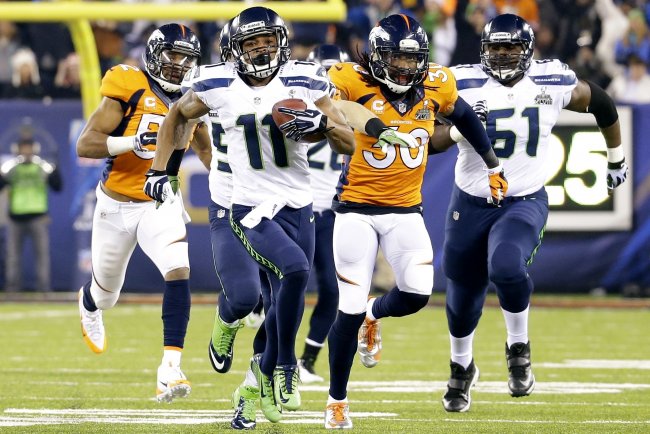 Ted S. Warren/Associated Press
Coming into camp, though, it was clear more would be expected in 2014. With a few offseason departures and an increasing microscope being placed on every player as the team makes its long-term cap plans, Harvin's return to full health was seen as key to the offense taking another step.
"Oh, everything,'' Kippy Brown, the Seahawks' receivers coach, said of what a healthy Harvin could mean, per Larry Stone of the Seattle Times. "He's a dimension you don't understand until you see it with the naked eye, and then you understand what he can do. Speed, toughness, power. He's got that. That's what he brings."
Harvin counts for $13.4 million against the salary cap this season. The Seahawks may have to make a difficult decision if he turns in another injury-riddled campaign. Having signed Richard Sherman and Earl Thomas to long-term contracts and needing to do the same for Russell Wilson, there isn't much room for cap fat on this roster.
We're a long way away from that potential conversation, but it's in the offing if Harvin's injury proves serious. Seattle is paying him like a No. 1 receiver. It'll need him to start playing as such in 2014. That means finding a way to stay on the field.
Follow Tyler Conway (@tylerconway22) on Twitter.