Miroslav Klose, 36, has called time on his sparkling international career with Germany, for which he will be remembered as both a World Cup winner and the tournament's highest-ever scorer.
The German national team's official Twitter account confirmed the news:
A #WorldChampion hangs up his boots: Miroslav #Klose has called an end to his international career with @DFB_Team_EN. pic.twitter.com/8FZ94tG1Kn

— Germany (@DFB_Team_EN) August 11, 2014
Klose enjoyed a 13-year career with the international side in which he took part in four successive World Cup finals. He also represented the side in two European Championship events, maintaining an excellent goalscoring record throughout his time with the ever-changing team.
The Lazio striker netted an impressive 71 goals in 137 international appearances, 16 of which came at the World Cup finals. Bleacher Report UK paid homage to the striker's record:
Miroslav Klose retires from Germany. 24 World Cup games, 16 goals. Not too shabby. pic.twitter.com/0lmD2f3j7u

— Bleacher Report UK (@br_uk) August 11, 2014
Klose's legendary international career began with a stunning start and a celebration that would define the rest of his career. He came on with 17 minutes to play during his 2001 debut against Albania, a match in which he headed home the winner.
Running off to celebrate, Klose launched himself into his now-iconic flip.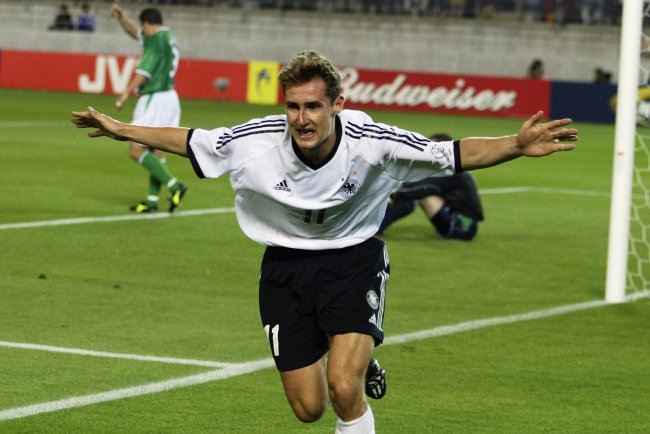 Laurence Griffiths/Getty Images
This moment of jubilance followed him all the way to the 2014 World Cup finals, where he scored the last of his goals en route to Germany's triumph. Klose finished top scorer at the 2006 finals on home turf but continued to contribute right until his final appearance.
He netted in Germany's 2-2 draw with Ghana during the 2014 tournament in Brazil before also scoring during the historic 7-1 thumping of Brazil. Klose broke Samba legend Ronaldo's record with the latter strike, a feat made all the more poignant due to its location, the opponent and considering the former record holder was in the stadium.
Mesut Ozil was among the first of Klose's German colleagues to thank him for an incredible career:
thank you for all your goals, Miro! you are already a legend!/danke für deine tore, Miro. du bist schon jetzt eine legende! #Klose #DFBTeam

— Mesut Özil (@MesutOzil1088) August 11, 2014
Mario Gotze, scorer of Germany's World Cup winning goal, also had his say:
Thanks Miro #Klose Your statistics speak for themselves, but you are even more remarkable as a person! #Welttorjäger pic.twitter.com/AHBxjdNvuk

— Mario Götze (@MarioGoetze) August 11, 2014
Should Klose's World Cup record ever fall, it looks as if current Germany star Thomas Muller will be the one to do it. The 24-year-old already has 10 goals after appearing in two editions of the competition. He is likely to play in at least two further World Cup finals but would make it to another three if he carried on until Klose's retiring age.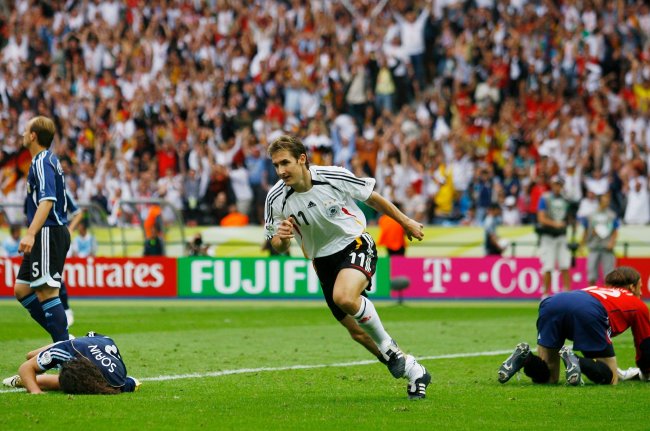 Shaun Botterill/Getty Images
Manager Joachim Low now faces the task of replacing a forward whose finishing instinct played a major role in Germany's rise to success.
Should Miroslav Klose be considered a legend of the game?
Klose's ability to slot home a range of chances inside the box remains unmatched on the international stage, where feeding him the ball often resulted in a goal. He acted as an excellent focal point for the likes of Ozil, Muller and Toni Kroos at the most recent World Cup, where his sharpness once again came to the fore.
Like all great strikers, Klose's style isn't one that will be replicated. Germany will now seek alternative firepower as their era as world champions begins. Rather fittingly, Klose bows out having captured the ultimate goalscoring record and with the sport's most prestigious trophy to boot.
German football is awash with legendary names—from Franz Beckenbauer to Gerd Muller—of which there is no doubt Klose deserves to be considered alongside.