San Diego Chargers 2009 Roster Breakdown: QBs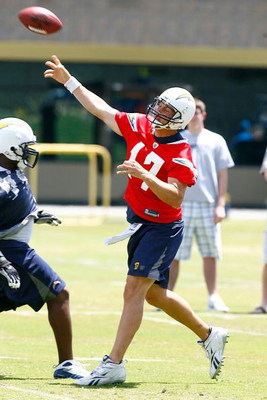 Going into 2009, the defending AFC West Champion San Diego Chargers will look to improve their 8-8 record and take the vaunted "next step" in their aspirations to hoist the Lombardi Trophy in February of next year.
If San Diego is going to get anywhere, these are the men who will be responsible for the Chargers' eventual fate. This preview will begin with arguably the most important position on the football field at nearly all times: the quarterback.
Philip Rivers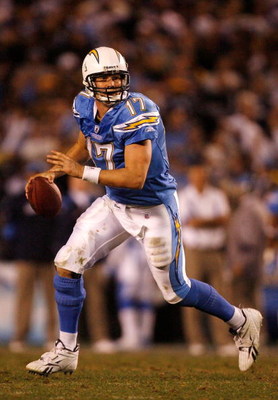 Philip Rivers is the unquestioned starting QB of the San Diego Chargers.
Barring injury or act of God, there is virtually nothing that will keep the North Carolina State product from being San Diego's starter in 2009. Rivers boasts a 35-15 regular season record as the Chargers' signal caller, and is the first San Diego QB since Stan Humphries to win a playoff game.
Pros: Stands tall in pocket, excellent reader of opposing defenses, familiarity with the offensive scheme and personnel, a powerful and accurate arm (78 TDs against 36 INTs in his career), excellent field vision, strong intangibles capped by emotional leadership.
Cons: Almost near-complete lack of mobility outside of pocket, strong emotional characteristic has penchant to spill over into tirades, will to play through injuries despite having capable backup results in errors, despite large size, turns ball over too easily when sacked.
2009 Season Outlook: Rivers has proved durable and dependable, establishing himself among the elite QBs in the NFL. Noting these qualities and a supporting cast of Tomlinson, Gates, Vincent Jackson and Chris Chambers among others, there is nothing to suggest that Rivers won't have another stellar season under center.
Over 3,250 yds, 25 or more TDs and a 95 or above rating are almost a given at this point.
Billy Volek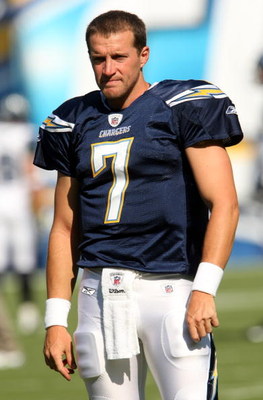 Billy Volek remains an obscure trivia answer as one of the handful of QBs in NFL history who have passed for more than 400 yards in consecutive games.
The former Fresno State and Tennessee Titan QB has been effective in limited starting opportunities over the course of his career, and earned a place in San Diego Charger lore when he led a cavalcade of subs to a playoff victory over the Indianapolis Colts in 2007.
Should anything happen to Philip Rivers over the course of the season, Volek is primed to make the change as less noticeable as possible.
Pros: Good size (6'2", 214 lbs), when given significant playing time, has shown quality time and time again, accurate passer with big arm, not fazed by big game situations.
Cons: With total of 12 pass attempts in regular season over past two seasons, rust may be a factor, not very mobile, at 33, getting on in years.
2009 Season Outlook: Volek's main job on the team is to provide peace of mind to San Diegans should Philip Rivers fall injured, and mentor third-stringer Charlie Whitehurst.
Charlie Whitehurst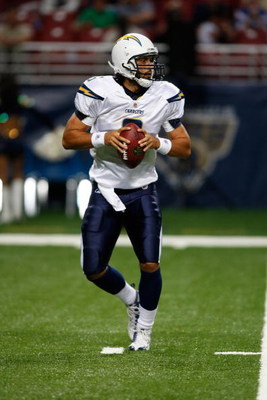 Drafted by the Chargers in 2006 out of Clemson, Whitehurst, the son of former Packers QB David Whitehurst, hasn't yet thrown a pass in an official regular season game of his young career.
With Pro-Bowler Philip Rivers and former starter Billy Volek in front of him, it might be a long time—or never at all—before Whitehurst is called upon to take the reins of the Charger offense.
Pros: Great college stats, prototypical QB size at 6'4", 227, has wealth of knowledge with three seasons of experience under Rivers and Volek, could prove useful as trade bait.
Cons: Complete enigma should he be called upon during a game, underwhelming preseason performances in past are troubling, hasn't played in meaningful game since end of 2005.
Season Outlook: Holding a clipboard on the San Diego sideline seems very likely at this point. Should a team need a young QB, could very well end up on the trading block.
Conclusion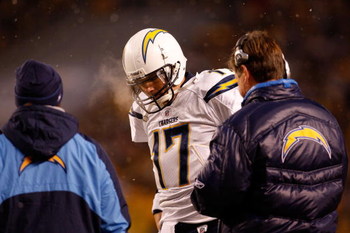 Arguably one of the deepest positions on the team, San Diego boasts a Pro-Bowl quality starter, a backup who could easily fight for a starting job on most NFL rosters, and a young, budding third-stringer who possesses oodles of raw talent and the pedigree of being part of an NFL family.
Of his fellow 2004 NFL Draft QBs, Rivers boasts more impressive stats than Eli Manning, Ben Roethlisberger and J.P. Losman—but has zero rings compared to Manning's one and Roethlisberger's two.
Keep Reading

San Diego Chargers: Like this team?