Missing the cut at the 2014 PGA Championship confirmed some ominous suspicions about Tiger Woods. Approaching the age of 39 in December, Woods appears even older with the way his back problems have flared up this season.
So he isn't getting younger, refuses to compromise on his athletic but vicious move through the ball, and as a result is nowhere near who he once was as the world's unquestioned, indomitable No. 1 golfer.
The common denominator in Woods' recent shortcomings and a largely lost 2013-14 PGA Tour season has been his insistence to compete. It's part of what has made Woods such a legend, but now it's threatening his opportunities to chase Jack Nicklaus for the all-time record of 18 major victories.
Any comparisons Woods' current contemporaries enjoy to the all-time golf greats, namely Rory McIlroy, are mentioned with his name in mind—but for what he's accomplished numerous years ago.
4 have won @The_Open & @PGAChampionship in same year: P. Harrington ('08), @tigerwoods ('00, '06), N. Price ('94) &W. Hagen ('24) #pgatour

— PGA TOUR Media (@PGATOURmedia) August 10, 2014
Woods is stuck on 14 majors and has been since the 2008 U.S. Open, where he played on a torn ACL and a broken leg. These two concepts aren't unrelated. One has to wonder just how much pain Woods has fought through in recent years, when he's won regular tournaments but fallen short in the majors.
At least Woods has recognized that he should be out of action for the foreseeable future, opting not to potentially continue his season by not teeing it up next week, per Golf Channel's Rex Hoggard:
@TigerWoods will not play next week's Wyndham Championship, which means his 2013-14 PGA Tour season is over.

— Rex Hoggard (@RexHoggardGC) August 9, 2014
How many majors will Tiger Woods win in the next five years?
Something has to change, and it should be Woods' expectations of recovering being more realistic. After taking four months to recover from back surgery, Woods felt he was fit enough to return. A missed cut at the Quicken Loans National, a poor finish at the British Open and a withdrawal from the WGC-Bridgestone Invitational preceded his missed cut in Louisville, Kentucky, this week.
That may be more of a consequence of the physical toll Woods' swing takes on his body, but again, that goes back to fully recovering, getting healthy and being in good enough condition to deploy his aggressive swing.
Woods admitted that other parts of his body, not the back issue that has plagued him, prevented him from playing like he wanted to at Valhalla Golf Club, per ESPN.com's Bob Harig:
I need to get stronger. As I said the other day, I need to get my glutes strong again, my abs and my core back to where I used to have them. They are just not quite there yet. Obviously by playing you can't burn the candle at both ends. I need to get stronger physically and be back to where I was.
The candle has indeed been burning at both ends, but Woods hasn't done anything to defuse it. Before his career blows up and he loses out on his ultimate goal of chasing down the Golden Bear's major record, Woods has to make sure that the next time he's on the course—whenever that is—he is physically and mentally fit enough to do so—and not just for a short time.
There have been instances in recent years when Woods would show up for the marquee events, will himself through the pain and often contend well. He can't do that anymore, especially as he continues to age. That will only accelerate his demise, which is imminent unless Woods finds a way to take better care of himself.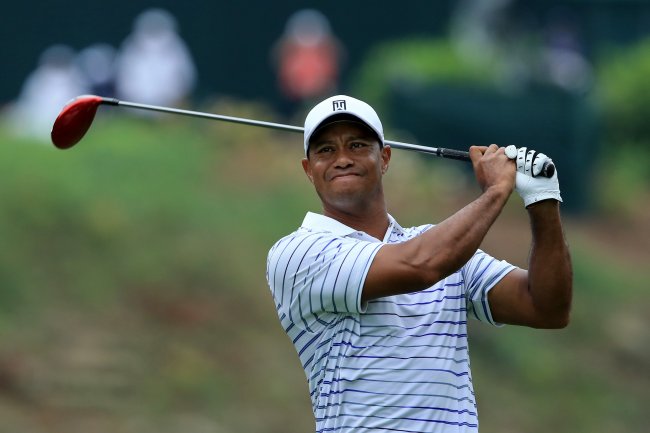 David Cannon/Getty Images
When Woods competes in the condition he did at Valhalla, it's bad for all parties involved, and it's bad for golf.
Actor Jerry Ferrara's testimony during Sunday's final round of the PGA Championship encompasses a lot of casual fans' sentiments—when Woods isn't around, it isn't quite the same:
Of course we are missing tiger woods but man watching Mickleson, Fowler, Rory, and Stenson battle has been very enjoyable #PGAChampionship

— Jerry Ferrara (@jerrycferrara) August 10, 2014
Media coverage inevitably captures Woods' every shot no matter how he's faring. Now that he is nowhere close to the player he was, seeing him in such a vulnerable state is such a turnoff for fans who were so captivated by his past prowess.
Golf's future is bright, but even McIlroy's wire-to-wire win at The Open Championship drew low ratings, per Mitch Metcalf of Show Buzz Daily (h/t Shane Bacon of Yahoo Sports), probably because Woods finished in a lowly 69th. To usher in this new, exciting era, Woods has to be part of the transition, not an occasional power source to move the meter.
And that hinges on Woods' own judgment. He needs to return when he has the proper physical faculties, to play the golf he is capable of playing and renew the possibility of eclipsing Nicklaus as he enters his 40s.